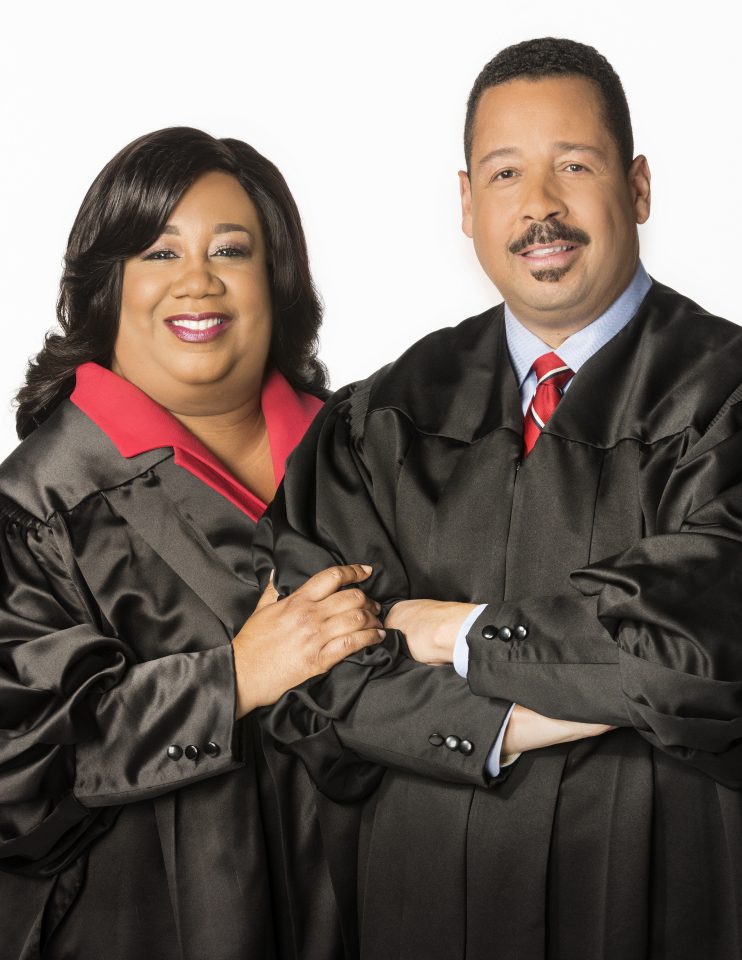 Award-winning trial attorneys Dana and Keith Cutler are the first-ever married couple to preside over a television court show. The Cutlers use cell phone forensics, GPS tracking, DNA evidence and other high-tech tactics to tackle relationship disputes head-on and help uncover the truth. The husband-and-wife team, who have been married and practicing law together for nearly three decades, bring their legal expertise and guidance to couples in crisis throughout each episode.
Dana and Keith Cutler earned undergraduate degrees from Spelman College and Morehouse College, respectively, and continued their education together, graduating from the University of Missouri-Kansas City School of Law in 1989. Dana practices education law focusing on charter schools, and Keith is a civil defense trial attorney. Together, they are members of their family's law firm, James W. Tippin & Associates, where they practice with Dana's father and another partner.
Both Dana and Keith Cutler have been named "Missouri Super Lawyers" multiple times by the legal publishing company, Thomson Reuters. Dana was the first African-American female to be elected President of The Missouri Bar, and Keith was the first African-American to be elected President of the Kansas City Metropolitan Bar Association Young Lawyers Section. The Cutlers have been married for 28 years and have three adult sons.
Keith Cutler discusses fatherhood and taking responsibility when it comes to your dreams.
How would you describe your Fatherhood culture?
I wanted to be involved with my kids.  Play sports with them.  Go to their events. Encourage their passions.  But make no mistake, when our boys were kids, I wanted to keep clear our respective roles.  I did not have a desire to be my sons' friend because I thought it might interfere with my ability to discipline them.  However, now that they are adults, I am their friend.  We laugh, talk and hang out.  I think  keeping that balance was important and has allowed us to grow from father and sons to father and friends. 
From a father's perspective, what two books would you recommend every child read?
The Bible and Candle in the Dark by Benjamin E. Mays. 
Why is it important to expose children to education and valuable skills?
My job as a father was to prepare my children to be productive adults able to have their own lives; families and homes.  Being educated and having life-skills (being able to cook, clean, wash your own clothes, change a tire, basic house maintenance) increased the likelihood they would be productive adults, who could then support a family and a household.
Why should you read every day?
Reading keeps you informed and broadens your perspective.  Informed individuals with broad perspectives tend to be more successful in life.
What advice would you give on being responsible for your own dreams?
You cannot depend on someone else to fulfill your dreams.  Pursuit of your dreams has to be fueled by an inner-drive that is not dependent on others. 
How does following your spiritual values help you in life?
My faith life has sustained me during the good and the bad.  It is my touchstone for decision-making.  It has never failed me and has been my ballast.  I know it has been the reason I have been able to stay focused on the long-game because I knew God was in control and had prepared a way for me through stressful, fearful and/or sorrowful  situations.  God's presence kept me hopeful.  Prayer kept me centered. It has served as a continual hedge of protection around me and my family.