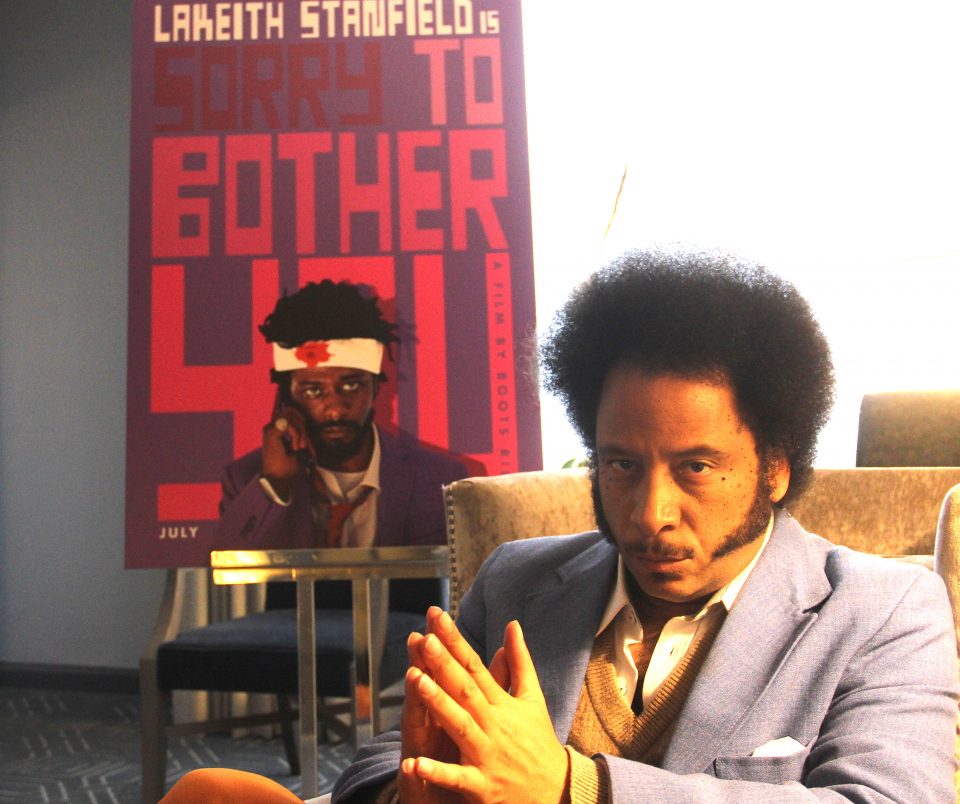 What happens when oppression is normalized? That's one of the key issues addressed in Boots Riley's new film Sorry To Bother You.
The film takes place in an alternate version of Oakland, California, and stars "Atlanta" actor Lakeith Stanfield. Stanfield plays Cassius Green, an unemployed hippie who is on the verge of being homeless after his uncle, played by Terry Crews, threatens to kick him out of his garage, which serves as a makeshift living quarter.
Stanfield finds success by becoming a telemarketer, who uses his "White voice" to rise in the company. However, his success comes at a high price once he becomes an agent in the normalization of oppression.
Riley, who wrote and directed the film, sat down with rolling out and shared his thoughts on Sorry To Bother You. 
When did you begin the process of writing Sorry to Bother You?
I think I started writing in 2011.  I got to the end of the first draft in 2012. I wanted to write a story about someone trying to figure out how to engage with the world when they felt like their life didn't matter. I wanted to defy what people say about the rules of storytelling and went step-by-step and took the journey with the main character.
Lakeith Stanfield, Danny Glover, Omari Hardwick, Terry Crews and Tessa Thompson star in this film. Why was it important to have those particular actors involved in the project?
All of those are actors are masters of their craft. These are folks that can handle whatever you throw at them. And I needed this to be something that felt real so that the actors played it straight. Although it's hilarious, it's something that they weren't playing as if it were a comedy. The actors were playing it real. It's real life and it's hilarious because real life is hilarious. It's scary because real life is scary.
You were in the group The Coup, which gained prominence in the mid-1990s. How did music translate into film?
I started out in film school, and we got a record deal while I was in film school. I had an audience of people listening to me and was able to hold them captive and tell them stories. So we had songs like "Fat Cats and Bigga Fish," which is like a seven-minute-long story. Then we had songs like "Me & Jesus the Pimp in a '79 Granada Last Night," which is like an eight-minute-long song and story. We just wanted to tell stories and put people in the world that I created. That's very similar with what I'm doing with the movie. It's creating a world and kidnapping people for an hour and 45 minutes.
How is the process different from song creation to film creation?
We could have a song done in an hour and have it online just as fast. Film is much more of a collaborative process. Although making music is [also] a collaborative process because you're working with musicians and artists with different styles. But with film, you're collaborating with more people such as producers who are dealing with budgets, the cast of actors,  production designers, directors of photography, and costume designers. All these things must come together in order to deliver the story on screen. There are thousands of collaborations and decisions that are happening. But doing music and collaborating with musicians got me ready to do that.
How do you want Sorry To Bother You to have an impact beyond this generation?
I hope that it has residence throughout different generations. I hope that things change in the world where people are like, "What are they talking about in this movie?" You know, like, "Why were they tripping off that? That's not a problem anymore." That would be great if that was the case. If that's not the case, I hope it's something that resonates and inspires people. There is one review that said, "You're going to love this movie, but your kids are going to worship it." We all have lofty goals with the art that we make. I want to take a risk with it, and some of those risks mean that sometimes sh– doesn't work. And then other times it might mean that something is created in a way that people haven't seen before. And, for me, it allows people to engage with what I'm talking about in a different way and for them to think about the ideas behind it in a different way as well.