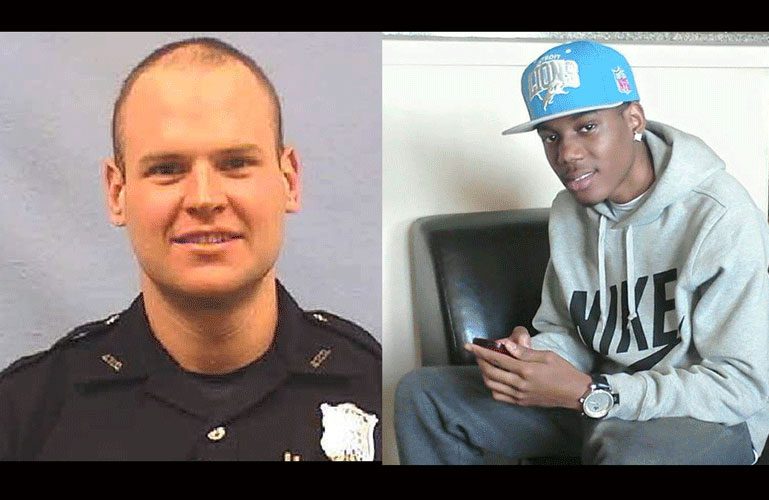 Social activists and family members are outraged after charges were dropped against a fired White Atlanta cop who shot an unarmed Black suspect in the head.
The tragic death of Deravis Caine Rogers, 22, came at the hands of James R. Burns, who was working off-duty as a courtesy officer at an Atlanta apartment complex. At the time, there were a string of car break-ins in the area, and frustrated residents were on guard against thieves. Someone reported Rogers as a suspicious person in the area and called the police. When police backup arrived, Burns was one of the responding officers.
Rogers was fleeing the scene in another vehicle when Burns fired into the vehicle, hitting Rogers in the head. The car crashed a short distance away into a parked vehicle, and Rogers was transported to Atlanta's Grady Hospital where he later died.
After an Atlanta Police Department internal investigation, Burns' actions that night were found to be unwarranted and he was fired. At that time, Atlanta Police Department spokesman Sgt. Warren Pickard told the media: "The force used was ruled excessive because there was no obvious threat made toward the officer. Chief George Turner has always prioritized officer accountability and professional behavior…He will continue to take decisive action when necessary to hold his employees to the highest."
Then, in September 2016, a Fulton County, Georgia, grand jury indicted Burns on charges of murder, aggravated assault, two counts of violating his oath of office and one count of making a false statement. Now two years after Rogers was murdered, Fulton County District Attorney Paul Howard announced that charges will be dropped.
According to The Atlanta Journal-Constitution, at issue was a recent Supreme Court decision that Howard said "declined to address the issue of whether certain statements, made by a police officer, could be used by the state in a grand jury proceeding."
Howard further stated to the AJC, "Out of an abundance of caution, rather than seeking to litigate this issue further, we are simply choosing to re-indict the entire case."
During the presentation to a Fulton County grand jury, statements made by Burns were used as part of the murder indictment. Howard is not popular among social justice activists in Atlanta, and this latest move has many people upset.
The decision to drop the charges was made last week, but Howard has not yet announced when he will re-indict Burns for murder in the two-year-old case.