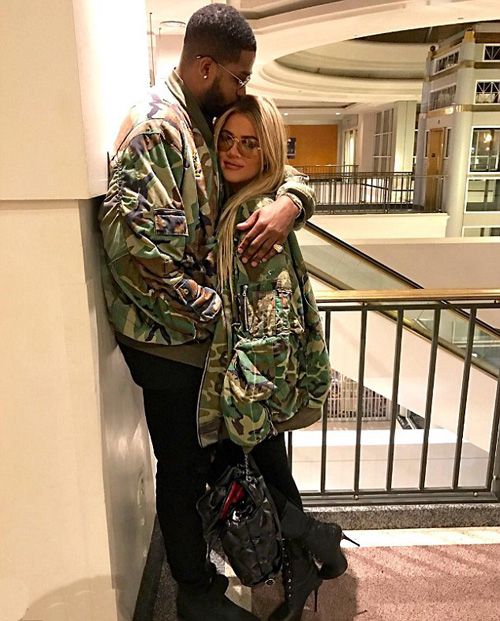 Infamous cheater Tristan Thompson is reportedly stepping out on girlfriend Khloe Kardashian again.
The Cleveland Cavaliers b-baller and baby daddy has supposedly reported to camp in Toronto with a "beautiful" young woman in tow, just as he and Kardashian were trying to reconcile their fractured relationship via counseling.
According to RadarOnline, while Kardashian remained in suburban Los Angeles with their 4-month old baby girl, True, Thompson was eyed with a "young model" type whom he couldn't keep his hands off of.
"There was a woman in Tristan's entourage and it wasn't Khloe. They looked like more than friends because he had his hand on her lower back when they arrived. There was definitely something there," an employee at the Toronto Pan Am Sports Centre told Radar.
"She was a beautiful, young girl who looked as if she could be a model. She, along with one of his security detail, stayed in the locker room while he taught camp. He appeared to be in a hurry to get back to his female companion because he jetted out of the center the minute it was over."
If the reports turn out to be true, you wonder what mental gymnastics Kardashian will perform this time to justify staying with the notorious serial cheater.
As rolling out previously reported, Thompson was caught on video and via photography cozying up with a pair of buxom women at a Manhattan club (one he was seen kissing passionately, another he was seen taking to his hotel room in New York) just before Kardashian gave birth to their first child this past spring.
The atmosphere became so toxic for Thompson that he was even boo'd at his home crowd in Cleveland. Of course, the mainstream media failed to mention that Khloe Kardashian cheated with Thompson while his previous girlfriend, Jordan "Jordy" Craig, was also in her third trimester and ready to give birth.
Do you believe the story that Thompson is an unrepentant philanderer?