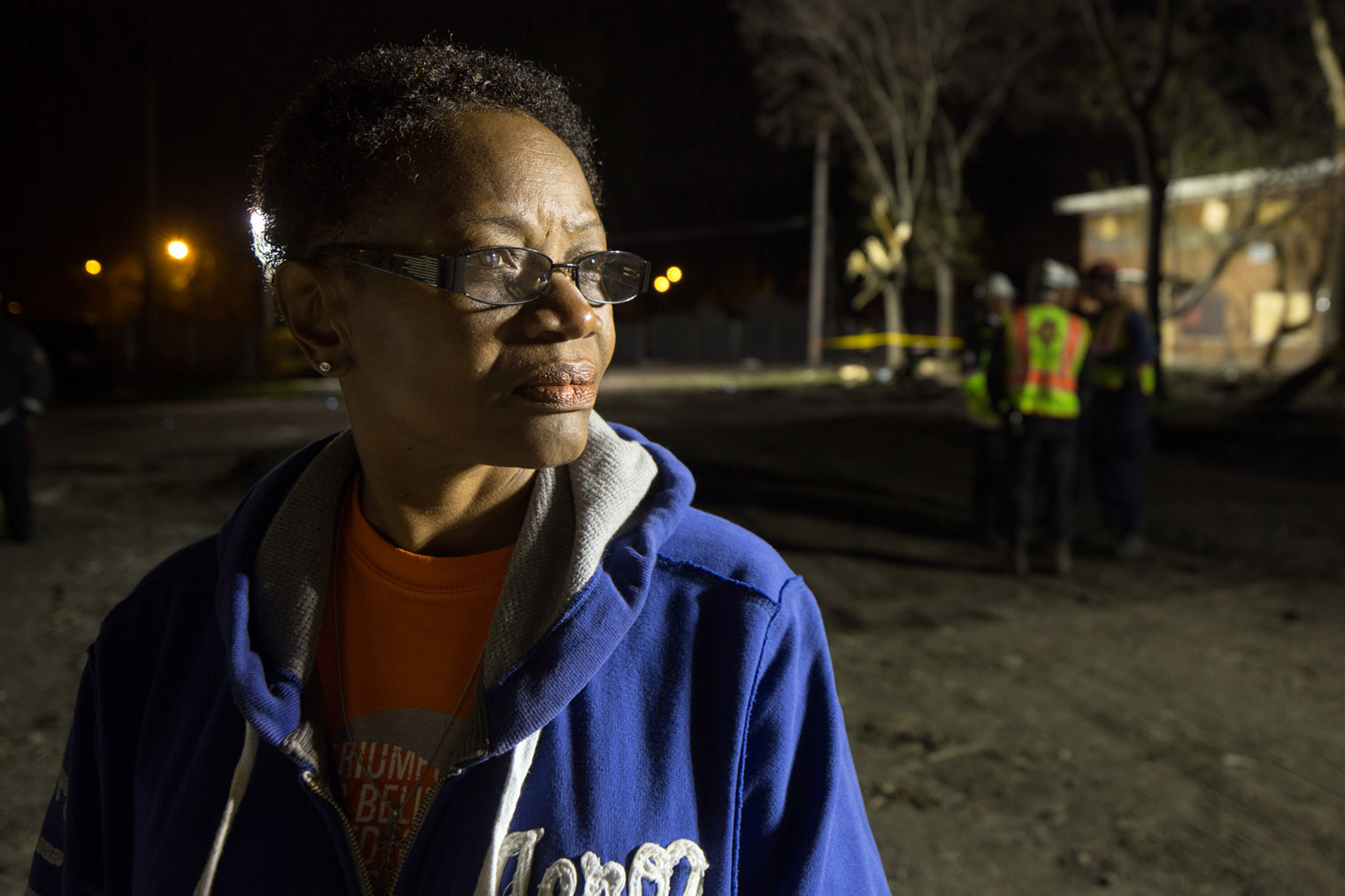 The 24th annual Black Harvest Film Festival  (BHFF) swings into high gear at the Gene Siskel Film Center.  The month-long celebration, which began Aug. 4 and runs through Aug. 30, features the experiences of African Americans and the African diaspora as interpreted by independent filmmakers from around the U.S. and abroad.
One local film that is getting a lot of attention is director David Schalliol's The Area.  This powerful documentary explores the process of a land grab of 85 acres on Chicago's South Side Englewood neighborhood to Norfolk Southern Railway. Aided by the Chicago City Council and a host of business interests, the railroad proceeds with a plan to expand its intermodal freight terminal into the heart of an area whose residents have few resources to resist when pressured with cash and threats of eminent domain.
One of the last holdouts is 30-year resident Deborah Payne, who fights for the remaining residents' rights while the homes of her neighbors fall one after another in the name of economic revitalization. She spoke to rolling out about her involvement in the film.
Tell me about your involvement with the film and as an activist for the community?
The most rewarding thing I do is help people. My daily focus is to help somebody. And I've always felt better when I've helped somebody that has been trying and trying and is about to give up or helping people who couldn't do better or know better. People basically told me what I did: "You're an activist because you fight for the people." My response was, "She didn't know how to do that, so I helped her. She didn't have a computer, so she could use mine. He didn't have an ID, so I took him to get one". Back then, if I'd seen something about a meeting for "activists," I probably wouldn't have gone. I would have thought that was for someone else. Maybe I would have thought that was for an actor. Am I a fighter?  I'm a believer, and believing is your best fighting tool. I'd like to redefine "activist." Since I have that title, I guess I'll be that for the rest of my life. I'm fighting for seniors now because I'm in the midst of that. Through all of this, I got introduced to what documentary filmmaking was about. I didn't know what documentary was or even cared. Of course, I watched some documentaries, but I wasn't into them. And I wasn't even into taking pictures back then, but once I started seeing clips and photographs from the filming, and because David and I were always together, it changed. I started to take my own pictures. I started to see what I was doing a little differently. But it changed because it was about a relationship between me and David. My focus was on the community. It never swayed. I became more educated and excited about cameras and everything, and David and I developed a connection outside of the film. So my feeling was, whatever David needs, I'm going to help him do it. Then, in some ways, David became an advantage to me.
What is happening in the area now? How many houses did the initial proposal encompass, and are there any homeowners left?
Well, now the area is deserted. There are two families in the immediate area where I lived and served for most of my community life. Other than them, it is trees, greenery, torn-up roads, truck parking, and more construction. Every time I go, I find where my house was. That's my thing. I go down the alley, and I can tell where my house was because of the streetlight. Do I wish I still lived there? No, there's nothing there. But you can't take away my memories. Most of my memories are happy memories. I don't think about them doing everything they did to us. I think about happy times. I sit there and try to imagine walking, talking and stuff like that. I remember my peach tree. I just laugh and smile, and then I thank God that I still have a place to live.
The film talks about the environmental effects of the Norfolk Southern intermodal system. Can you talk about what you experienced?
I experienced a lot of environmental issues in the community. Because we lived close to the tracks, I endured the shaking of my house. I endured the noise that the trains made when they were stopping. The train cars would slam back and forth. On some days, it'd be louder than usual, and I'd wonder if they did it purposely. I endured cracks in the walls of my house. My windows would shake. Because the houses were being torn down, there were so many more vibrations, and the siding would come off. Mortar would drop from the bricks. The water was slow. We had trouble with the telephone lines because of the shaking. Some of the community people talked about the fumes from the railroad. I lived directly across from the housing projects, and after they demolished the buildings, they used the site as a dump. I always had dust everywhere because of that. And because I was an activist, I'd walk the neighborhood daily to see them tear down houses. They didn't turn off the gas lines, so I saw gas leaking, water leaking, dust blowing, all of that.  I was at one of those environmental meetings and invited them into my neighborhood. And I got connected with the EPA and allowed them to come into my yard and put up an air-quality monitor to determine the kinds of dust we were getting, and then I called them to examine the materials that were dumped across the street.
You said in the film, "One dream for one day is to have it all back."  What are you doing now, and if you could, would you go back to the way things were?
I'm pretty realistic. I don't dream like that. I dream to go forward. When I said that I dreamed of it all coming back, I was in the midst of that experience. And it's easy to think about how things were when you're in the midst of it all going away. There's not a lot of forward-looking. Instead, there's a lot of dreaming and sitting still. What I'm doing now is similar to what I was doing on 57th Street. And I have not lost my connection to Englewood and the community that used to live there. For example, I'm still involved with the community policing initiative CAPS and the seniors over there. There's not a week when I don't go to Englewood. But I'm in a condo now, which is a lot different than a home, and I'm trying to put together a community within this building. I'm finished with one thing — the efforts in the film are over. I've got to live here. My values are the same. I still don't think everything is fair, so there's a lot to work on. I'm the community, and I'm the same God-given woman I always was. I'm trying to live a happy 67-year-old life.
The Area will premiere August 23 at the Gene Siskel Film Center, 164 N. State St., Chicago, followed by a two-week run at the theater starting Sept. 14.