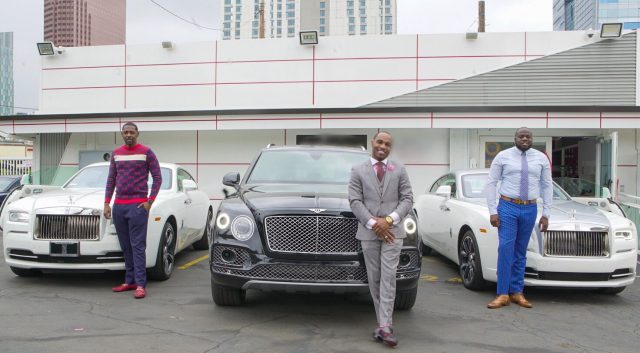 According to Entrepreneur.com, there are 2.6 million Black-owned businesses in the United States. Brandon Medford, Dave Obaseki, and Eric Whitehead are three millennials building wealth and a professional reputation with their automotive company, PTG365.
PTG365 serves all types of clientele, from those who desire luxury cars to low-income customers looking for their dream car.
"We're all talented, and we were tired of making everybody else wealthy when we can take our talent and come together and build as young Black entrepreneurs," Whitehead said.
Medford was also tired of people not being able to purchase a vehicle due to low credit scores and income.
"I wanted to help people out to have people be able to drive their dream car not only because you have bad credit, but just to be able to be given a second opportunity," Medford said.
The dynamic trio promotes and teaches financial freedom.
According to Obaseki, the businessmen get a lot of clients approved who have low credit scores and while getting approved, a customer can also sign up to receive a 20-minute lesson on how to build credit.
Medford, Obaseki, and Whitehead have now expanded their business from New York to Los Angeles, Florida and Atlanta. PTG365 has reached $2 million in revenue. With networking,  the partners were able to work with other dealership companies to get the best prices.
"We have contracts with multiple manufacturers and multiple dealerships throughout the country, so the pricing that we get is a couple of thousand below of what the dealership owns the car for," Medford said. "We're able to get our price very low and still give the customer a great price, which is less than average pricing and still be able to make a profit at the same time."
Due to their competitive pricing, PTG365 has been able to gain celebrity clientele such as Seankil Kilpatrick Jr. from the Chicago Bulls, Rich The Kid, and NBAer Isaiah Whitehead, who used to play with the Brooklyn Nets and now plays with the Denver Nuggets. The basketball player is also the cousin of the co-founder, Whitehead. 
"We were able to get those celebrities and high-end clientele by just networking and taking care of people with our business," Whitehead said. "It's all referral based, you take care of people, and the word spreads."
For those aspiring to be in the automotive business or build a partnership, Whitehead, Obaseki and Medford admit there are pros and cons.
The New York natives have had to set aside egos, trust each other, and not let being overlooked by dealerships get the best of them.
"We overcame being Black and hungry because there [are] a lot of dealerships with a majority of Caucasians, so we had a situation where we were frowned upon because of our color, but we got things done," said Obaseki, whose upbringing in a strict African household taught him the value of delayed gratification to build a strong financial base.
Whitehead mentions that combining many different strengths and weaknesses among the three men became essential to becoming one entity.
"Coming together, it's like a strong tripod, you know, we are each other's crutches in other words," Obaseki said.
Medford, Whitehead and Obaseki continue to push their business by providing the best quality vehicle services and being an inspiration to aspiring millennial entrepreneurs. The businessmen believe in the power of education and social media to grow a successful company.
"It's very important for millennials to take advantage of social media because you can make so much money in a short amount of time just because of the internet," Medford said. "Take risks and prosper, you know, there's no such thing as losing. It's either you win, or you learn."
The bosses had three tips for aspiring business owners.  
"Partnership, hard work and also a dedication because if you want to conquer,  you can't do it by yourself," Medford said.
"Never burn a bridge ever because professionalism is key," Obaseki added. "You're your company, and the way you're viewed will reflect on your company."
By following these tips, Whitehead has witnessed rewards for PTG365 by seeing the business and his dreams thrive.
"I've been in the auto industry collectively about eight years now, and I used to dream about this for quite some time," Whitehead said.  
In the next three to five years, Whitehead predicts PTG365 will build a strong presence in inner cities.
"I see PTG365  having multiple offices throughout the United States — not just taking care of automobiles, but helping children grow," Whitehead said.
Obaseki mentions that PTG365's business portfolio may expand to include a body shop, restaurant, and real estate.