Thank God It's Natural, is the beauty brand founded by Chris-Tia Donaldson. TGIN just released its Miracle RepaiRX line, designed to treat damaged hair by providing maximum hydration. Being that it's winter and the cold temperatures have been harsh on my hair, I had to try this new product line.
The Miracle RepaiRX line features five products with natural ingredients, like healing black honey, coconut oil, ginger root, marula oil and monoi oil, to restore life to dry, dull hair.
Each product promises to lock in moisture, improve shine, manageability, reduce shedding and breakage.
How to use the Miracle RepaiRx line:
Start with the Miracle RepaiRx Moisturizing Shampoo. Apply it to wet hair and thoroughly massage into scalp before rinsing with lukewarm water.
Next, generously apply Miracle RepaiRx Deep Hydrating Hair Masque from the root to the tips of your hair. Detangle using a comb or your hands, to ensure that the product is properly distributed. Make sure to coat your ends. Let it sit on your hair for 10-15 minutes before rinsing it out with cool water.
To style your hair, apply Miracle RepaiRx Protective Leave-in Conditioner to wet hair and follow up with the Miracle RepaiRx Anti-Breakage Serum. Seal in all that moisture by applying a small amount of the Miracle RepaiRx Curl Food Daily Moisturizer.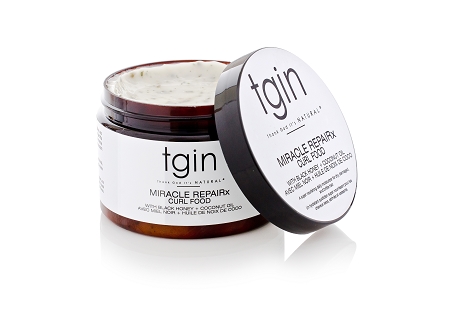 Review:
This entire line really shocked me. I have tried many hair products that have promised many things, but I truly enjoyed using the Miracle RepaiRx line. I have 3B hair that tends to be dry and I'm always searching for products to provide my hair with essential moisture. A lot of shampoos can leave your hair dry and tangled, but this Miracle RepaiRx Moisturizing Shampoo cleansed my hair, while providing moisture. Miracle RepaiRx Deep Hydrating Hair Masque is a cream based conditioner that gave my hair great slip, making the detangling process a breeze. The leave-in conditioner was a nice lightweight consistency that didn't weigh my hair down.
Each product retails for $14.99 and you can purchase this entire collection on the Tgin website or at Target.