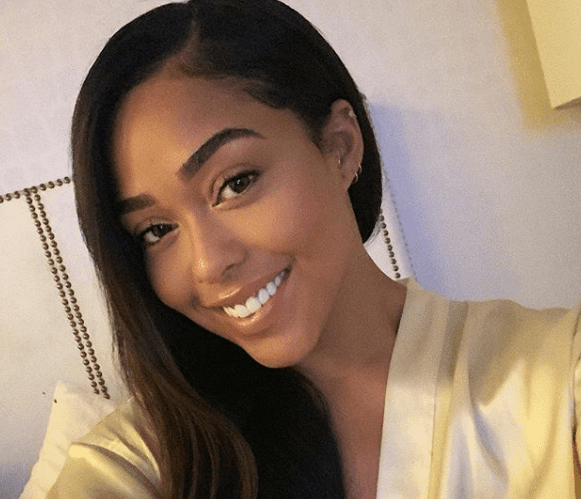 Jordyn Woods, the woman famously exiled from the Kardashian clan after admittedly having inappropriate intimate contact with Khloe Kardashian's ex-boyfriend Tristan Thompson, has translated her infamy into income.Her imprudent behavior has, in actuality, become the currency that has exponentially expanded her brand name recognition internationally. Ever since Woods appeared on Facebook Live's sensational hit show "Red Table Talk," steered by Jada Pinkett Smith, she was the object of some backlash. However, she has been largely deluged with international business deals.
Regardless of how it came about, the world got to know the highly photogenic Woods for the first time.
The Blast reports Jordan "has been flooded with calls from companies who want to get their brands seen with the star." Something else unexpectedly happened.
Woods found out she had a very strong fan base when Khloe Kardashian accused her of breaking up her home with Thompson, an NBA star with the Cleveland Cavs. Fans made the hashtag #teamjordynwoods go viral, forcing Kardashian to backtrack on her stance and actually place the blame of her relationship woes on Thompson.
That groundswell of support is helping her make a lot of money as an influencer, sources say. The Blast said Woods will be taking off for London this month with her mother, Elizabeth Woods, to sign "several deals."
One of the biggest deals will be tied to Woods' embryonic eyelash brand. She's also fielding calls from a plethora of companies looking to leverage Woods' sudden transnational fame, with marketing guru Sheeraz Hasan orchestrating many of the moves.
Hasan's renown derives from brokering deals between Hollywood and the Middle East for A-listers like Jennifer Lopez, Kim Kardashian and Paris Hilton. Hasan is reportedly arranging for Woods and her mother to travel to Dubai and other Middle Eastern hotspots after the London stop.
Recognizing this window of opportunity, Woods is looking to score some "huge financial deals." Her itinerary includes a scheduled skydive endeavor while visiting The Emirates.
For fans of Woods, it is poetic justice realizing that the Kardashians made her believe she needed their family's influence for her business ventures to soar.