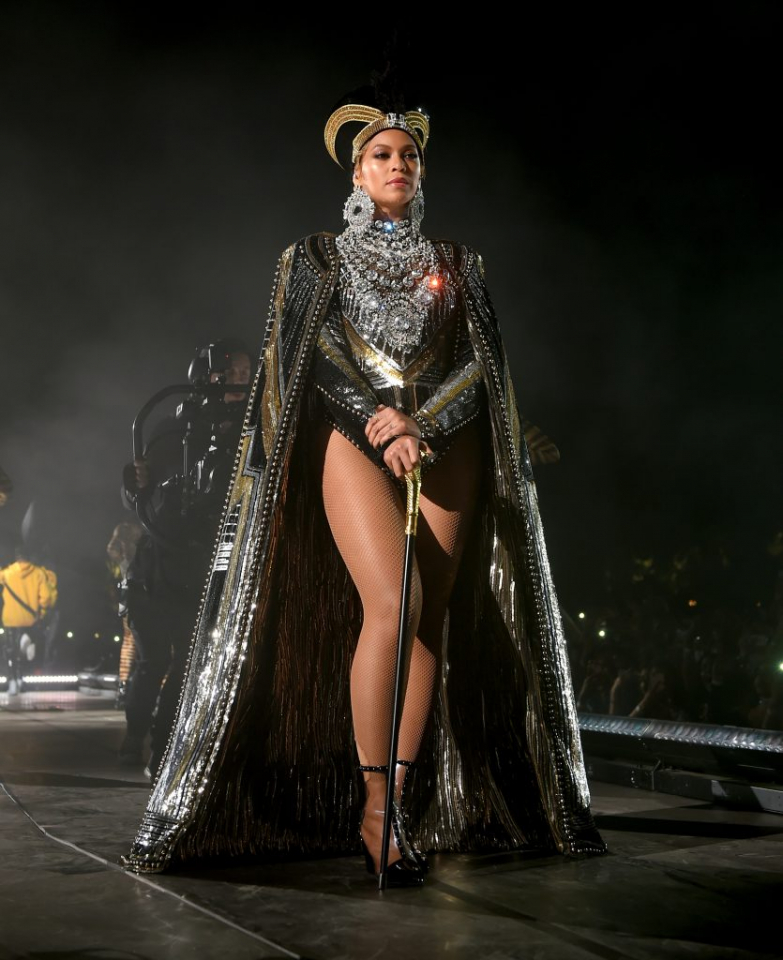 The themes presented during Beyoncé's Coachella performance were anchored by Black cultural moments that may have a puzzled some viewers. With her new Netflix documentary Homecoming, Beyoncé proved that great art can inspire all races and cultures.
Here is a breakdown of Beyoncé's Blackest moments at Coachella.
HBCU culture
HBCUs were mostly established in the post-Civil War South. The schools provided higher education for Blacks during times when all-White colleges and universities practiced segregation. Today, there are 106 HBCUs.
Bands – The bands at HBCUs carry a tradition of musical excellence. They are often the stars during homecoming season, as they battle it out during halftime at football games. Beyoncé's Coachella set was inspired by the Grambling Tigers Marching Band and Southern University Human Jukebox.
The Divine Nine – Fraternities and sororities on HBCU campuses are known as the Divine Nine. Beyoncé created her own version and named it BΔK. At one point during her performance, she does a mock probate (new member coming out show) and tells her male pledges to make her laugh. Of course, they all failed.
Step Teams – Members of fraternities and sororities often form step teams and participate in competitions on campus and nationwide. Beyoncé and her dancers performed step routines while on stage.
Black icons
Malcolm X – Beyoncé played an excerpt from Malcolm X's "Who Taught You to Hate Yourself?" In the speech, X said, "Who taught you to hate the texture of your hair? Who taught you to hate the color of your skin?" The speech was given on May 5, 1962, at the funeral service of Ronald Stokes in Los Angeles, who was killed by the LAPD.
Negro national anthem – Beyoncé sang "Lift Every Voice and Sing," written in 1900 by James Weldon Johnson in what started as a poem. It eventually became known as the Negro national anthem and is often sung at majority-Black schools and religious centers.
Nina Simone – Beyoncé also paid tribute to Nina Simone by playing "Lilac Wine" as two praise dancers performed. The song appears on Simone's 1966 album Wild is the Wind.
Fela Kuti – Beyoncé paid homage to the Nigerian creator of Afrobeat by doing a rendition of the 1976 song "Zombie."
Southern hip-hop
OutKast-Beyoncé's band took a moment to play the horns from OutKast's song "Spottieottiedopaliscious." The song appeared on the group's classic 1998 album Aquemini
DJ Screw – Beyoncé did a chopped and screwed version of "Crazy In Love." Chopped and screwed is a sound created by Houston native DJ Screw. DJ Screw, who died in 2000, would slow down rap records to the point that an artist's vocals would sound as if it were deeper than a baritone's.
Pastor Troy – Beyoncé's band also gave a nod to another Atlanta native, Pastor Troy, by chanting "We Ready!" The chant comes from Pastor Troy's 1999 hit "No Mo Play in GA."
No Limit – The band played a snippet o "Down For My N's" from C-Murder's 1999 album Trapped in Crime.
Cash Money Records – Beyoncé incorporated Juvenile's 1999 hit "Back That Azz Up" from the album 400 Degreez.