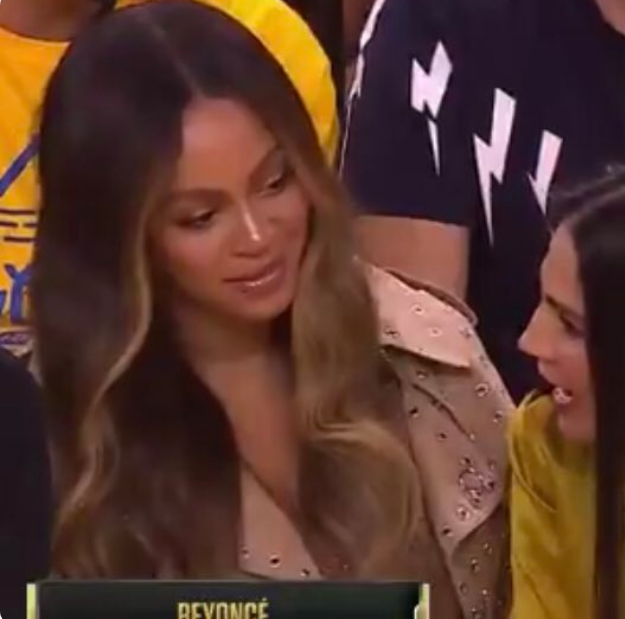 A funny thing happened when Beyoncé and Jay-Z sat courtside during Game 3 of the NBA Finals between the Golden State Warriors and Toronto Raptors at Oracle Arena in Oakland.
As the camera zooms in on the pop culture power couple, Twitter quickly picked up that Queen Bey did not look happy as a mysterious woman kept leaning over her to talk to her husband Jay and encroaching on her space in the process.
Jay-Z and Beyoncé are courtside for Game 3 😎 pic.twitter.com/6mmJuN8Odn

— ESPN (@espn) June 6, 2019
That mystery woman happened to be the Nicole Lacob, the wife of the Warriors owner Joe Lacob. And Twitter noticed that Beyoncé looked irritated as the woman kept snaking her head beyond her to continue chatting with Hov.
At the end of the video, the "Me, Myself and I" singer appears to subtly nudge the woman as Bey shifts in her seat to regain her whole courtside space.
Someone on Twitter remarked: "well that girl is way better looking than bey, so she's naturally jealous."
Another posted: "Let me hear you say Ms. Carterrrrrrr! No such thing as an ugly billionaire NOPE she's not prettier 😂."
The episode inspired some funny memes as the video has gone viral.
https://twitter.com/KaraRBrown/status/1136462444463738880?ref_src=twsrc%5Etfw%7Ctwcamp%5Etweetembed%7Ctwterm%5E1136462444463738880&ref_url=https%3A%2F%2Fwww.nydailynews.com%2Fsports%2Fbasketball%2Fny-sports-nba-finals-game-3-beyonce-jay-z-20190606-l4g354ekfbcjbcqmtfdkvgyi3a-story.html
beyonce is so annoyed by this woman and hov gon' hear about it on the jet pic.twitter.com/0na9BTL6C6

— Brandon Caldwell (@_brandoc) June 6, 2019
Beyoncé is like… pic.twitter.com/b1UubfvUsV

— Ryan Houston WPXI (@WPXIRyanHouston) June 6, 2019
This woman annoying Beyoncé is about to inspire a whole new album pic.twitter.com/cLlcSsGQdU

— Elle Rodríguez Hernández (@elle_marina22) June 6, 2019
Hive gonna make sure she's not an issue by the 3rd quarter at the latest pic.twitter.com/t6SexhstfU

— Limearita Papi (@kibirdie) June 6, 2019
https://twitter.com/_DMLEE_/status/1136480144275726336