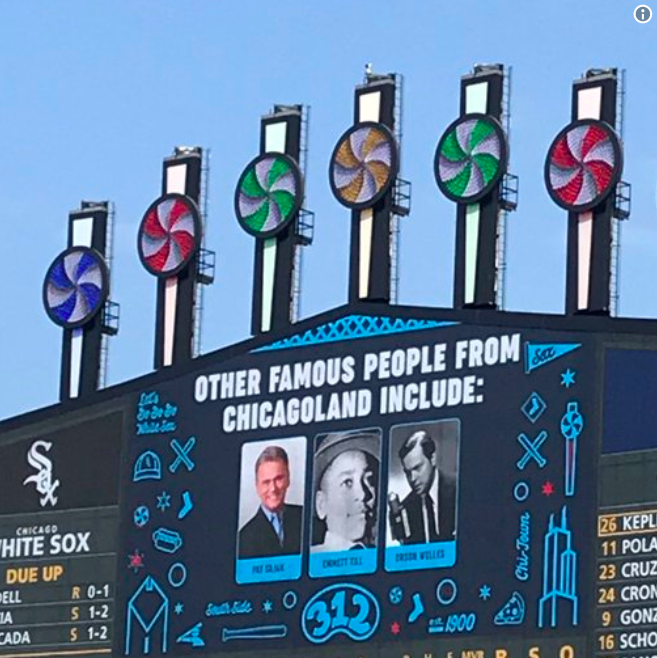 On June 29, 2019, the Chicago White Sox, during a game versus the Minnesota Twins, decided to share pictures of a few famous Chicagoans. The scoreboard read: "Other famous people from Chicagoland," and a picture of Emmett Till was bookended by those of "Wheel of Fortune" host Pat Sajak and actor and director Orson Welles. While the celebrity of Welles or Sajak cannot be disputed, the idea of Till being added to this list is unconscionable.
Till was lynched in Mississippi in August 1955, accused of whistling at a White woman.  Carolyn Bryant Donham, the woman who made the accusation, has since claimed that none of it was true in an interview with Timothy B. Tyson, a Duke University professor and author of The Blood of Emmett Till.
Donham's fabricated story cost a young Black man his life and put the world on notice to the injustices that were happening as a result of racism. Till's death and the graphic open-casket photo of the youngster that his mother shared with the world, sparked outrage and insight into the world of White supremacy.
White Sox executive Scott Reifert issued a statement explaining why Till's photo was placed on the scoreboard.
"It was done as a list of famous and iconic Chicagoans, so the person who did it felt like Emmett Till is an iconic face of kind of the civil rights movement in Chicago," Reifert said. "I pointed out that, probably in retrospect, it's poor form. We talked about it. He regretted it. Certainly, he admitted it was a mistake. The intent certainly wasn't to insult anybody, not Emmett Till by any means." 
Clearly, the White Sox recognize the error that was made. When you take a look at Twitter, opinions vary. 
Be offended by optics all you want, but I bet at least 50% of the crowd had no idea who Emmett Till was and if this causes them to look him up and find out…it's a good thing.

— Webbo 🇺🇦 (@mattyweb) June 30, 2019
There's nothing wrong with drawing attention to Emmett Till, but any time you're putting together a graphic and you've got a photo of Till next to Pat Sajak, stop and think about what you're trying to do.

— Jamie Lawson (@shelbymustang) June 30, 2019
https://twitter.com/Ellie_Vared/status/1145351624384286720
The image, person and story of Emmett Till should never be forgotten. However, what do you think about what the White Sox did? Share your feelings in the comments below.