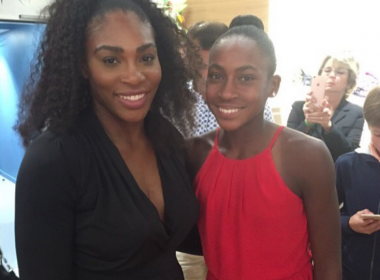 The youngest girl at Wimbledon has just defeated the oldest.
Previously unknown 15-year-old tennis phenom Cori "Coco" Gauff vanquished 39-year-old Venus Williams in straight sets, 6-4, 6-4, in the opening round of the Grand Slam tournament on Monday, July 1, 2019.
Gauff was going for her first Wimbledon match win against a woman, Venus, who was looking for her 90th Wimbledon singles win and sixth Grand Slam at this hallowed tennis cathedral about 30 minutes south of London.
For Gauff, this first victory at the legendary All England Lawn, Tennis & Croquet Club, was extra special since she has idolized Venus and Serena since she was 6-years-old and her father bought her a pink racquet. When she won the match over Venus, Gauff's parents lept up for joy in the stands and Gauff immediately began sobbing — something she said she had never done before — and she enthusiastically shook Venus' hand at the net and really didn't want to let go the legend.
"Honestly I don't really know how to feel," said Gauff, who was ranked No. 313 in the world, according to USA Today. She intimated that this moment is surreal for her after winning the junior French Open title at age 14.
"This was the first time I ever cried after a match. While winning, obviously. … I never thought this would happen. I'm literally living my dream right now. And not many people get to say that. I'm just happy that Wimbledon gave me the opportunity to play."