Lil Nas X's hit single "Old Town Road" introduced millennials to country music and R&B singer K Michelle considers herself a trailblazer in the genre as she is currently working on a country album. However, truth be told, African Americans have had ties to country music and the lifestyle therein much longer than many realize.
According to Smithsonianmag.com, Black cowboys accounted for up to 25 percent of workers in the range-cattle industry from the 1860s through the 1880s.  The Bill Pickett Rodeo is one of the few events that honors the rich history of the Black cowboy, dating back to the early 1800s.
"There were always Black cowboys," says Bill Pickett Rodeo president and promoter Valeria Howard Cunningham. "Bill Pickett was one of the first recorded Black cowboys and he invented bulldogging — one of the most popular competitions in rodeos of all types all over the world. This year is an anniversary year for us and we'll be visiting major cities like Denver, Oakland, Atlanta and Maryland and celebrating 35 years of Black cowboys. It's entertainment for the entire family, and it offers the opportunity to see athleticism in both the cowboys and cowgirls and the animals."
The Bill Pickett Rodeo has experienced sold-out shows throughout 2019 with Atlanta's shows on Aug. 2 and Aug. 3 being the largest crowd yet. Cowboys from as far away as Oklahoma and as close as Covington gathered at the Georgia International Horse Park to compete in calf roping, bulldogging, bareback riding, ladies steer undercoating, junior and ladies barrel racing, and bull riding.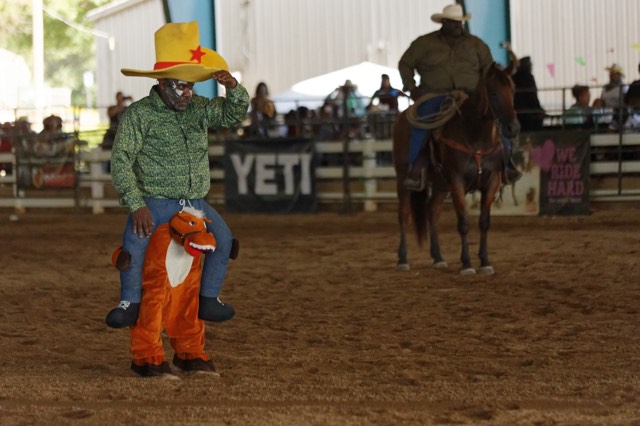 Howard-Cunningham says she is looking forward to the final show on Sept. 20 and Sept. 21 in Upper Marlboro, Maryland, where winners from the various rodeos throughout the year will compete for the final championship.
"Our rodeo is invitational, which means the competitors are invited to participate. You will see the winners from the various shows meet up in Maryland for the 2019 championship title," says Howard-Cunningham.