It's hard for Generation Xers to believe that it's been 30 years since direector Mario Van Peebles made the era-defining, culture-shifting film New Jack City.  
While the classic turned Wesley Snipes, Chris Rock and rapper Ice-T into household names overnight, the impact that Peebles is most proud of is how the dark, grimy and gritty scenes of rampant drug use and distribution "deglamorized" crack.
In fact, Peebles told the New York Post's Page Six that many people came up to him years after the movie dominated urban theaters and thanked him for helping them to get off crack. Another classic, Scarface, where aspects of cocaine usage were glamorized and its opulent lifestyle coveted, Van Peebles jolted moviegoers with harrowing footage of crack addicts populating scary-looking alleys and behaving like savage beasts. This was particularly true of Rock's famous role as the strung-out junkie, Pookie.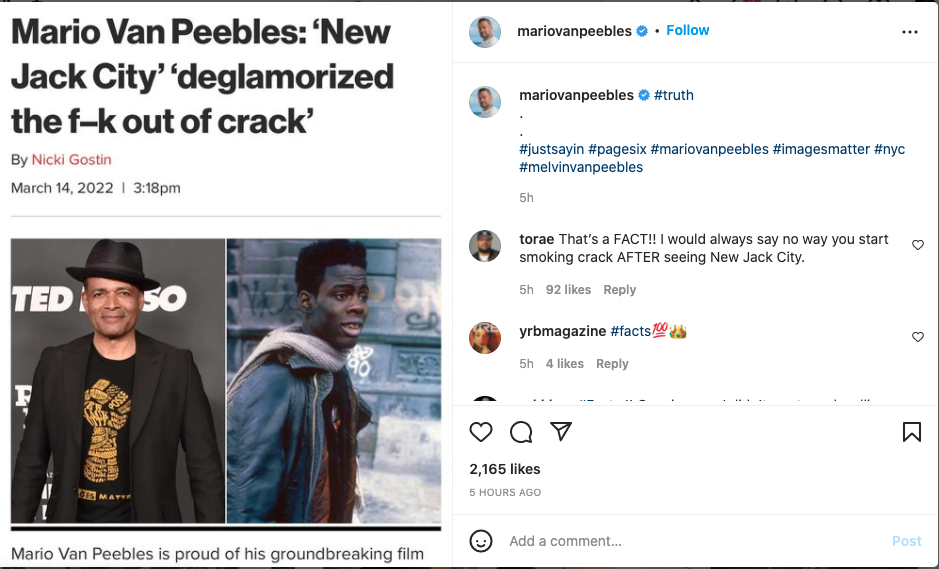 "We made that victim Chris Rock, who so took you in that we deglamorized the f— out of crack, man," Van Peebles said. 
"You know, Scarface, Tony Montana, it's still a little aspirational sniffing mountains of coke … but there is no way in 'New Jack City' when you see that alleyway scene to say, 'You know, this looks like a real good idea.' Nothing sexy about it at all," he said.

Van Peebles, 65, gave the interview in advance of an upcoming screening of New Jack City, facilitated by American Cinematheque, on April 9, 2022. The viewing of the film will be followed by a Q-and-A at Los Angeles' Regency Westwood Village Theatre. 
Those scenes of zombie-like addicts wandering aimlessly inside the fictional Carter housing project haunted its moviegoers. Some were so disturbed by what they saw many of them either got off the drug or vowed never to touch the stuff, according to Van Peebles.
"We showed New Jack City and kids stood up and said, 'Just say no, motherf–-a,' " he said.