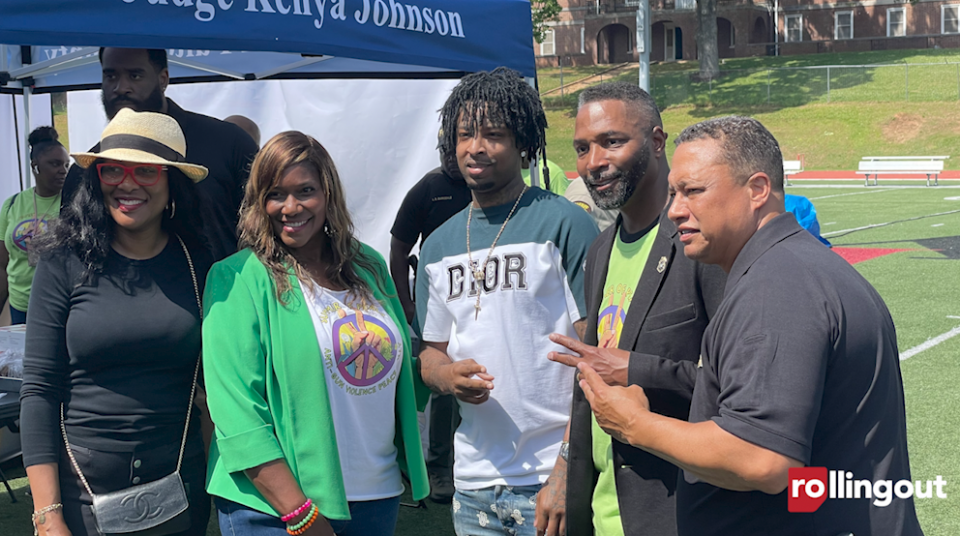 21 Savage wants people to understand the real him.
The rapper took to Twitter to demand people in Atlanta stop killing each other.
"Atlanta, we have to do better," the rapper wrote on Twitter. "Put the f——- guns down !!!!!"
Atlanta We Have To Do Better
Put The F****** Guns Down !!!!!

— Saint Laurent Don (@21savage) August 8, 2022
The comment section was full of 21 Savage's lyrics, heavily-filled with references to gun violence.
"Spin the block twice like it ain't nowhere to park," @MeauxButtuh replied to the rapper, quoting one of his latest verses on Drake's "Jimmy Cooks."
"A song is for entertainment, it's not an instruction manual on how to live life," 21 Savage responded. "In real life, I give away a lot of money and spread financial literacy to my community. Stop trying to make me one dimensional."
He then used Instagram Live to further defend his name.
"My mama never had a job because she could never get social security," the rapper explained.
The rapper and his mother moved to America from the United Kingdom when he was six or seven years old.
"Nobody in my family ever had a job," he continued. "I couldn't go to college. I couldn't get a job. I couldn't get a driver's license and I found a way to get rich, not even rich, but I found a way to feed my family without doing anything illegal.
"So I really don't give a f— about how anyone feels about what I rap about. At the end of the day, I can rap about whatever, but when it comes down to what I do in real life, I give back. I look out for a lot of people. I take care of a lot of people. I help a lot of people. I try to partner up with a lot of people to help people and I've been doing this since day one."
The rapper explained "day one" was 2015 when he released his debut mixtape, The Slaughter Tape. That same year, he hosted his first back-to-school drive.
"This ain't no new s— that I'm just doing, naw," he said. "I've been doing this. This is me as a person. Anybody that knows me in real life knows this. I'm going to continue to rap how I want to rap and what I want to rap about. Nobody's going to stop me from doing that, period."
On May 5, the rapper appeared at an anti-gun violence rally in Fulton County.