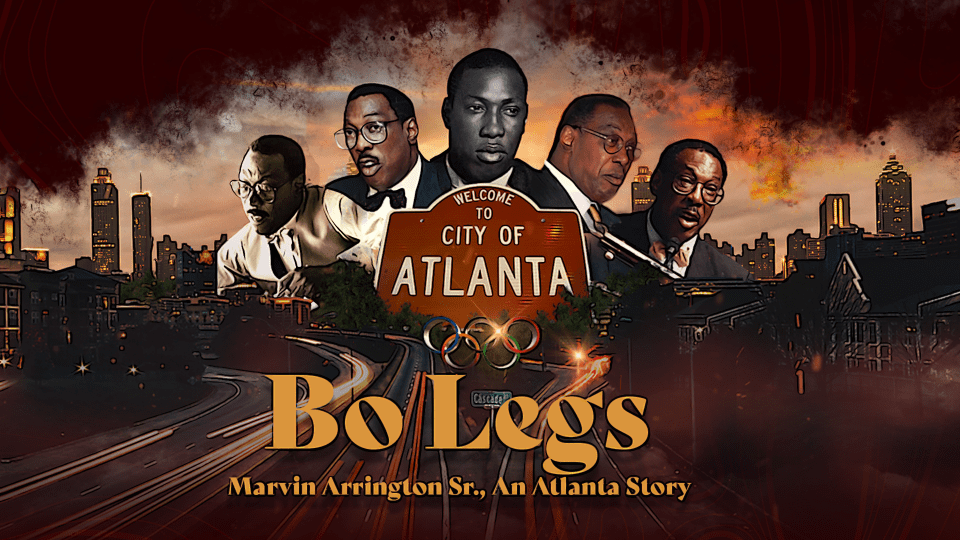 The legend of the venerated Marvin "Bo Legs" Arrington Sr. lives on. His life story and work are the subject of a new documentary titled, Bo Legs, which is currently streaming on Delta Air Lines worldwide for the rest of the year. Judge Arrington's son, Marvin Arrington Jr., is the executive producer of the film and a Fulton County commissioner, representing District 5. Arrington Jr. led an independent filmmaking team to profile his father's legacy which acknowledges his impactful role in transforming the city of Atlanta into the world-class city that it is today.
The film synopsis reads:
"Marvin Arrington Sr. is one of Atlanta's most significant political leaders yet one of its least recognized. Born in Atlanta, then a segregated, provincial town of the Deep South, Arrington grew up to help galvanize the city of his birth into the international, cosmopolitan metropolis that it is today. This documentary takes viewers on the journey of one man's love for a city and his visionary work toward its eventual transformation. Battling through the blows of racism and meshing with political opponents over the years Marvin "Bo Legs" Arrington not only found his way but made his mark in civic duty and social justice."
Bo Legs was written and directed by Adelin Gasana, an independent documentary filmmaker based here in Atlanta. Born in Rwanda and rasied in South Florida, Adelin Gasana fell in love with the genre of documentary halfway through high school and began producing independent films during his freshman year out of his college dorm. For over a decade and a half, he has produced a range of films focused on current social, political, historical, and cultural issues. His film topics include the Cuban Diaspora of Miami, Black megachurches, feminism, existentialism, high heels, and how history is taught.
After working as an archival researcher for the Maynard Jackson biopic entitled, Maynard, Commissioner Arrington Jr. reached out to Adelin Gasana about possibly working on a film about his father. At first, Gasana was hesitant thinking there may not be enough material elements to visually convey his father's life story and the work he's done over three decades. But in preproduction of the film while leading the preliminary research of the documentary he was proven wrong. "After looking through the archives collection around the city–the Atlanta History Center, Woodruff Library, the Atlanta University Center, the AJC newspaper collections, and WSB-TV archival database I was blown away. There was plenty of stuff on the legendary work of 'Bo Legs'. So, I immediately went to work."
This bio-doc leaves no stone unturned. Marvin Arrington, Sr. was a Grady baby. He grew up in Grady Homes, a public housing project once located downtown before moving to The Bluff, the infamous inner-city neighborhood of Atlanta. Arrington was nicknamed "Bo Legs" early on by his peers for being bowlegged. He later picked up a football and became a star athlete at Henry McNeal Turner High School. There he earned a college scholarship to attend then-Clark College (now Clark Atlanta University). After his college playing days and taking part as a student activist during the Civil Rights Movement here in Atlanta, he decided he wanted to be a lawyer. He and his childhood friend Clarence Cooper, now a federal judge, integrated Emory University's Law School where the two became the first African American graduates at the prestigious college. Marvin Arrington, Sr. would go on to become the youngest serving city councilman in Atlanta's history and the longest serving city council president. He would work with both Mayor Maynard Jackson's and Mayor Andrew Young's administrations in enacting key policies for Atlanta's growth. Arrington would also partner with the legendary Donald L. Hollowell to run one of the largest Black-owned law firms in the country. The film also covers Arrington's 1997 mayoral bid against Bill Campbell and his decade-long stint as a Superior Court judge of Fulton County. Today's city council chambers are named after the Honorable Marvin Arrington Sr.