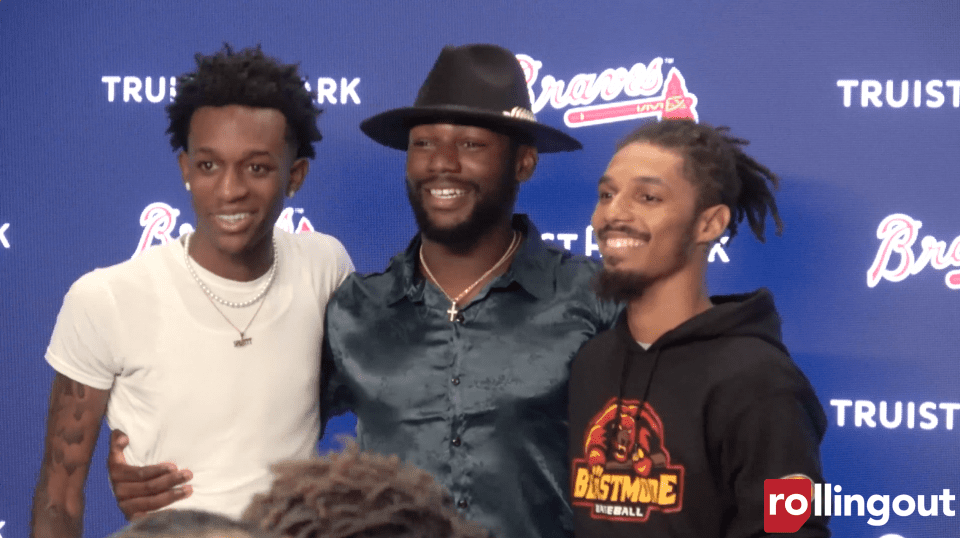 Tyler Cunningham and Cameron Marshall, best friends of Atlanta Braves outfielder Michael Harris II don't call themselves his friends, but his "bigger brothers," although Cunningham is younger. After the Braves announced Harris' eight-year, $72 million extension, Cunningham and Marshall spoke to rolling out about Harris' success and his impact on the next generation of baseball players.
Cameron, you have a BeastMode Baseball hoodie on right now. What is that about?
It's called Beastmode Grinders. We're an organization out of McDonough that practices at Hidden Valley, actually down the street from where Mike lived. Basically, we have all age groups from 4 to 14. I've been coming here for a year now, but it's a big movement.
We're just trying to get a lot of Black kids actually more opportunities to play baseball. For me to be blessed to know Mike brings confidence and brings hope, because now the kids know that I'm really great friends with him, he's like my brother. So basically it's like, "What can he do to help us?" And I'm just like, "Motivate."
He could tell younger kids what they need to do, what they need to expect and just give them hope. Now when I see my kids that I coach and teach all the time, they're like, "Hey, I've seen Mike. I played with him on the game," but it just makes them love the game more and shows them there is hope that kids have the same dream and dreams can come true.
There are a lot of young Black kids who are looking up to Mike around the metro Atlanta area. What do you think he represents?
Cunningham: One, as a Black male, a hometown hero, it's something special. I'm not going to say it's not too many of us, but to have a special story like that, especially for the younger generation, to me, I just feel like that's special. The way he carries himself, if I was growing up, I'd admire him, personally. Even now, I look at myself and with certain decisions, I'd think like, "Man, what would Mike do right now?" And I've sort of changed my ways, but overall, he's a 100% great person. I keep saying he's very humble, he doesn't show too much emotion, especially when he gets on that field, man, he's a killer.
Marshall:  They called him up, and he's a Brave. It shows like, bro, you just turned 21. Dreams are possible, especially as a Black kid. You don't have to do all the extra, you just go hard, stay humble, stay away from all negativity and stay focused on what you want to do.
Where can people find out more about Beastmode Baseball?
We do have an Instagram, Beastmode Grinders … The CEO is Mr. Jamal, the head coach is DJ and, of course, the assistant coach is Cam Marshall.