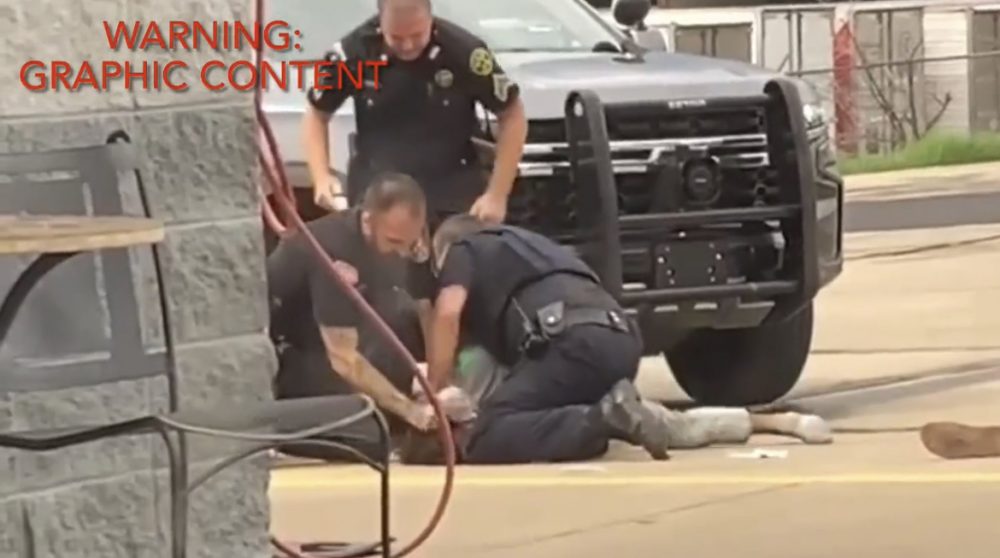 Three Arkansas officers have been removed from duty and are under investigation after a video captured them violently punching and kneeing a man outside on the ground.
The officers were identified as Zack King, Levi White, and Thell Riddle.
The man being beaten was 27-year-old Randall Worcester. He was transported to an area hospital for examination and treatment, then released and taken into custody.
Worcester is facing charges of second-degree battery, resisting arrest, refusal to submit, possessing an instrument of crime, criminal mischief, terroristic threatening, and second-degree assault.
#BREAKING: Arkansas State Police launch investigation into this incident, captured on camera, outside a convenience store in Crawford County. ASP says two county deputies and a Mulberry police officer were involved. #ARNews

**WARNING: GRAPHIC VIDEO / No audio** pic.twitter.com/dYE0htfAsf

— Mitchell McCoy (@MitchellMcCoy) August 21, 2022
While one officer is punching Worcester in the video, another officer repeatedly knees him in the back. At one point, the first officer bashes the man's head against the pavement. The third officer restrains the man on the ground throughout the video.
As the man is being beaten by the officers, he covers his head and balls up to protect himself.
The video began surfacing on TikTok on Aug. 21 but has now been deleted. Some social media sites and news stations have picked up the video though.