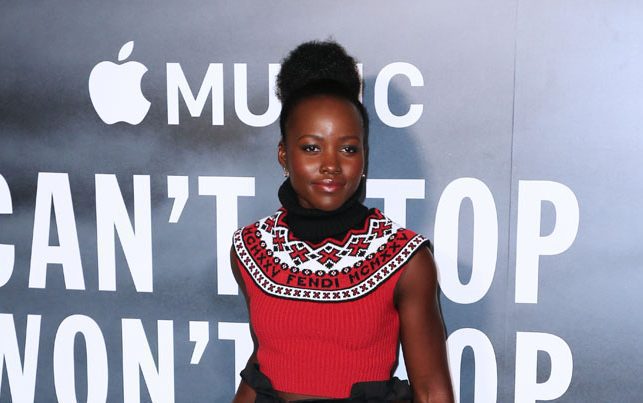 Oscar-winning actress and Black Panther star Lupita Nyong'o is the latest celebrity that fans have taken ownership of in terms of whether they approve of their significant other.
Not long after Nyong'o's new boyfriend, South African native Selema "Sal" Masekela, made their romance Instagram official, folks naturally weighed in on her choice of companionship — and not all of them were favorable. 
FINALLY! 39 YEAR OLD LUPITA NYONG'O INTRODUCES HER 51 YEAR OLD BOYFRIEND SELEMA MASEKELA#lupita#lupitanyongo#selemamasekela#blackpantherhttps://t.co/UyckLTXRuo pic.twitter.com/3POpcRfPwU

— PrinceAlmasaClement (@AludahKlemarz) December 24, 2022
The pairing seems natural on the surface. Nyong'o is a world-famous actress who won a Best Actress Academy Award for her performance in 12 Years a Slave.
Masekela's lineage is also entertainment-based. He is the son of South African jazz artist Hugh Masekela. He reportedly works as a sports commentator and TV host and covered the Olympic Games and NBA games in the early 2000s.
In the announcement of their relationship on Instagram, the two created a beautiful video montage of synchronized movements that crystallizes their chemistry and bond.
However, some Black Twitter users were brutal in their assessment of Nyong'o's boyfriend's countenance, as if this singular physical attribute is all that is required to earn courtship with the stunning cocoa-coated cutie.
Lupita's new man is soo ugly I'm so sorry but he shouldn't even be allowed 50ft near her!

— Bee (@MindyourBeesRad) December 26, 2022
Lupita Nyonga is so beautiful & she's dating the ugliest BM I've ever seen. BW really date down when they get with BM. Even when it comes to looks. pic.twitter.com/mAyUuoQDpy

— ✨💖Bl💞ck Barbie Army 💖✨ (@The_Barbie_Army) December 27, 2022
This was outta pocket. Ugly to who?!? Apparently not Lupita and that's all that matters.

— Ya Muva (@BlockedTnBusy) December 28, 2022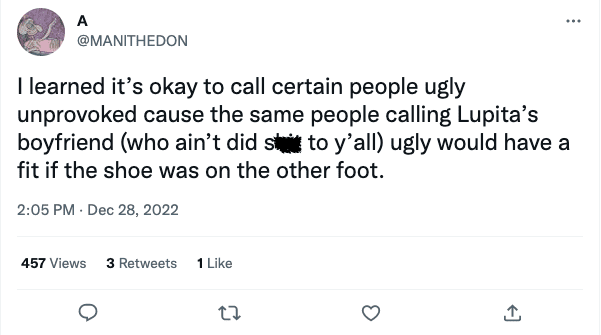 Fans of Nyong'o quickly clapped back on her haters' narrow-mindedness.
What a plastic view of people. He is not ugly & He could be the sweetest, kindest, funniest man out there. I would think that's Lupita's choice…..

— Tina 😉 (@TiffClina) December 28, 2022