Many Black consumers take pride in supporting Black-owned businesses. Understanding your purchase helps the financial stability of your community and can give Black consumers a sense of doing what they should've done long ago, supporting their own.
There is a major reason though that Carbonadi Vodka founder Ricky Miller doesn't want his company to be considered "Black-owned," however, which he recently revealed to rolling out.
What do you think the current state of Black economics is?
I think we have a lot of momentum, actually. There's a lot of work to be done. I don't know if my opinion is a popular one, but for me, it's less about asking for handouts and more about doing the work.
For instance, with my page on ReserveBar, they used to say "Black-owned" over my profile picture, and I told them to remove it.
Listen, I'm really proud of [my product]. I'm only doing this because I want to inspire people that look like me and change the DNA of the industry, which is made up of people who don't look like me. However, what happens is, from a brand perspective, we are truly trying to elevate the vodka category as a luxury brand.
You can complain about the world, or you can learn to play the game.
The problem for me with placing Black-owned over it is there are a lot of folks who are going to turn their heads because they see that, and not even look at the product. To me, that's a smaller piece of the vision for me. The vision is to create a real brand that is globally respected as a luxury brand. For them to see a Black man did it, I think opens the door for a lot of other people. It changes minds, but what happens with ReserveBar, there's a whole suite of services that Black-owned brands get where they put you on this page. They feature you [in the Black-owned section], for me, that's not super beneficial.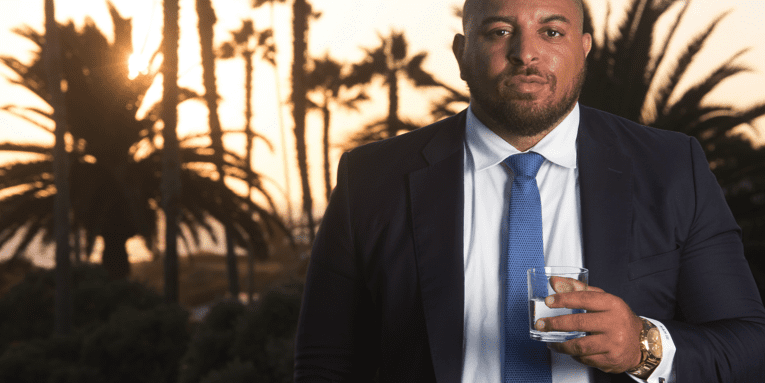 I'm like, "Give us that same love. Put us in the same places but put us right next to the Dom Pérignon and the Belvedere of the world. You don't need to put Black-owned because then I feel like it's charity. … Give us the feature, give us the love, give us the visibility just like you give Dom, just like you give Belvedere, just like you give Grey Goose and don't put "Black-owned." We want our stripes just off merit, not because of charity.
What are three alcohol responsibility tips you can give to 2023 consumers?
One, really get to know your limit.
I wouldn't be responsible without saying never drink and drive. There are never any excuses for that with Uber, Lyft and all the other services. There's no reason to drink and drive, not just for your safety, but for the safety of others.
Try not to mix your alcohol. Stick to one for the night because that'll turn you upside down quickly.