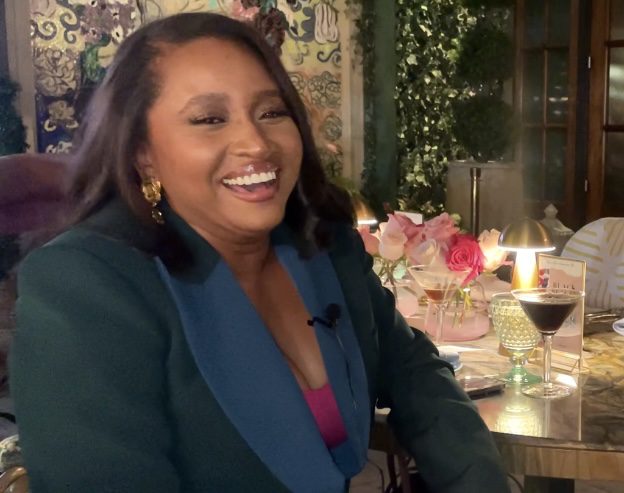 The Black Beauty Effect event was held at the Garden Room in Buckhead Atlanta to celebrate the three-part docuseries recently released on Xfinity in November of 2022. Also known as the "Black Experience," people can access the documentary that highlights the stories of Black women in the beauty industry. The social experience brought out both beauty entrepreneurs and influencers to network and dine for the evening.
During the event, executive producer and creator Andrea Lewis hosted a discussion with fellow executive producer and the CEO of Face Forward Productions, CJ Faison. Other executive producers on the project are influencer Jackie Aina, and fashion designer Kahlana Barfield Brown. The documentary features a number of interviews with guests such as Meagan Good, Choyce Brown, Amber Riley, and more.
Lewis opened up about the creative direction behind the project and how Black women have influenced the beauty industry.
What was the overall goal in creating "The Black Beauty Effect?"
"The Black Beauty Effect" is a three-part docuseries covering hair, skin, and makeup about the game-changers who dominate and influence Black women in the beauty space. The goal was to honestly highlight game-changers, help our community to see all the ways that we've progressed, and all the things we've been able to do despite the spaces that are not built for us. But we still have carved out endless spaces for ourselves to make ourselves feel beautiful. We celebrate ourselves, we make products, we're entrepreneurs. We do so much and our effect goes across the world. It influences the world quite literally, that's Black Beauty Effect.
What are the changes you see in the beauty industry?
Well, I was just on set a month ago and my hair and makeup trailer were all Black and Brown people. They were [also] using Black-owned products and that in itself was the biggest change I've ever seen. I remember when there were one or two things maybe for us on set or general products, but not anything specific. This time not only did the hair and makeup team have the products, but they were so conscious of making sure I felt good. I liked my hairstyle, I was comfortable with what they were doing, I liked my makeup, and I was comfortable with it. Those adjustments are major.
Why did you promote "The Black Beauty Effect" in Atlanta?
It's an entrepreneur city, Black creatives, a Mecca, it's like all Black things are here. Also, when I think of Atlanta, I think of hair and beauty in general. I think of women who know how to keep themselves together, so why not do it in a city like this? We get to share our project in the city because it took so long to create, so it was a must-do.