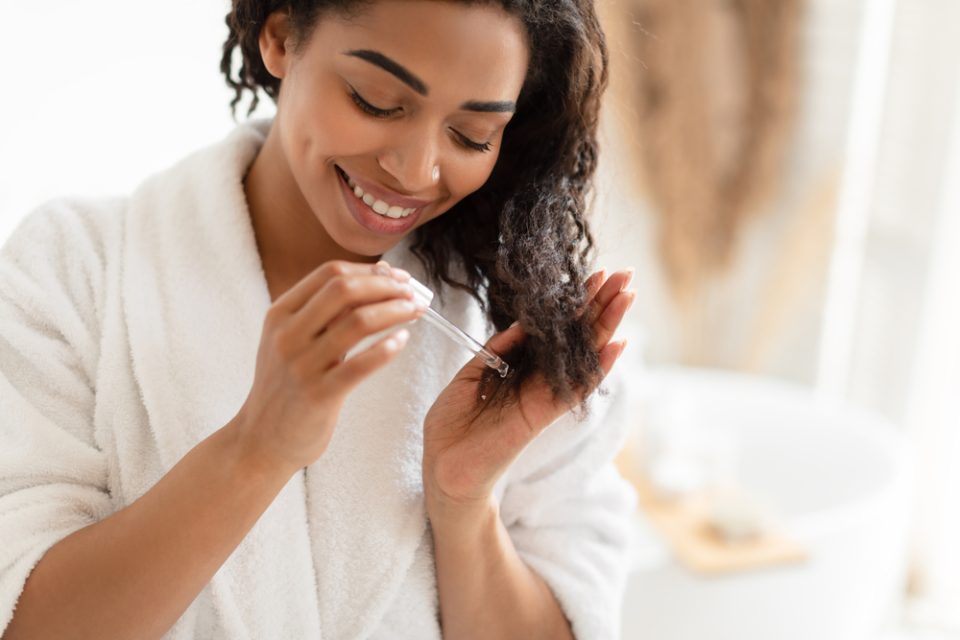 The natural hair movement has become more popular in the Black community now that people have become better educated regarding hair care and have turned to natural hairstyles. Previous generations focused more on chemical straightening products, hair grease, and the infamous spritz product to help keep our hair in place.
Now the hair industry has more products to choose from that focus on the overall health of one's hair, Black women and men are embracing their crowning glory by using products that help define their curl pattern, stretch their curls, hydrate their curls, or even lock in moisture. One of the many products that promote health and help to lock in moisture is hair growth oil.
According to the "Insider," "Hair oils may help lubricate and strengthen your hair shaft to prevent breakage," said Alpana Mohta, a board-certified dermatologist and medical advisor for Better Goods.
Here are eight hair growth oil brands that Black millennials are using today.
Mielle organics rosemary mint scalp and hair strengthening oil 
Recently bought by Proctor & Gamble, this particular hair growth oil became a viral sensation once Black women complained of other races causing the product to be sold out. The product is known for having a cooling sensation that gives your hair and scalp a refreshing feeling.
Jamaican mango & lime black castor oil
This Black-owned hair growth oil has a thicker texture that is great for quick hair growth results. If you have thick hair, then this oil will be a great product to keep your hair soft and moisturized.
Doo gro mega thick formula hair oil
This is a Black-owned brand that has been around for a while that helps to lock in moisture. This particular hair growth oil is great for people that wear locs, braids, and other protective styles to keep hair moisturized.
Aunt Jackie's "repair my hair" argan oil
Argan oil is a lighter oil that is great for everyday use. This Black-owned brand focuses on making products for every curl pattern while also promoting hair growth.
Blaq luxury mega gro repair & strengthen hair serum 
Owned by Cherice Williams, the brand was started after a diagnosis of PCOS which resulted in hair loss. She made it her duty to find a solution to this issue and help other women in the process of their hair growth issues.
Kaleidoscope hair oils
This viral sensation became popular on Instagram once it was advertised on the Shaderoom as a product to help grow back someone's edges. Since then, the Black-owned brand has made two additional hair growth oils you can choose from.
Baby your hair coconut hair formula
Featured in Allure Magazine, this Black-owned hair growth oil focuses on overall hair care and hair growth. Available on their website and Crate Joy, you can purchase this coconut oil-based product as a subscription box.
Natri beaut hair elixir
This Black-owned hair product is a blend of oils that helps to maintain your length, counteract thinning, and hydrate dry hair. This hair growth oil product is also nut-free.