Kheris Rogers is a fashion designer, model, dancer, actress, singer, author, philanthropist, and the founder of Flexin' In My Complexion. She strives to help everybody feel beautiful. After encountering a bullying situation in school regarding her skin color, Rogers did not let that hold her back mentally.
Starting her fashion brand at just 10 years old she has grown into a confident teenager who uses her voice to ignite important discussion. On March 25, 2023, she will host a special Women's History Month Roundtable in Los Angeles where she will talk about colorism, racism, and representation through her organization called Kheris Rogers Foundation.
Rogers opened up about the story behind the start of her brand, the design process, and how she encourages others.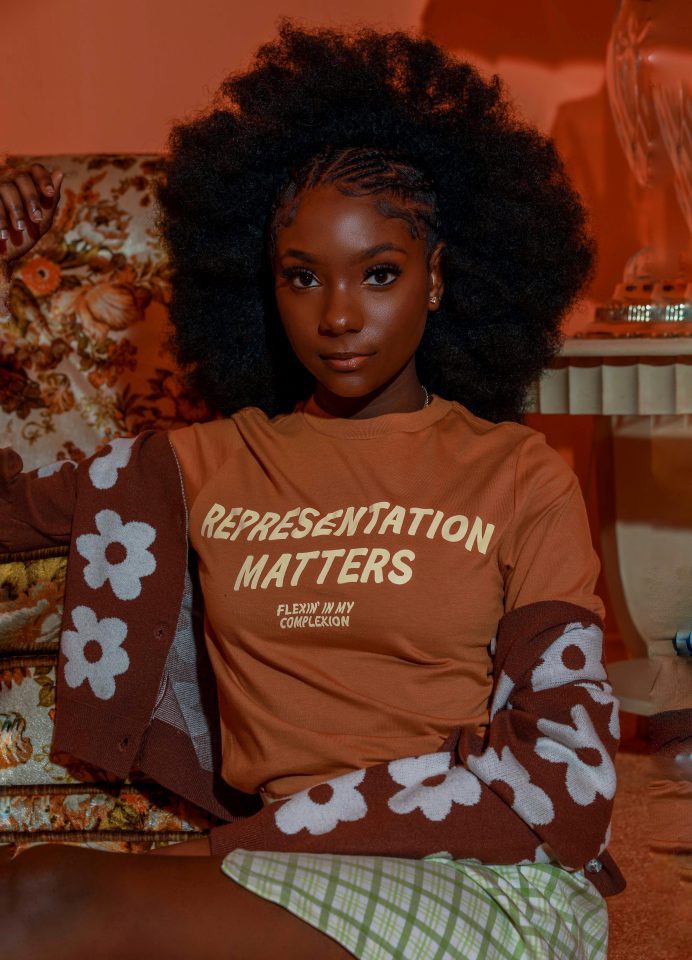 What led you to create your fashion brand Flexin' In My Complexion?
I created Flexin' In My Complexion when I was 10 years old because I was being bullied for my dark-skinned complexion growing up in school. And so when I was going through a lot of those experiences, of course, it took a toll on my self-esteem and my mental, I had no confidence in myself whatsoever. And when you're young and going through something like that, you know, that could be rough. I initially started to go viral on Twitter for pictures, my sister reposted me on Twitter and the hashtag was 'flexing in her complexion' and the number of people that were commenting saying how they love my skin color and my hair; I was like, these are the same things I was being bullied for going up. So, you know that right there. I was just like, why not create a clothing line called Flexin' In My Complexion and then we dropped it a few days later, maybe like three days later. And it sold out in less than ten minutes.
Can you break down your fashion design process?
So, in the beginning, we used to do everything out of our garage, so it would just be me and my sister. She's more of the [person] who can draw, I can't do all that. I have the mind where I envision what I want something to look like, and she could put it out on paper or the computer. Now we moved into a warehouse. So, we have people behind closed doors that also do help us create different designs as well. We can put in our input, and they'll create mock-up designs, we'll also create different mock-up designs, and if we like something we will come together. It's a team effort.
How do you pour into others through the clothing line? 
Well, Flexin' In My Complexion isn't just about me, it's for every Brown, fair-skinned, freckled-skin person, but to the world that they are more than just the color of their skin. I feel like it wasn't just about what I was gonna make from it, or what I was gonna get out of it. It was just to let everyone know that they should love themselves no matter what anybody says. Because you have to know that you are beautiful no matter what inside and out. Because beauty does not define who you are. What you bring to the table defines who you are as a person. So, I just feel like Flexin' In My Complexion wasn't just about me, it was just for everyone. Just to gain some self-love in that sense.