Angel Reese is proud that she is not normal.
The star forward for the Louisiana State University Tigers, who just won the national title, is not only basking in the glory of thoroughly vanquishing her ballyhooed foes — the Iowa Hawkeyes — she is seemingly relishing in the criticism coming her way on social media.
While most athletes and entertainers recoil and shrivel up at mass criticisms, LSU's Reese is reveling in the villain role she has just settled into. This came as a result of Reese showing up opponent Iowa's superstar Caitlyn Clark in the closing seconds of LSU's emphatic 102-87 triumph on Sunday, April 2, 2023.
ANGEL REESE TO CAITLIN CLARK 😳 pic.twitter.com/2NY0CEzwJ3

— SportsCenter (@SportsCenter) April 2, 2023
Reese was lambasted by mainstream America as "classless" by sanctimonious folks who are exhibiting selective outrage at the least, and blatant hypocrisy at its worst. There was no noise from these same fans, mostly Caucasians, when Clark also gave the "you can't see me" sign two games prior against the Louisville Cardinals.
If it wasn't "classless" when Caitlin Clark did it, don't call it classless when Angel Reese does it. Let the women compete, it's sports!! pic.twitter.com/lJpS1NId68

— Emmanuel Acho (@EmmanuelAcho) April 2, 2023
The "you can't see me" gesture was first made famous by wrestling legend John Cena, who used social media to endorse Clark's version of it.
Even if they could see you…they couldn't guard you!

Congrats on the historic performance @CaitlinClark22 and to @IowaWBB on advancing to the Final Four! @MarchMadnessWBB #WFinalFour https://t.co/QvpYDTESwb

— John Cena (@JohnCena) March 28, 2023
This is the reason that many defenders, mostly Black sports fans, have decried their White counterparts who cheered when Clark performed the hand gesture, yet crucified Reese for doing her version of it.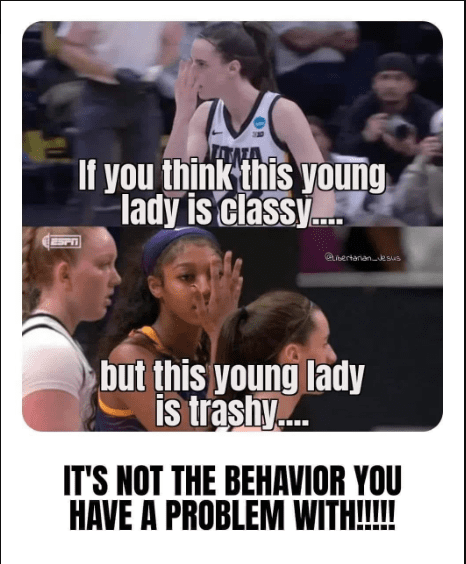 Reese actually doubled down on the hand gesture during the post-championship press conference, adding that she is loving the accolades as well as the blowback.
"I'm too hood, I'm too ghetto. Y'all told me that all year. But when other people do it, y'all don't say nothing. So this is for the girls that look like me."

Angel Reese is unapologetically her 👏 @Reese10Angel pic.twitter.com/9cuCWwayhA

— The Sporting News (@sportingnews) April 2, 2023
Baton Rouge rap renegade Boosie Badazz, who never edits his tongue under any circumstances, joined a multitude of urbanites in the raucous celebration of his hometown LSU squad.
Boosie talking about Caitlin Clark has me in tears!!!! 😭😭😭🤣🤣🤣🤣

" Larry bird come get your daughteR" pic.twitter.com/0pOzVg29pD

— Shannonnn sharpes Burner (PARODY Account) (@shannonsharpeee) April 2, 2023
If you didn't say it was classless when Caitlin Clark did it to her opponents then don't say it about Angel Reese either. https://t.co/5S8P6mvhhx

— Robert Griffin III (@RGIII) April 2, 2023
People hating on Angel Reese or Caitlin Clark. Stop.

Unapologetically confident young women should be celebrated NOT hated.
Get used to it.

— Holly Rowe (@sportsiren) April 2, 2023
How Angel Reese is being vilified by many highlights exactly what @dawnstaley was talking about.

— Jalen Rose (@JalenRose) April 2, 2023
"It was cute when Caitlin Clark did it. Y'all didn't have any issues with it at all. So don't be all outraged and talking about class and sportsmanship when Angel Reese does the same thing."

– Former NBA player @etanthomas36 pic.twitter.com/9mPoPtY9TK

— NBACentral (@TheDunkCentral) April 2, 2023