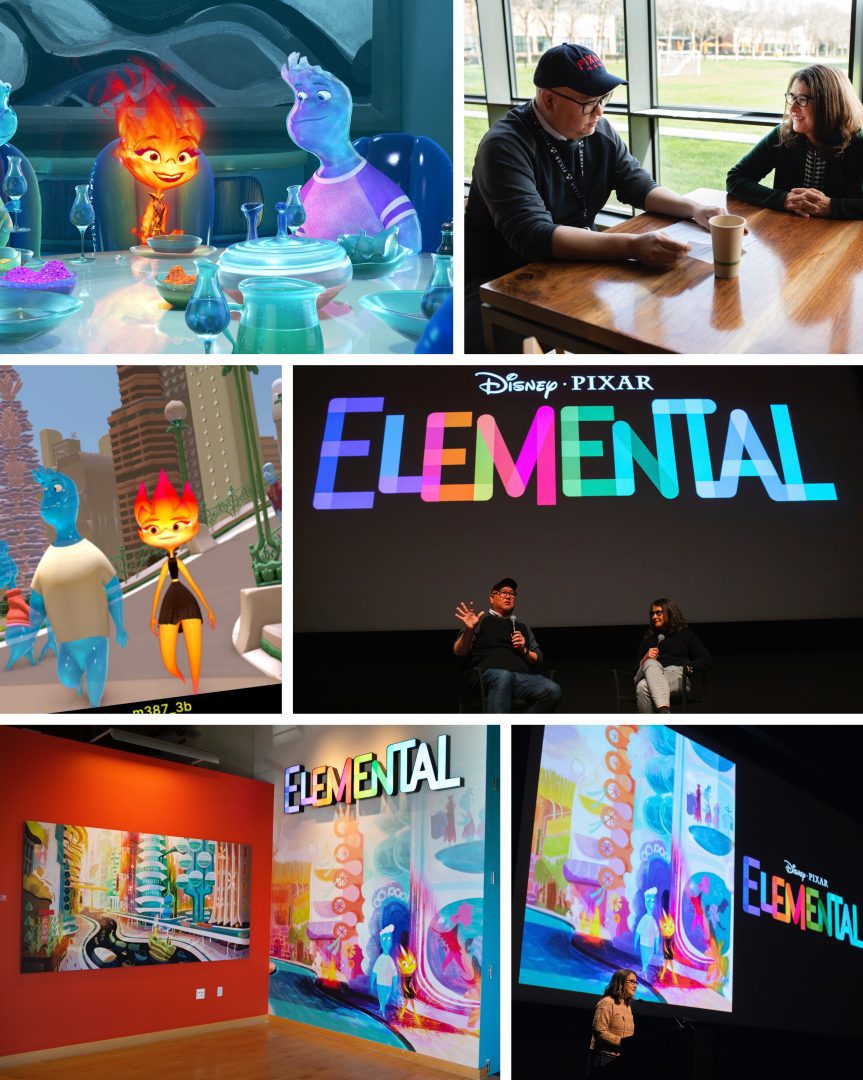 Peter Sohn and Denise Ream are the director and producer, respectively, of the upcoming new Pixar film, Elemental. Rolling out had the opportunity to sit down with the two to discuss the new project, but something magical happened during our conversation. They shared their love for creativity and hope of seeing a world that embraces cultural differences. Sohn and Ream opened up about their thoughts on Elemental.
Tell us about the kid that you saw within yourself while creating Elemental.
Peter Sohn: I believe in something called a permanent age. I feel like everyone's got a permanent age. I've always been a 12-year-old at heart. And so, there is no other vision. I have to fight to see it as an adult. My drawings, they're always goofy and ridiculous.
Denise Ream: There are a lot of visual gags that I don't get tired of looking at that make me laugh. There are a couple of scenes that I've seen them a hundred times, and I still laugh when I see them, which I think is good. It's good to have a young-at-heart attitude when approaching creativity.
Speaking of creativity, there's a lot of artwork, and there is a lot of visual representation, and there's a lot of inclusiveness of each character's culture. Did you hit any walls working within that creative space?
PS: There were a lot [of walls], so I like how you break things down. There were three levels I felt I had to get through. A personal wall, a work wall, and a time wall for the overall completion of the film. The personal wall is I lost my parents during this, so there's been an emotional wall that slowed me down, but I kept going. Then it would affect the work here and there. So, I had to get out of that. The work wall was just the creative wall of trying to make something work. That wall hit every time. Anytime you had a screening, there are notes, but that's the classic wall here. That's like the wall, you know, [that's] just part of the job. Now the time wall was just like, there are so many new things we were trying to do that were so difficult. Could we do this in the time that we had? And so that hit in many different places.
DR: It's interesting just thinking about it. I think that what was hard on this one is that usually, I have a good idea about what the wall is — to give everyone parameters that we're working within. But because we were creating new technology, we didn't know what we were doing. I couldn't give the wall to Pete and to the teams. It was new. It was an ever-moving wall. And so that, that was really hard when you have to say, "I'm not sure if we can actually do that because we can't actually do this yet." … That's not something Pixar is used to, but we figured it out together, and, [I'm] very excited to bring Elemental to everyone.
Elemental will be theaters June 16, 2023, along with a special brand-new short "Carl's Date."