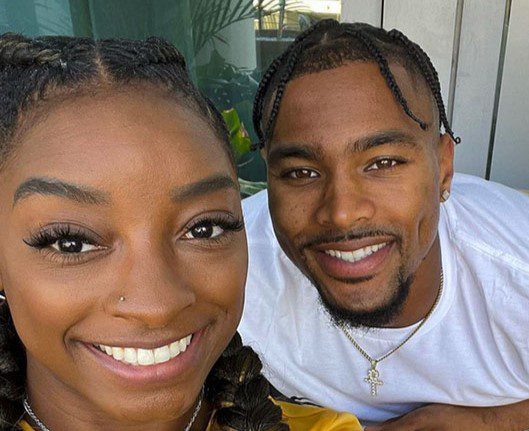 On April 22, 2023, Simone Biles and Jonathan Owens officially tied the knot in a courthouse ceremony. Before the big day, the Olympic gymnast and the NFL player shared a picture of their marriage license on social media on April 14, announcing that their official wedding day was near.
almost time to say "I do" 📄🤍 pic.twitter.com/SXrCJpHxGA

— Simone Biles Owens (@Simone_Biles) April 15, 2023
The couple shared their favorite pictures from their wedding and expressed their excitement with their followers.
The pictures showed Simone in a halter, frilled-stacked white gown with her hair in a high ponytail. Jonathan rocked a modern-style cream suit to compliment his other half.
I do 🤍 officially owens 🤍@jjowens_3 pic.twitter.com/11NFWy5D8d

— Simone Biles Owens (@Simone_Biles) April 22, 2023
My person, forever ❤️💍#TheOwens#itsofficial pic.twitter.com/fGTfRz720D

— Jonathan Owens (@jjowens_3) April 22, 2023
The couple first met during the pandemic in March 2020 on a dating app called Raya, but crossed paths months before according to Us Weekly. With both athletes living in Houston while the city was shut down, they were able to take a break from their busy schedules and get to know one another.
Just a year later, Jonathan was head over heels for Simone and shared numerous posts with them smiling from ear to ear. His March 2021 birthday post to her also included a sweet message.
"Got the hottest chick in the game wearin' my chain. Wishing the happiest 24th birthday to my lady, I'm so excited for what the future holds for us and I can't wait to celebrate many more with you. I love you, baby," Jonathan said.
Fans shared their thoughts on the newly married couple.
BRB crying over Simone Biles wedding pics I am so happy for her

— elena ilana alana alina elana (@lenibriscoe) April 22, 2023
Simone Biles got married at a courthouse… Good for her.. Idk who normalized $50K weddings 😂

— 🚀 (@Mo_Cain) April 22, 2023
What's Simone Biles prayer?

— cousin faith (@wetsykcin) April 22, 2023