Defanged blogger Tasha K is still trying to bark in these streets without much of a bite.
Nevertheless, just as folks tire of the lapdog that won't cease the high-pitched yelping, the BeyHive was awakened by the noise from Tasha K who took pains in breaking down Blue Ivy's dancing abilities, or lack thereof, in her opinion.
"She went on to tell the publication that she's 'super proud' seeing Blue Ivy perform with her mom," Tasha K said during her 'Unwine With Tasha K' podcast. "I can't help, that's a little bit of shade, okay? 'Cause everybody knows that Blue Ivy was very stiff up there. Beyoncé just gon' tell this girl that she got it. We've seen 13-year-old girls from the hood outdance and hula-hoop her! I like Blue Ivy, I think she's beautiful, I think she's going to be a model. Her momma already has her life being set up. But her momma has to be honest with her and tell her the truth. 
Tasha resembled the car that is rolling downhill with broken brakes; she just couldn't, or wouldn't, stop. The battery in her back was on full power on this podcast.
"I need Beyonce to take a day trip back down to Houston," Tasha K continued. "I need her to take a trip to the projects, alright? Her local rec center, local kids club, leave Blue Ivy down there for one week and let's see if she's able to loosen up. Okay? Put her in an all-hood cheerleading camp. You know there's the black cheerleaders and the white cheerleaders. I got a feeling she over there with the white cheerleaders, the Catholic cheerleaders. They not supposed to bend over all the way. But the black cheerleaders gon' bend over. I just think Blue Ivy just needs a little bit of tweaking. If I'm paying $2,000 a seat, I don't wanna see a robot up there. She look like the iRobot that be vacuuming my floors."
https://www.instagram.com/reel/CuQTexnpRSE/?utm_source=ig_embed&utm_campaign=loading
Despite the perfunctory and almost obligatory compliments that Tasha eventually paid Blue, fans were nonetheless disgusted that Tasha took pains to then dissect an 11-year-old girl.
"SMH trolling babies now," one user on Twitter. "Congrats on a new low Tasha. SMH. Blue danced perfectly fine for her age. Shame on you."
And it goes downhill quickly for the lawsuit loser who still owes Cardi B about $4 million dollars — and is being accused of hiding her remaining assets in another country to avoid reconciling her debt to the "WAP" raptress.
Tasha K talking about Blue Ivy? It's gonna be black trucks in her driveway I fear. pic.twitter.com/SfumQGVyE4

— Ijbol, Idgafistan📍🌏 (@cuddapotato) July 4, 2023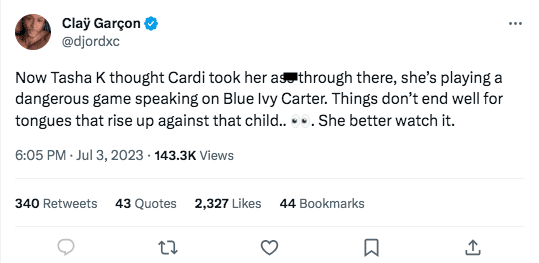 Tasha K attacked blue ivy? She gone be like this once they done with her pic.twitter.com/PNsURUI13j

— 🖤😈Ace🖤😈 (@Hi_IamAaron) July 4, 2023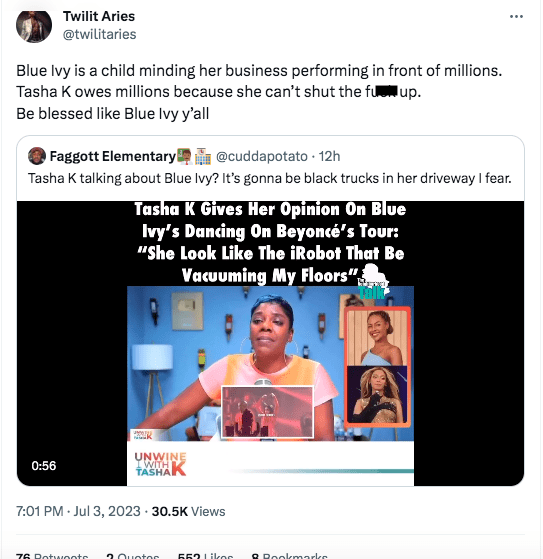 imagine being in your 40s & currently being sued for everything you own but more worried abt a child who can buy your life times 20 with just a phone call. tasha k you are disgusting https://t.co/y2aq5I4EgH

— ZAE🩰 | 11.17.23 (@raptingz1) July 4, 2023
That Tasha K lady is literally just doing whatever she thinks will get her the most attention so she can scrape up whatever she can to get her a hot meal before cardi snatches it

— Wusup Ki? (@kikithedunn) July 4, 2023