Cardi B kicked off her "Do Not Disturb" solo summer tour by twerking before the Eiffel Tower in Paris and then making her cheeks clap in a French hotel bathtub. 
The radical move is part of her celebration of her new single, "Point Me 2" which features FendiDa Rappa. The song playing in the background of the video carousel that Cardi showed off for her 168 million Instagram followers. 
Cardi, 30, who was born Belcalis Marlenis Almánzar, is seemingly acting out just days after her husband, Migos rapper Offset, accused her of cheating on him. For fans, this moment is rich with irony, because Offset is tormented by the belief his wife has been sneaking around in retaliation for all of the times he was caught messing around on Cardi. 
The "WAP" rapper celebrated her brief respite from her husband and kids by twerking it out everywhere she went in the capital city of France. Hilariously, Cardi began in a white bathrobe making her booty clap in front of the Eiffel Tower.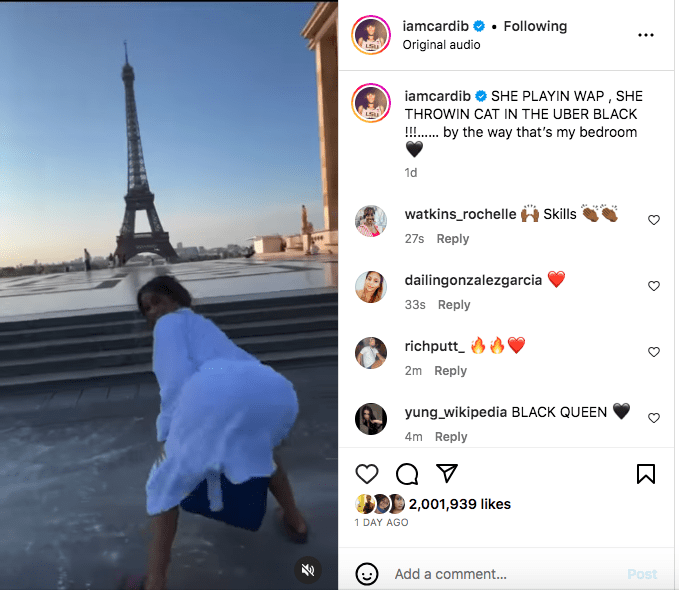 At another point in the video, the "Money" rapper began twerking in a dreamy all-white bedroom.
"By the way, that's my bedroom," she said in the caption.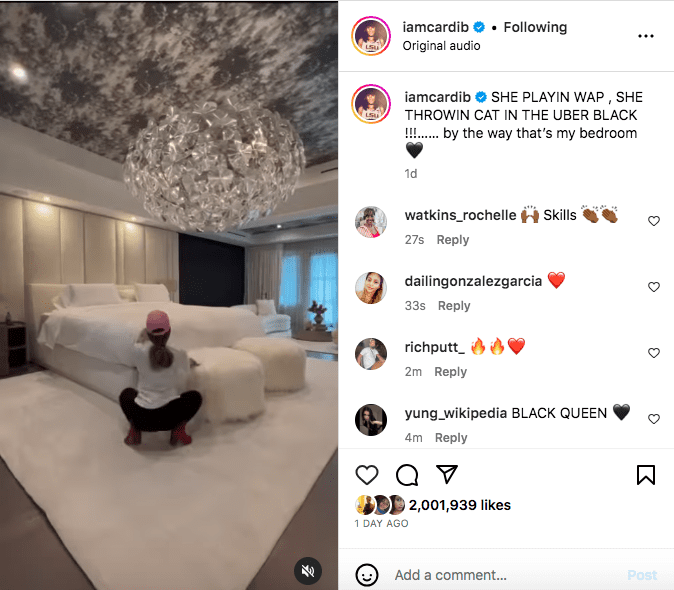 In the final clip, Cardi sported her birthday suit and a nude thong as she danced in the water-filled tub. The ostentatious bathroom featured mirrored walls and pink balloons that were liberally sprinkled across the floor.
https://www.instagram.com/reel/Cuc86wgOBft/?utm_source=ig_embed&ig_rid=99dc5c8f-fa89-4c3e-bea3-575ae487dfcc
Cardi's carefree video came just weeks after husband Offset, whose real name is Kiari Kendrell Cephus, went off on a tirade in a now-deleted Instagram post in which he was convinced Cardi is being unfaithful. 
"My wife f—ked a n—a on me gang y'all n—- know how I come," Offset, 31, said right after the BET Awards in Los Angeles. 
Cardi quickly clapped back at what she calls her husband's unfounded claims. 
"Come on, now. I'm Cardi B, n—a. I think sometimes motherf—ers forget I'm Cardi B," she railed on Twitter Spaces on June 26. "If I was giving this p—- to anybody, it would be out. I'm not just anybody."
The "Bodak Yellow" femcee was hardly finished with the topic, adding that could never sleep with some "regular degular shmegular" guy because he would "tell the world." She also claimed she couldn't sleep with someone "in the industry" because they would "tell, too."