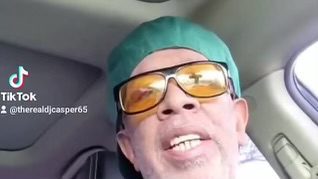 On Aug. 7, Willie "DJ Casper" Perry Jr. died after a long-term battle with cancer.
He was known for the wildly popular single "Cha Cha Slide" which became a popular line dance. The song is often played at family reunions, skating rinks, weddings, birthday parties, and other group outings.
DJ Casper was diagnosed with liver and kidney cancer in 2016. Before he died, he opened up about his health issues and how he contributed to the music industry. He also shared that he made the song originally with the intention of his nephew using it for an aerobics class.
"Cha Cha Slide" was first made in 1998 and released in 2000. Due to its popularity, he decided to release it to the masses.
The track was first played on the radio in Chicago and quickly gained momentum nationwide.
The song encourages you to move and dance as it tells you which dance move to hit. Often compared to the Electric Slide, it's an easy dance for people of all ages to learn.
It is clear that "Cha Cha Slide" will remain a family staple and DJ Casper will be remembered for generations to come.
Fans reflected on social media about his music legacy.
The Cha Cha Slide is a staple of the black community. Knew the dance instructions by heart. If you been to a family reunion, wedding, church event, grown folks club, etc; everyone got in formation when it start playing & let the music take control.

RIP DJ Casper.

— Bad News Da Chief Rocka🧊🥶☝🏿💀🔪WWKND (@5Deuce4Tre7) August 8, 2023
I'm calling for a worldwide Cha Cha Slide moment tonight 6:00 p.m. in memory of DJ Casper

— Antione Acosta (@acosta_antione) August 8, 2023
Time to get funky in remembrance of DJ Casper pic.twitter.com/PtUxvxeW2H

— Almighty Von (@_WE_AINT_SHIT) August 8, 2023