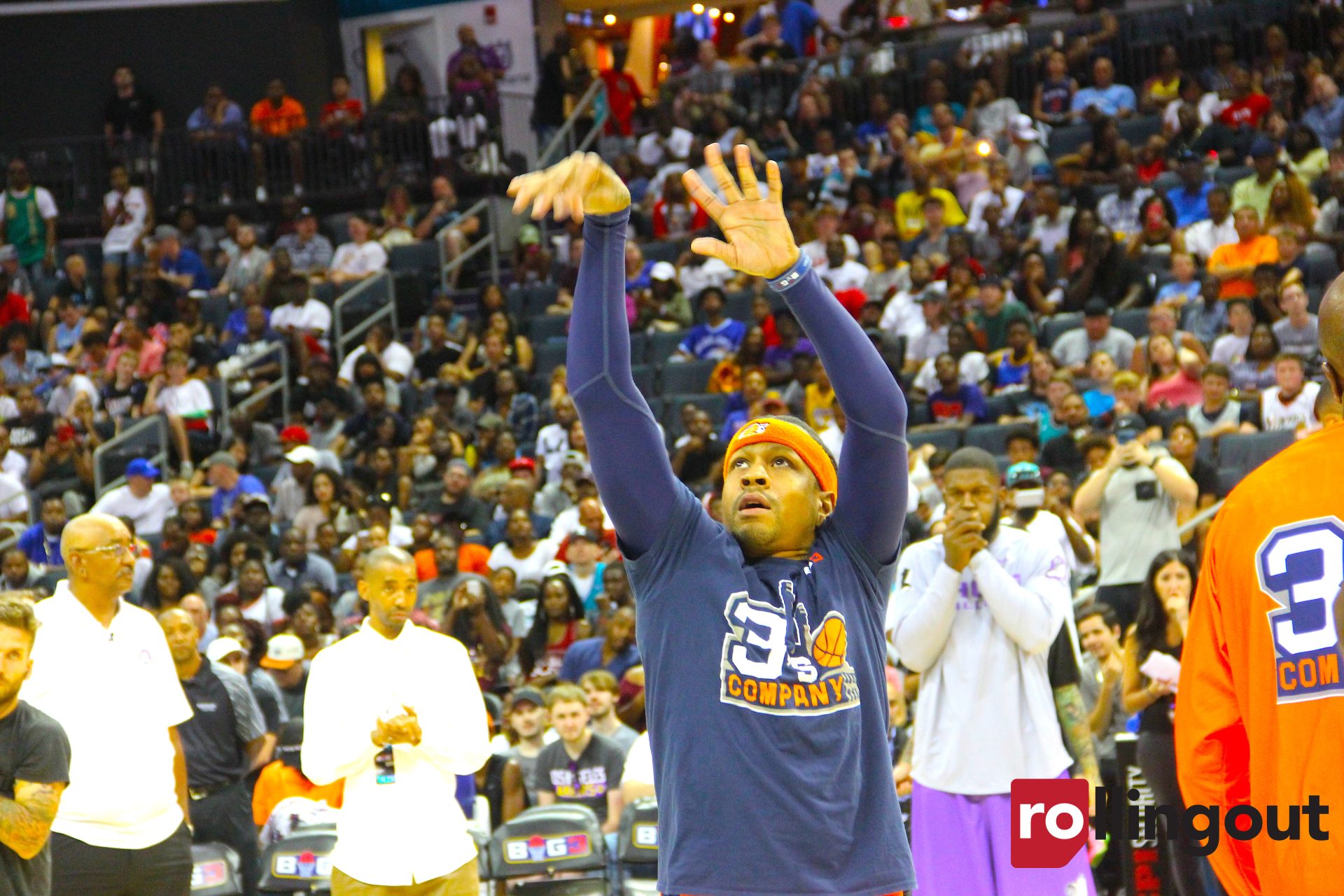 NBA Hall of Famer Allen "A.I." Iverson paid the ultimate homage to fellow legend Dwyane "D-Wade" Wade, the most recent inductee into the Naismith Memorial Basketball Hall of Fame in Springfield, Massachusetts.
A.I., who played the balance of his career for the Philadelphia 76ers, wore a custom-made jacket as part of his presentation during the induction ceremony for D-Wade on Saturday, Aug. 10, 2023.
After Iverson waxed poetically on D-Wade's greatness, the latter explained why he wore No. 3 during his collegiate and pro career.
"It was important to me that I touched the culture when I did this," Wade explained to AndScape in July 2023. "And Allen Iverson is somebody who gets forgotten for what he means to this game and what he means to a community and to a culture. And so, I want to bring that back to the front in the forefront and give him his flowers like he deserved and just tell him how important he was, man, to not only me, but to all the little boys that looked like me and look like him."
"I wore an arm sleeve because A.I. did. I respectfully wore No. 3 … you are the culture."

D-Wade shows love to Allen Iverson 🙏 pic.twitter.com/OvL0OljILp

— Bleacher Report (@BleacherReport) August 13, 2023
"Our heroes are not always perfect. Instead, they posess a relatability that makes them touchable and real. When anyone speaks about Allen Iverson, that's exactly what they say," Wade said at the ceremony, according to Sixers Wire. "So A.I., I need you to know this. I saw a reflection of myself in you. The way you played the game was exciting and fearless. It didn't matter who they put in front of you, they weren't gonna stop you. I know, I tried."
"That's Allen Iverson! Better stop playing with me." 🗣️

D-Wade and Allen Iverson backstage

(via @NBATV)
pic.twitter.com/KACKQDkZiH

— Bleacher Report (@BleacherReport) August 13, 2023
D-Wade took pains to ensure that A.I. knew that his impact on urban culture was appreciated and replicated.
"It didn't matter what they said about you because they couldn't measure the size of your heart. Your authenticity and unapologetic attitude resonated with me," Wade continued. "Your swagger, unique style for rocking do-rags, braids, the baggy shorts, the untucked jerseys, the earrings, the chains, the throwback jerseys all combined to create an image that broke the mold.
Dwyane Wade:

"Michael Jordan was my favorite player. But as MJ decided to retire, Allen Iverson became the hero of our culture. I think a lot of people know I wear No. 3, but a lot of people don't know why I wear No. 3."

(via @SopanDeb) pic.twitter.com/gqQ4zKp3Bi

— Legion Hoops (@LegionHoops) August 12, 2023
"You brought hope to those who grew up with limited resources . . . A.I., you are a living, breathing reminder that redemption and growth are possible. You inspired a generation, my damn self included, to believe that coming from nothing was not a limitation, but motivation."