Metro Detroit's own Johnny Hawkins is known as the "Warrior Lawyer" for the way he represents his clients in the courtroom. He has been practicing law for nearly 21 years as a civil rights and personal injury attorney. Hawkins has decided to expand his services and represent a new set of clients who can't necessarily help themselves: less fortunate men, women, and children in need. On Saturday, February 18, Hawkins joined Latrelle McNairy's Royal Riderz organization and several other community groups in hosting the Mighty Jon Entertainment and Royal Ryderz annual Grocery Giveaway. We caught up with Hawkins, who had a few insights to share about his role in the event.
You're known as the Warrior Lawyer. How did you gain that title?
A client of mine, who happens to be a minister, gave me that name.  She stated that I was so fierce and passionate in my overall representation of her as a client, and unlike any other lawyer that she had met or had dealing with in the past, that that name was given to her by God to share with me, as being the most appropriate, especially in light of the fact that I was openly God-fearing. As such, I accepted and adopted it right away.  It just felt right you know? It made me feel stronger and even more proud to serve. How could any man refuse a word of advice from a minister-client, who said God told her so?
How does a lawyer, concerned with battling large corporations, decide to get involved with such a noble and worthy community cause like this?
Lawyering is all about service; or at least that's the way I feel.  As an attorney, I service the client. I fight bullies for a living.  Well, giving back to one's community is simply a continuation of being of service. I've been accused of being a "Giver" and I'm like so cool with that. Seriously.
Tell us more about the give away. Why do a food give away? How did you get involved in such a worthy cause?
This is the first grocery giveaway being sponsored by MJE, but hopefully not the last. And I'd like to piggyback off of Ms. La'Trelle McNairy, founder of Royal Ryderz, Inc., and manager of the Coalition DJ's in Detroit, MI, who has played a very integral part of helping MJE put this entire thing together. When she says that the purpose of this grocery giveaway is simply to help feed the community and bridge the gap between those who maybe are already receiving state aid (i.e. getting food stamps) and those that just may be barely living paycheck to paycheck, at least in this moment, and therefore, are in need of that one meal to help them feed their families until the next check comes in.
What else can be expected at an event like this? In the future, how can one get involved?
Hopefully good energy and lots of organized chaos based on the demand for food.  It's very basic. Not a lot of bells and whistles. Just my team, volunteers, and folks lined up to get bags of good food, both perishable and non-perishables. Both the COO of MJE, Mr. Diarra Collazo, aka Uncle P in the Detroit Hip-Hop Community, will be doing lots of posts on several Facebook Pages, asking individuals if they'd like to offer time to volunteer.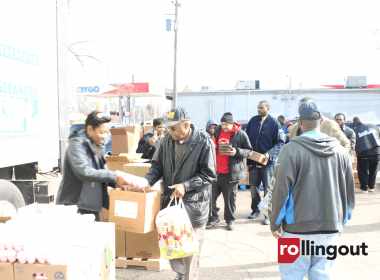 You also have your hands in a lot of other projects. Tell us about those.
Yes, MJE, most recently teamed up with Underground Hip Hop Awards, LLC, created by Diarra P Collazo, aka Uncle P and we had a phenomenal turnout this past Jan 8, 2017, for the 3rd Annual UHHA Show that was held at St. Andrews, in Detroit. We had a full house and the energy was amazing. MJE theme is "We are Hip-Hop", "We are Detroit" and We are Uniting". With regard to the UHHA, the plan in 2017 is to connect with the rest of the larger hip-hop communities within the State of Michigan. So you can look for the brands MJE and UHHA to start showing up in different cities, going as far west as Grand Rapids. We're also now working very diligently on putting together an amazing livestream "Hip-Hop Unplugged Sessions" with local artist and producers bringing it for the fans to see with the help of Silent Riot Studios, which will be aired live on Facebook and then made available on Youtube. It's gonna be hot. Very excited. We're also looking into doing, via livestream, then Youtube and ultimately, pay-per view, special events and projects ranging from Live Poetic Reads and Contests, Comedy Shows, and MC Battles, the latter, to include both local battles and City-vs-City Battles in some really nice venues. We want to help turn Motown into Showtown, in the 21st Century, via Livestream.
Take a look at LaTrelle McNairy, one of the event's organizers, give an overview of the event. Tell us what you think in the comments section below.