NEW: Philando Castile's mother reacts to not guilty verdict against police officer in the death of her son: "I'm mad as hell right now." pic.twitter.com/rWsq3XnhHt

— ABC News (@ABC) June 16, 2017
This will be a sad July 4th for Philando Castile's family and his girlfriend Diamond Reynolds. In fact, all of the holidays that took place after July 6, 2016, have been heartbreaking since his fatal shooting was captured on Facebook Live.
Castile was fatally shot by Jeronimo Yanez, a St. Anthony, Minnesota, police officer, after being pulled over in Falcon Height for a broken tail light.
On Friday, June 16 a jury acquitted Yanez of all charges in the shooting that left Castlie dead. He had been charged with second-degree manslaughter and endangering safety by discharging a firearm in the shooting.
"Here on Earth, tell me what's a black life worth / A bottle of juice is no excuse, the truth hurts / And even when you take the shit / Move counties get a lawyer you can shake the shit / Ask Rodney [King], LaTasha [Harlins], and many more / It's been goin on for years, there's plenty more / When they ask me, when will the violence cease? / When your troops stop shootin n—–s down in the street…,"says Tupac Amaru Shakur ("I Wonder If Heaven Got A Ghetto") whose 46th birthday was on Friday, June 16, 2017, when the unjust verdict was reached.
"And a murderer gets away. Are you kidding me right now?" Castile's mother, Valerie said as she stood outside the courtroom. "The system in this country continues to failBblack people and will continue to fail us."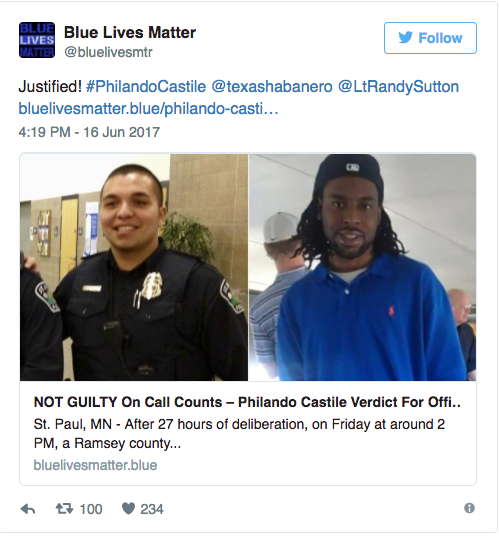 The jury of 12 deliberated on this one question: Did the officer have reason to fear that Castile was reaching for a gun that he had acknowledged having with him when he was pulled over by the officer?
The city of St. Anthony issued a statement Friday saying they had "concluded that the public will be best served if Officer Yanez is no longer a police officer in our city." They said they planned to offer him a "voluntary separation agreement," in other words, he will not be returning to patrol.