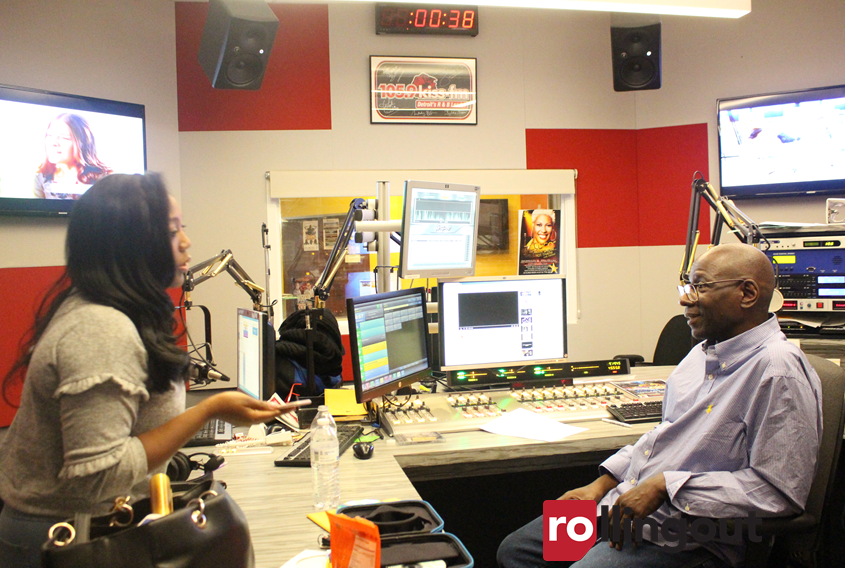 John Mason energizes the morning drive in Detroit every weekday from 6 a.m. to 10 a.m.. His morning radio show, "Mason & Coco in the Morning," is a hometown favorite and has a large and dedicated listenership from all over metro Detroit. He's been in radio for more than 40 years and is still going strong. Not only does he energize the drive on the radio, he also has one of the most recognizable voices in Detroit's history. He's very well known for his signature phrase DEEEEETROIT BASKETBALL, as he's also one of the announcers for the Detroit Pistons basketball team. Another less known notable connection to Detroit that people may not know was that he's the inspiration for the popular '90s TV sitcom "Martin." The show was loosely based off his life as a radio personality and he was originally set to be involved with the show.
Well, rolling out caught up with the Detroit radio legend to get the full scoop on how it all went down with the "Martin" show. He also shared with us some jewels on becoming successful in the media industry and gave some valuable career advice. Check out the exclusive interview below to find out the rest of the interesting details he disclosed.
Mason, you've been in radio for over forty years and you're definitely a staple in Detroit radio.  You host your own morning radio show, Mason & Coco in the morning, you're the official announcer for the Detroit Pistons and you also make appearances as well as host numerous events all around the city. How do you do it all?
It's all the same to me. I just need the time to do it. It's all the same, it's all entertainment, I think that's the best way to put it,  and you're just fooling around. When I do the basketball [announcing], it's like any man sitting there watching TV, and they hear the announcer in the background. It's all the same thing. It's just all entertainment because you don't have to work. I don't have to work, I don't have to go to school. So, as long as you don't have to work and go to school, you're good right?
With all these years of experience, you have a wealth of knowledge and you give outright history lessons in the morning. Where do you get all this history from?
The history was funny. I don't know why I liked it. Probably because I didn't have any skilled talent in music. Like, I played the bass for a little while, but I couldn't really sing, I couldn't really play the way you needed to play to make it. So, I couldn't sing and I couldn't play, and I [was] like 'I'm just curious [about] how it all works. And from that curiosity, it kind of stuck. But I remember one time I was taking a test in college, and I'm sitting there and I'm reading my magazine, it was called Blues & Soul, I still remember it. There was an article on Teddy Pendergrass, I still remember the clothes he had on: he had on a rustic colored shirt and a blue suit. He went across the street to get some chicken from the Chicken Shack in Philadelphia. So, I went in to take the test. Couldn't remember anything on the test. Got an 'F'. I went back to my dorm and I said 'God, why would you do that to me? Why do you let me remember this bulls— and I can't remember my work?' So, God doesn't answer, and He just says that this will be your work and that's what it became. But I never did it to prove to somebody that I know it. And I never do it to say 'Guess what I know?' I just do it in the context of what we're doing because it was a hobby. And out of that hobby, when it comes up I like to talk about it. And I can remember it, it's the funniest thing. There's a lot of things I can't remember, but if I hear something about an artist or the way it happened, it just sticks with me like glue.
Many may not know this, and I'm not sure if this is true or not. But I heard that the popular TV series "Martin" was loosely based on your life and your friends. Is that true? If so, how did it come about?
Well, Martin was done after me. So, what they did was these people from California came to Detroit, and they listened to the radio show, and they listened to the characters and that kind of thing. So, then they followed me around and I lived across from the Coleman Young center on E. Lafayette, and I didn't have a car. So, they followed me around, and they were like they could have driven me, but they said if you walk, we want to walk. So, there was a radio station at the corner, which was WGPR, and I kept thinking if they see these people with the cameras, they'll let me in. And there was this Chinese restaurant across the street, and that's where I was going to get food. So, they followed me, and I kept staring in the WGPR window, but no one would come to the door. So, we did it three times, and on the third time they noticed the apartment complex, so they used that apartment complex for Martin. At that time, radio people weren't into a lot of things, you were either doing radio or nothing else. So, the general manager didn't want me to overly participate in this experiment. So, they [the producers] wanted me to be part of the show, and they [the radio station's general manager] wouldn't allow it. So, if you go to the very first episode of "Martin" because she wouldn't let me participate in the first episode when "Martin" is on, they're going "Mason! Mason!" He goes, "No, this is not Mason. Mason's not here anymore." So, yeah, that's that story.
That's amazing to hear! A little piece of history that I'm sure a lot of people didn't even know. Just goes to prove how much you love your job. Speaking of loving your job, I always say you guys have the best jobs in the world. Tell us what is the best part of your day when you get to work?
Coming here. To be in this seat, and then start.
Being that you have the hottest, most recognizable show in town, and you always get to interview some of the most famous celebrities and entertainers when they stop in Detroit, who were some of your most memorable interviews with?
So, Mr. Ripple, do you know who Mr. Ripple is? Please don't squeeze the Charmin? It used to be a television commercial; y'all must've been little kids. He was an old White man that did a television commercial called Please don't squeeze the Charmin. When he called the show, people went bananas! They called like crazy. They wanted to ask him all kinds of questions, and he tipped them because he said he had a girlfriend in Detroit and that just blew up the lines. We couldn't get people off the phones. So, Mr. Ripple is the most memorable and the [most] fun one. But we've done some of everybody.
That's too funny. And it sounds like you guys had a blast during that segment. Now, let's talk more about your career. In terms of your career, what's the one truth that has held constant throughout your entire career?
Be yourself. Even when everybody else is doing everything else and everybody's in your ear saying, "… man, that's what they're doing … hey, you gotta be like that," just stay yourself.
What advice would you give to aspiring media personalities?
You gotta be in love with it. You gotta want it so bad that you fall in love with it. Because if you don't love it, the pain and the heartache that you're going to go through to do it, it's like being in a relationship: it'll hurt you on your best day, it'll reward you when you're not thinking about it, but it's like being in love and you just have to do all the things that lovers do in order to do it.