Photo credit: Kristina Mitchell for Steed Media Service
This past weekend, the Detroit Alumni chapter of Kappa Alpha Psi Fraternity, Incorporated shined bright like diamonds as they celebrated their Founders' Day. To commemorate 106 years of honorable achievement, the Nupes held their Diamond Life: A J5 Founders' Day Celebration Friday, January 6, 2017, at the Charles H. Wright Museum in midtown Detroit.
Fellow Kappa brothers, long time friends, supporters, and family gathered for a night of cocktails, good food and dancing. The Detroit Kappas painted the room red with fancy decor, which was surrounded by the museum's collection of paintings and sculptures. Chivalrous, Kappa's greeted ladies with red roses as they arrived. The purpose for partying that night was to raise funds for the Kappa Detroit Foundation scholarship fund. Scholarships are awarded annually to aspiring and current students, as well as to nonprofit organizations for financial assistance and educational programs such as tutoring, leadership training and career exposure. "We're here to galvanize the community and make sure people have a good time, striving to help create opportunities for our youth, in the spirit of making the community better and stronger. We follow the diamond which is God, family, career and the Kappa," said committee member Jahquan Hawkins.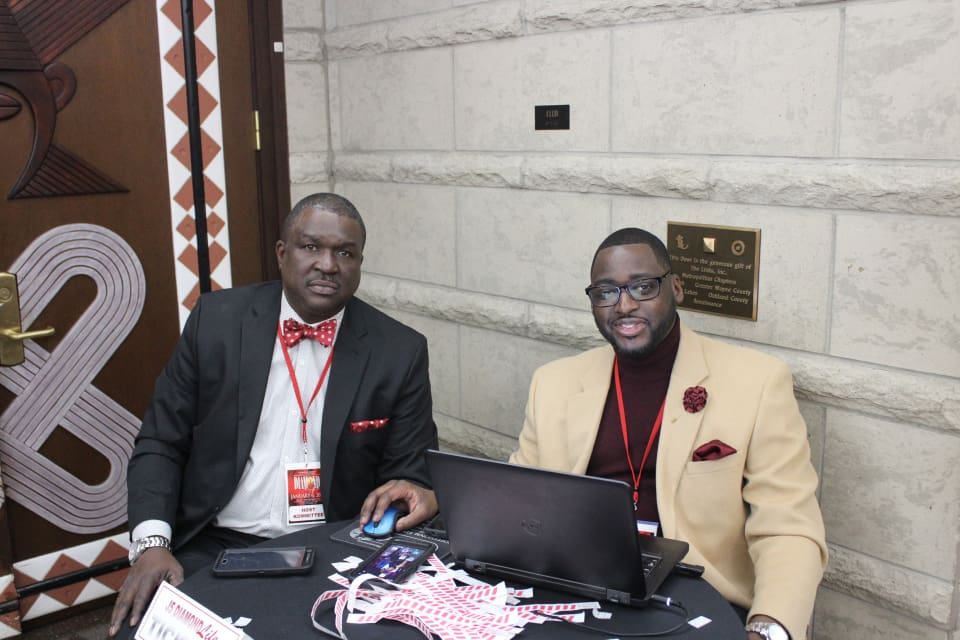 Credit: Mere' Photography
Emmanuel Idowu, chairman of the Founders' Day celebration, also gave some insight on the celebration and his organization's focus.
What is your role in Kappa Alpha Psi?
I am the chair for this event. I am a member-at-large … a previous member of the Detroit Alumni Chapter, previous Political Awareness and Social Action chair, and previous Community Involvement chair.
Give us a snapshot of the event's history.
This is the first time we had the J5 Founders' Day celebration at the museum. For the past three years we've been throwing these events, there has been a philanthropic component, and last year we contributed money to the scholarship awarded by the Kappa Detroit Foundation. The previous year, we donated to Delta Preparatory Academy.
How does Kappa Alpha Psi strive to help youth in the Detroit community?
Well, assisting the aims and purpose of our communities is one of our core principles. As long as we do any type of social endeavor, there's always a philanthropic component, so [that's why] we use the hashtag 'partying with a purpose. We don't throw parties for the sake of throwing parties. Everything that we do there's always that philanthropic opponent associated with it.
What is the area of focus for this organization's advancement for the new year?
Key emphasis and retention in regards of our membership and also expanding the scope of our Kappa League program. Kappa League is a premier leadership training program for young men in high school.
Explain what J5 symbolizes
Our fraternity was established Jan. 5, 1911, so J5 is an abbreviation for Jan. 5.
Where can our readers find out more about Kappa League and the Detroit Kappas?

You can visit kappadetroitfoundation.org, which is the foundation's website, and you can also visit the chapter's website, which is detroitkappa.org.
Photo gallery credit: Mere' Photography