It's every athlete's dream to be called a champion. Unlike many other sports, track and field has a competitive canvas that ranges worldwide, lessening one's chance in the spotlight.
Growing up on the island of Trinidad, Kerron Clement took to his gift for running, chasing his older brother. At the age of 13, Clement's grandmother migrated him and his family to the United States seeking a better opportunity to grow. In America, Clement found his love for the track and hurdles.
While running track at La Porte High School in La Porte, Texas, he earned second place his sophomore year in the state 300-meter hurdle competition. He returned to the state competition, finishing 1st place his junior and senior year, giving his family much to be proud of. Being heavily recruited throughout the Southeastern Conference, he chose to attend the University of Florida. During his freshman season as a Gator, he won the national competition prior to returning for his sophomore year and breaking the NCAA 400-meter indoor world record. That same year, he won the NCAA 400-meter hurdles title, extracting the confidence needed to propel and compete at a professional level.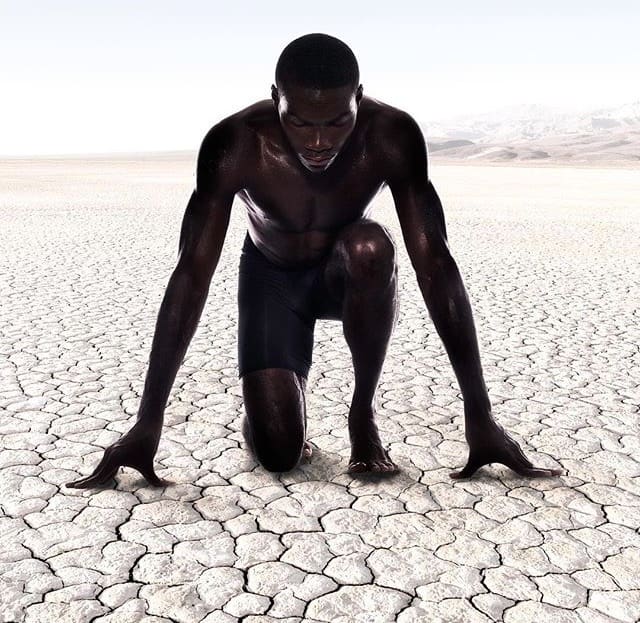 In 2005, Clement competed in his first professional hurdle event. That year, he won the US National 400 Meter Hurdle competition, qualifying him to compete at the World Championships in Helsinki, Finland, where he finished 4th overall.
His Olympic debut was in 2008 at the Beijing Olympic Games. Walking out favored to win the final race, he finished 2nd, leaving the track disappointed.
In 2012, he competed in the London Olympic Games after a series of injuries resulted in medical surgery just five months before the opening ceremony. Only having one qualifying shot at making the Olympic Team, he finished 3rd in that race, earning a plane ticket to London, United Kingdom. Clement was fortunate enough to qualify for the final race that Olympics, but was unable to medal that year. Having a competitive spirit, Clement wanted to feel down about his performance, but being courageous enough to overcome the obstacles leading up to the final fight, he felt like he had earned something much greater than gold.
In 2015, Clement finished 4th at the World Championship Competition, but felt like he was getting closer to that breakthrough performance he knew he had within him. In 2016, he finished first at the Olympic Trials and was favored to win the 400 Meter Hurdle race going into the Rio Olympic Games.
Clement decided that he would take on a different approach entering the 2016 Olympic Games. He wanted to enjoy himself, as well as, his teammates while in Rio. He usually stayed secluded and to himself while focusing on the competition, but he found that getting to know the athletes surrounding him brought about a sense of relaxation.
Finishing 3rd in his first heat and 1st in the semi-finals, Clement came into the final race in Rio focused and striving to reach Gold. At the sound of the gun, he took off not hearing or seeing anyone or anything around him. As the race came to a close, it was Clement racing against the clock. He finished with the official time of 47.63 seconds, earning the top spot on the podium, being noted as the 2016 Rio Olympic Games 400 Meter Gold Medalist. This achievement was life changing for Kerron Clement. After all the hard work, competing and mastering defeat, he was finally able to call himself an Olympic Gold Medalist. He ended 2016 ranked number 1 in the world, but still has much more he'd like to achieve.
Rolling out got a chance to catch up with Clement to discuss his achievements and future endeavors. Here is what he had to say:
How did you arrive at this career choice? Was it a deliberate decision or a gradual and natural evolution? 
I would say, a natural evolution. I didn't grow up wanting to run track, track just kind of found me.
What separates you from others in your field? What is unique to the experience that you create?
My competitive spirit. I always want to win; no matter what, I want the gold.
What's it like being an Olympic gold medalist?
It's a tremendous feeling. I've been working a very long time and I feel like it has finally paid off. I thank God every day for the opportunity to compete and what I have achieved.
For those considering entering this arena, what skill sets do you recommend mastering? What traits are most conducive to success? 
To master the hurdles, hurdle drills and technique. Work at it. If you fall, get up! Focus and always move forward.
Do you think there are any widely held misconceptions about what you do? 
Yes. You can't just wake up and say I'm going to run track. You won't even make it out the blocks. It takes time and dedication.
Who do you consider to be competition in your field?
Myself. I'm my biggest competitor.
What do you like to do off the track?
I like to take dabble with photography, I also model. I have been featured in a Got Milk campaign, I've done work for Sean John, Isopure protein drink and was featured in Beyonce's Run the World Music Video.
Favorite thing to eat?
Outside my diet, I would say I love to eat sweets, favorite being Red Velvet Cake.
What's on your playlist?
Mariah Carey, I'd say my favorite album by her is "Butterfly"
How do you stay in touch with your fans? 
Social media of course. Snapchat, Instagram @KerronClement and Kerronclementonline.com