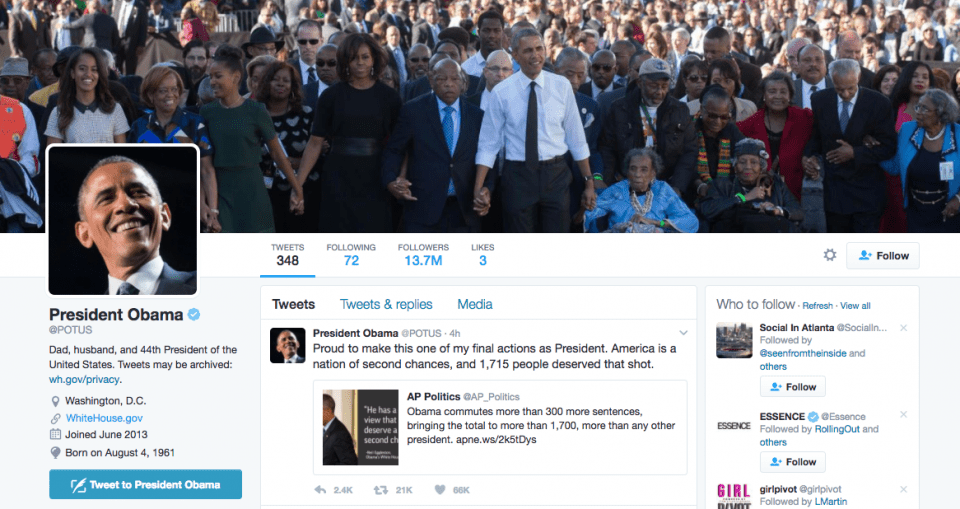 Inauguration day for the 45th President of the United States has taken on new meaning for nearly 14 million fans on Twitter. President Barack Obama is moving from @POTUS to @POTUS44. President-elect Donald J. Trump will take over the account once he is sworn in. Obama's tweets will be archived. @POTUS has been Obama's Twitter residence since 2015.
The White House is working with the National Archives and Records Administration to ensure that the tweets of @POTUS, @FLOTUS, @VP, @WhiteHouse and several other official accounts are not lost.
PEOTUS currently has 20.4 million followers of his @realDonaldTrump account and recently said that he planned on remaining active using that handle. "I think I'll keep it," he told the Times of London.
Across all his social media platforms, PEOTUS has 46 million followers across social media. "When you think that you're 46 million there, I'd rather just let that build up and just keep it @realDonaldTrump."
Obama will also use his @BarackObama Twitter account, which has 80.7 million followers, at the time of this writing.
Other digital assets that will be transferred to Trump's administration include the White House accounts on Facebook, Instagram, Snapchat, YouTube, Medium, Tumblr and Flickr. The White House website will also be archived under ObamaWhiteHouse.gov.