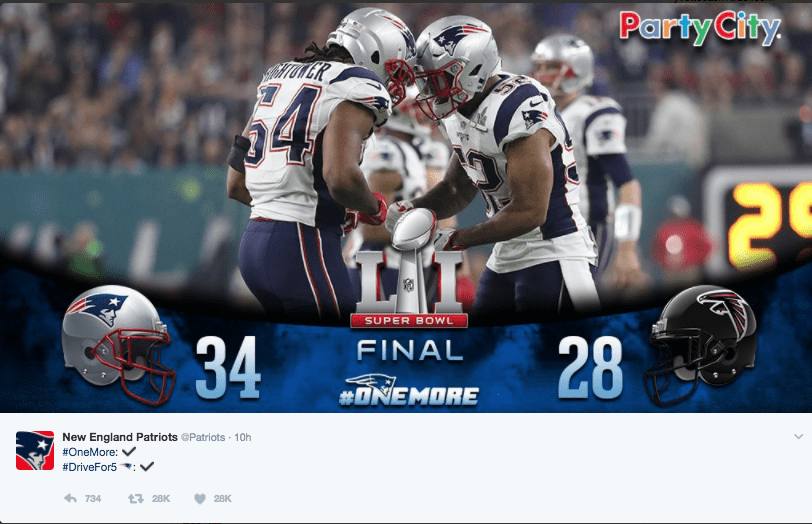 The Patriots have done it again. In one of the most improbable comebacks in sports history, the Patriots overcame the odds (and some NFL history) to win Super Bowl LI and claim the franchises fifth Vince Lombardi Trophy.
Entering the fourth quarter, New England trailed the Atlanta Falcons 28-9 and was in need of some consistency on offense. Tom Brady guided the Pats' to 19 unanswered points to force the first overtime session in Super Bowl history. A Tom Brady touchdown pass along with two James White touchdown runs, a Stephen Gostkowski field goal, a couple of two-point conversions, and some crucial stops on defense gave the Patriots a new lease on life.
In overtime, Tom Brady took his squad 75 yards in three minutes and 58 to setup yet another James White scoring run to secure the victory. NFL commissioner Roger Goodell was met with a sea of boos from the Patriots fans in attendance at Houston's NRG Stadium as he handed Pats' owner Robert Kraft the Lombardi Trophy.
Brady would finish the game completing 43-of-62 passes for 466 yards and two touchdowns as he was given his fourth Super Bowl Most Valuable Player award. In the process he surpassed 2017 Hall of Fame electee Kurt Warner's Super Bowl passing yard record of 414 yards set back in Super Bowl 34. He also now holds the quarterback record for most Super Bowl titles and MVP awards.
The Patriots are now tied with Dallas Cowboys and San Francisco 49ers with five Super Bowl titles. The Pittsburgh Steelers still hold the all-time record with six Lombardi trophies. Brady has said time and again that he will play as long as he can and by the looks of it, he's not slowing down anytime soon.
New England must now decide what to do with backup signal-caller Jimmy Garapollo, as 2017 will be the final year of his rookie contract with multiple teams already expressing interest in the 2014 draft pick.
Although the Atlanta Falcons invested heavily in their defense last offseason, they may need to make some adjustments after Sunday's collapse. The 1995 Atlanta Braves still remain the most recent championship franchise for that city.
The Patriots, however, are unquestionably one of the greatest dynasties in all of professional sports. Tom Brady is a surefire Hall of Famer and another NFL season is in the books.