A brutal assault by a Black Jackson, Mississippi, police officer against a Black suspect has sparked outrage. Video emerged this week of JPD Officer Justin Roberts beating Ladarius Brown as a crowd gathered and begged him to stop.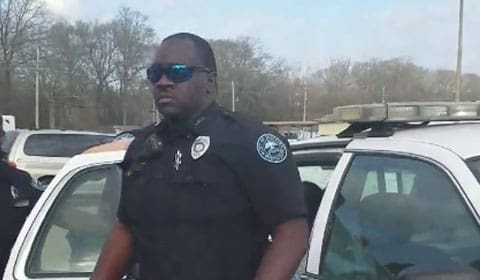 Roberts pays no attention to the crowd and is seen delivering uppercuts and kneeing Brown, who was handcuffed from behind. A female officer is then seen in the video stopping the beating and separating Roberts from the battered Brown and leading him to a police car. The incident occurred on Feb. 11, 2017, and a copy of the video was sent to the Jackson Police Department. Jackson Police Chief Lee Vance initiated an internal affairs investigation to see if any policies or procedures had been violated. A decision was reached on Monday and Roberts was terminated from the police force. According to Jackson County Commander Tyree Jones, "I found the actions of this officer completely unacceptable and not consistent with what we're trying to do here at the JPD."
Chief Vance praised the unidentified female officer for her actions and stated that she did what she was trained to do. The reason Brown was initially arrested by Roberts has not been released by the JPD but he was charged with resisting arrest.
Brown works as a hairstylist and posted on his Facebook page recently, "Thanks, y'all for the love if I was just anybody I say its all good but I know better it's all GOD … everything happens for a reason I pray about a lot off stuff and this is God's way of showing me he hears me every time I ask him … so I look at it all as a blessing … s/o to God for who he is and for being the head of my life, I can't thank him enough."