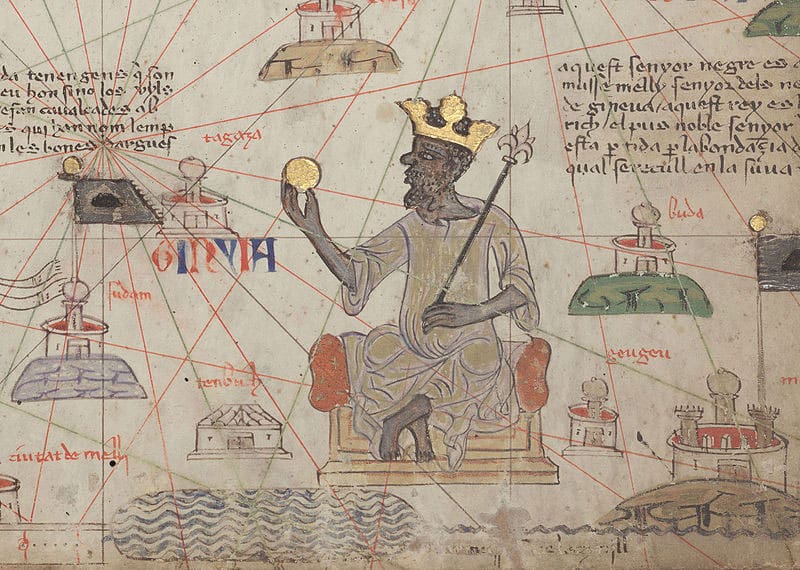 King Mansa Musa, the richest Black man in history, lived from 1280 – 1337 A.D., and ruled over the Mali Empire. Today, his net worth is estimated to have been $400 billion. His kingdom included Ghana, Timbuktu, and Mali and produced half of the salt and gold in the world at that time. When he went on his pilgrimage to Mecca, he gave away so much gold that the price of gold dropped worldwide.
Historians have stated that during his pilgrimage Mansa Musa traveled through the cities of Timbuktu and Gao on his way to Mecca, and made them a part of his empire when he returned around 1325. He brought architects from Andalusia, a region in Spain, and Cairo to build his grand palace in Timbuktu and the great Djinguereber Mosque. As king, Mansa Musa was highly educated and enlightened and his respect for learning was well known by all. During his lifetime, one of the oldest centers of learning was the University of Sankore in Timbuktu. He restructured the university with jurists, astronomers and mathematicians. Scholars from around Africa, the Middle East and Europe traveled to Timbuktu to study. The Sankoré University had been converted into a fully staffed university with the largest collections of books in Africa since the Library of Alexandria. The Sankoré University was capable of housing 25,000 students and had one of the largest libraries in the world with roughly 1M manuscripts.
The fame of  Timbuktu as a city of knowledge and major trading center in Africa led to it being included in European world maps. According to historians, there's really no way to put an accurate number on his wealth.  Even though it has been more than 700 years since he walked this Earth, some of the monuments he commissioned still stand.