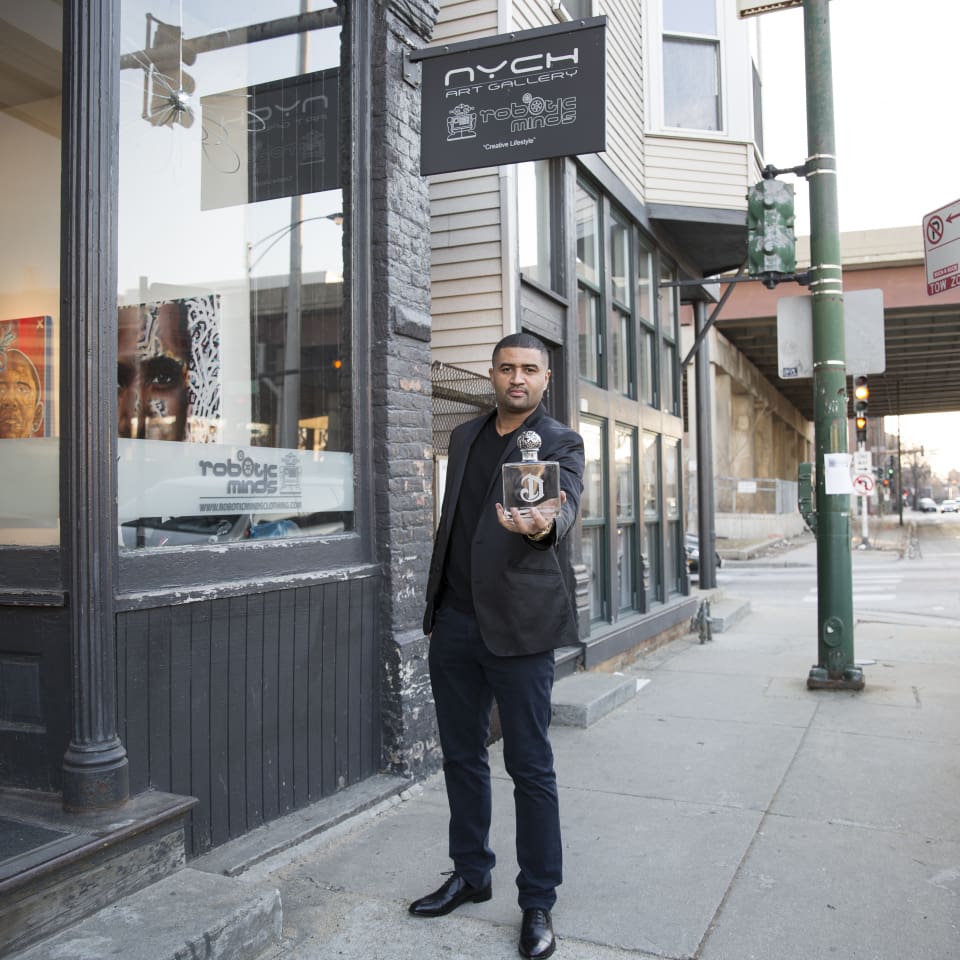 With the nation divided courtesy of new leadership in the White House, ironically one art exhibit over this past extended weekend evoked pride, nostalgia and comradery among a colorful crowd of strangers turned friends, all there to pay homage to the one and only Barack Obama.Farewell 44, a tribute to the great 44th president of the United States, brought together 28 exceptional artists who lent their artistic expression to create a narrative of Barack Obama and his achievements from their individual perspectives.The result was nothing short of phenomenal!
Held at NYCH Gallery in the East Pilsen Art District, with media partner rolling out and hosted by Deleon Tequila, Farewell 44 was a melting pot of cultures and generations eagerly discussing the different mediums each artist used to construct their works of art, as well as the message each piece conveyed.Wall to wall were masterpieces of Obama in different stages of his life and career, and each portrait magnetically drew viewers in through its intricate aesthetics. One portrait used the eloquent words from his speeches to compile his likeness and another used clippings from Obama-focused media articles to assemble his suit jacket. The textures and colors of the collective gallery of art told a powerful and elaborate story about the legacy of our first African American president.
The concept of Farewell 44 was bestowed upon curator P. Scott, and with the help of co-curator Roe Melloe, he knew he had to bring it to fruition.
"I woke up after Christmas with a premonition out of nowhere and knew exactly what I was going to do. I knew I was going to do something for President Obama. I knew he was coming out of office and I felt like I needed to do something to pay homage and respect to him. And I also felt like this would be the perfect time as artists to come together and pay our respects to him," said Scott.
Not solely the curator, Scott was also one of the artists showcasing a standout piece in the gallery. While Barack Obama was the focal point of his painting, we couldn't help but notice the names of other greats along the side of the painting such as W.E.B. Du Bois, Marcus Garvey, Martin Luther King, and a host of others.
"I wanted my piece to impactful. Not just the image, but how it resonated with people because I knew I wasn't going to have a lot of time to dedicate to it because I was also curating the show. So I felt like the idea of the writing on the wall and being signed by Barry O Bomber, which is his nickname, was perfect. I chose to include names of other prominent Black leaders and activists that represented for our culture because he's a compilation of all of them."
When speaking on the collective of artists showings in Farewell 44, Scott beamed with pride: "I know most of these artists and have watched them grow. It's amazing to see how all of us, including myself, have grown to a point where we've all developed our niche."
The location was certainly just as important as the art itself. Scott chose NYCH Gallery because of its roots within the community.
"It was important to have it at Nych Gallery. Nych Gallery is the people's gallery. It's the type of gallery that appeals to the masses because it's about community, people, culture and it just makes me feel good to see all of us come together for one common cause, which is this dope man right here, Barack Obama. But at the same time, we're putting our art on showcase and showing how we've grown."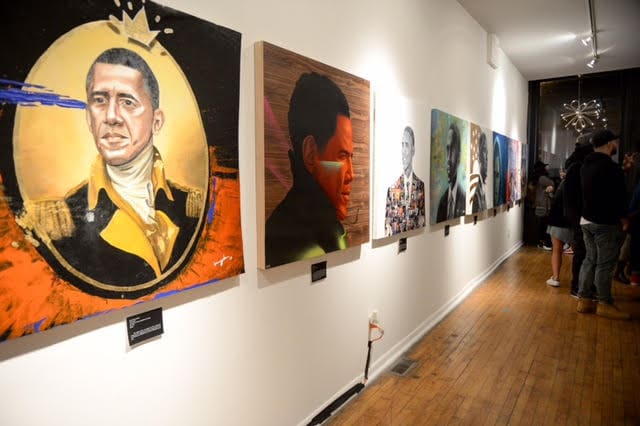 Artist Brian Dovie Golden also had an interesting spin on his painting of Barack Obama, as seen by the attire he chose to clothe Obama, in addition to the golden crown placed slightly over his head.
"His clothes are reminiscent of George Washington because George Washington was the first president and Barack was the first Black president. The crown is there for the upliftment of our people. I have two sons and want them to always feel uplifted," Golden said.
Despite the fact it was hard to find some artists in the crowded room, one artist couldn't hide even if he'd tried. Maxwell Emcay's piece was a compelling abstract portrait of Barack Obama and the love of his life, Michelle. The Afrocentric pattern and colors used to complete the portrait were also worn by Maxwell. Feeling like he wasn't completely finished with his piece, he chose to use his body as a walking canvas to continue his story.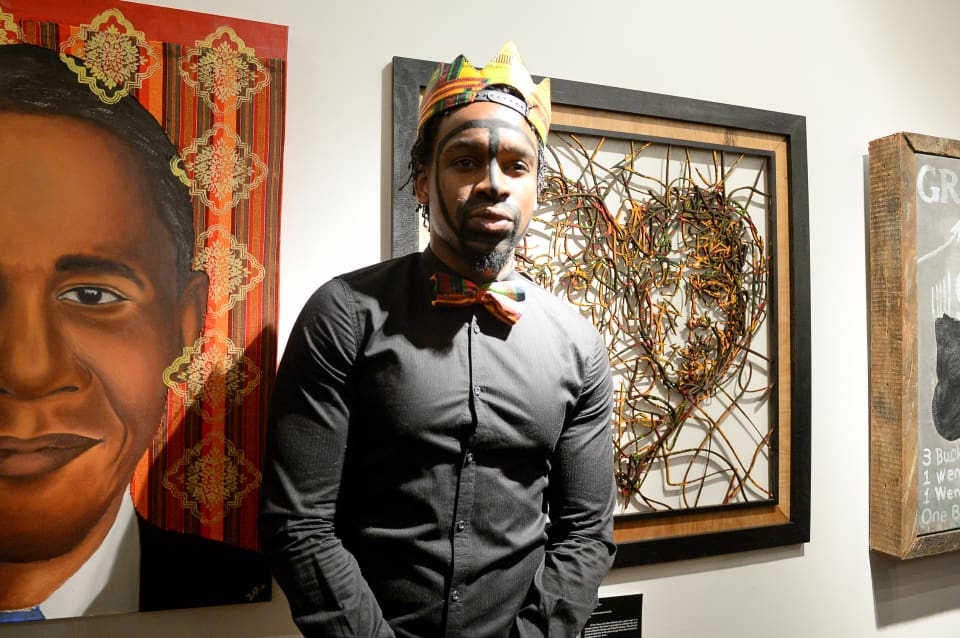 We learned that Maxwell realized the power of art at a young age and never looked back. "Growing up I didn't realize what art even was. I didn't realize what that language meant, what it does, and how you can manipulate it to convey a message. That was a turning point when I realized the true meaning and power," he said.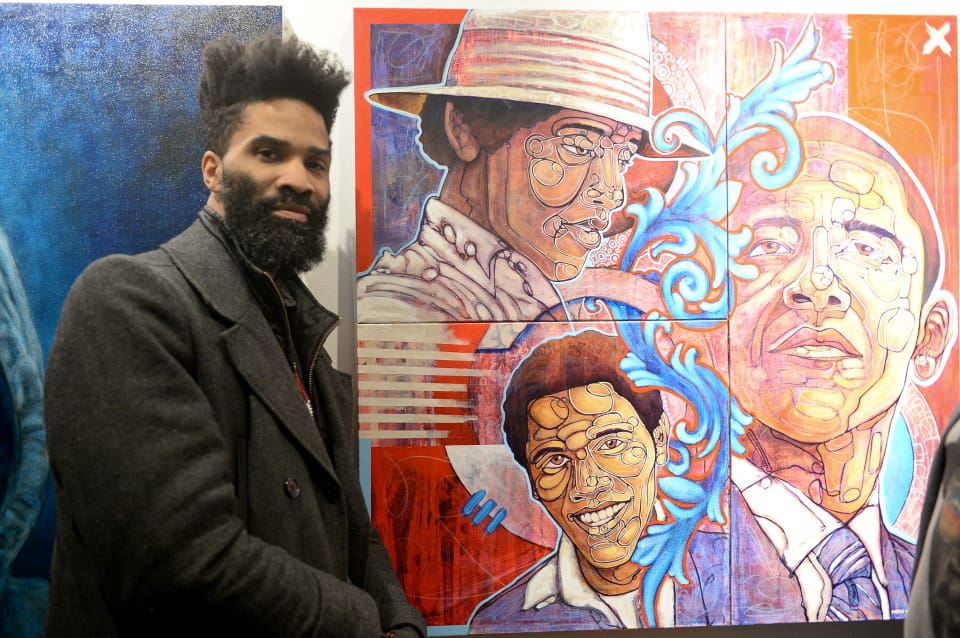 Wanting to tell the tale of the evolution from Barry to Barack, artist David Anthony portrait showcased Obama in various phases of his life.
"I really wanted to focus on the stages of development of him as an individual. We all think of him as the president but he was once this brash young cat starting college, and then the next thing you know he's the head of the Harvard Law Review, and now we understand him as the president. There was a history and I wanted to be able to connect with a lot of these young brash brothers.That's the reason I went all the way back and started at the part of his life that no one even talks about," he said.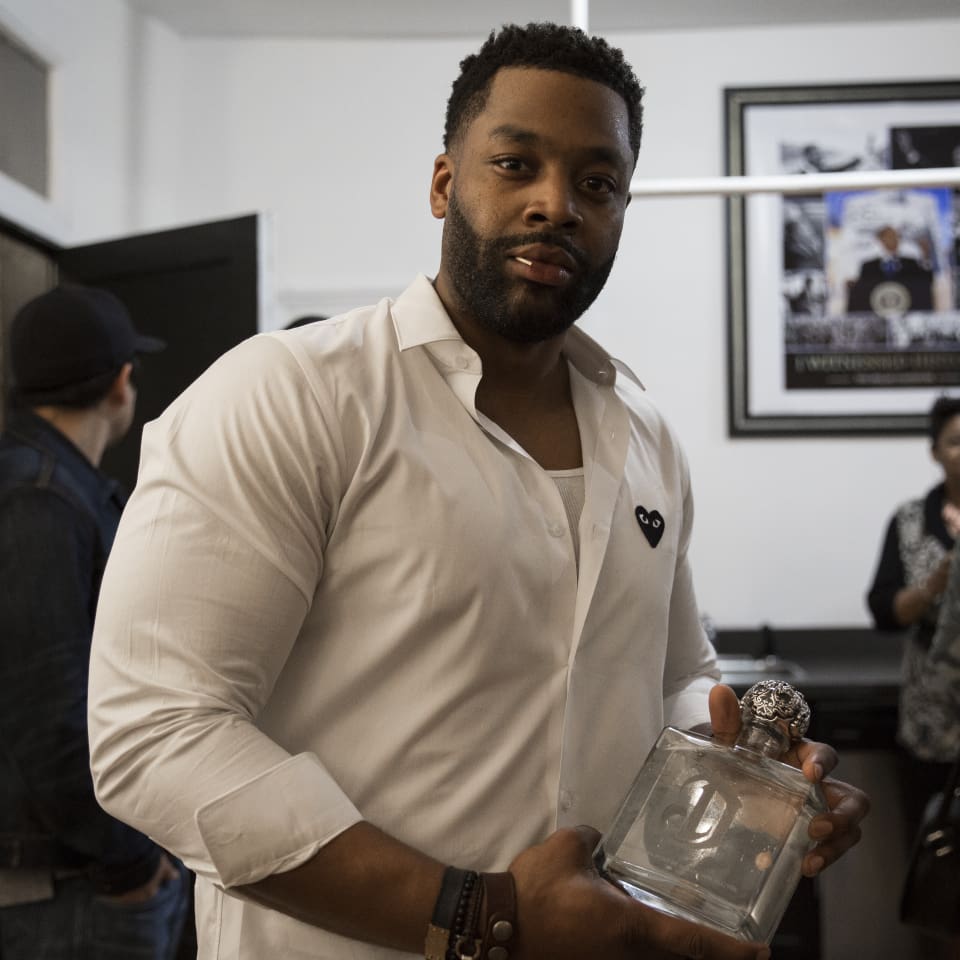 Visual artists weren't the only artists who gifted their talents to the cause; "Chicago PD" star LaRoyce Hawkins was proof of such. The actor jumped on board because of his admiration for Obama, and because events of this caliber are what the city of Chicago need.
"In the midst of the reputation Chicago has for guns and violence, I think this event is necessary because it's an example of how we can gather together for the right reasons," Hawkins explained."Oftentimes, especially artists in Chicago, we're stereotyped as being crabs in a barrel and pulling each other down and not allowing our light to reflect each other so that everyone shines. But P. Scott, myself, and the team here at NYCH all believe in togetherness. It's a very American way of thinking. When artists come together and everyone plays their roles, things happen. If you look around tonight, the place is oozing with gifts, people and energy."
Kudos to all of the 28 artists that participated in this spectacular event. If you'd like to experience this exhibit, head over to NYCH Gallery at 643 W 18th St, Chicago, Ill. 60616.