WEEN Academy holds auditions for women who want to break into entertainment
The Women in Entertainment Empowerment Network (WEEN) Academy graduates have an 86 percent career and internship placement success rate. The WEEN Academy has produced some of entertainment's brightest and most talented rising stars in media, public relations, marketing, philanthropy, entertainment law, and more. Graduates of the academy receive WEEN certification, an opportunity for an internship in the entertainment business and a WEEN mentor for one year.
The academy is the brainchild of Google Exec and Russell Simmons/Obama administration alum Valeisha Butterfield-Jones; host of "Paternity Court" Lauren Lake; "Survivor" runner-up Sabrina Thompson; and PR maven Kristi Henderson. The Women in Entertainment Empowerment Network is a non-profit 501(c)(3) organization of women and men of all ages and races committed to supporting, promoting and defending the balanced, positive portrayal of women in entertainment and society.
Due to much past success, WEEN is again hosting WEEN Academy, which is a free four-week crash course in the entertainment business taking place this July in New York City with celebrities and entertainment industry leaders for young women 18 – 26 years of age. Last summer's professors included executives from Google, Spotify, BET, Bloomberg TV, Emmis (Hot97 & WBLS), Essence magazine, Def Jam and Vibe. Each year, hundreds of young women audition for the academy and only up to thirty are selected for this rigorous program.
Here, Valeisha Butterfield-Jones (WEEN co-founder, Google Exec, Obama Administration/Russell Simmons alumni) discusses the importance of a networking, why it's needed to jump-start your career and how a WEEN affiliation has helped past graduates.
How can the ladies prepare for the auditions? What should they expect? What do you look for?
Ladies should plan to bring their A-game. This means having a deep understanding of the entertainment industry, what they want to do in the business and doing their research. We look for confidence, a clear direction on how you will add value to the business and how the WEEN Academy will help take you to the next level …
Which entertainers and entertainment executives will be participating and supporting the academy?
You never know who you'll see in the room during the WEEN Academy auditions. Past participants include Rocsi Diaz and Stephen Hill (BET), Q-Tip (A Tribe Called Quest), Kevin Liles (entertainment manager), Mona Scott Young (television producer) and the list goes on. The most important thing is to expect the unexpected, so you can stay unbothered by the stars in the room and on your game during the auditions.
What are some of the WEEN Academy success stories?
The WEEN Academy is a proven program that provides young women with the access and skills needed to work and thrive in the entertainment business. Our graduates have an 87% job placement rate in the business and have already soared to leadership ranks. If you are a woman interested in working in the entertainment industry or taking your career to the next level, this is the organization to turn those dreams into a reality … and it's free. Gia Peppers is a great example. Gia started in our first WEEN Academy class and emerged as a rising star. She widely credits the WEEN Academy for her success now as a staple on red carpets as a correspondent for E!, BET, VH1 and also the NBA's Washington Wizards.
How has networking helped you in your career?
Your network is your "net worth." It's truly your currency in the entertainment industry. Almost every business deal I've ever closed or job I've secured was because of building solid and trusted relationships with people. It's mission-critical to your success to develop relationships with people that are not transactional, but rather, transformational. Make sure you're giving as much, if not more, to the relationship as you are receiving.
Is "friending" on Facebook a powerful networking tool?
Not really. Social media is an excellent tool to build your profile and to connect with people, but the most meaningful connections are made when you're able to convert online relationships to real life partnerships.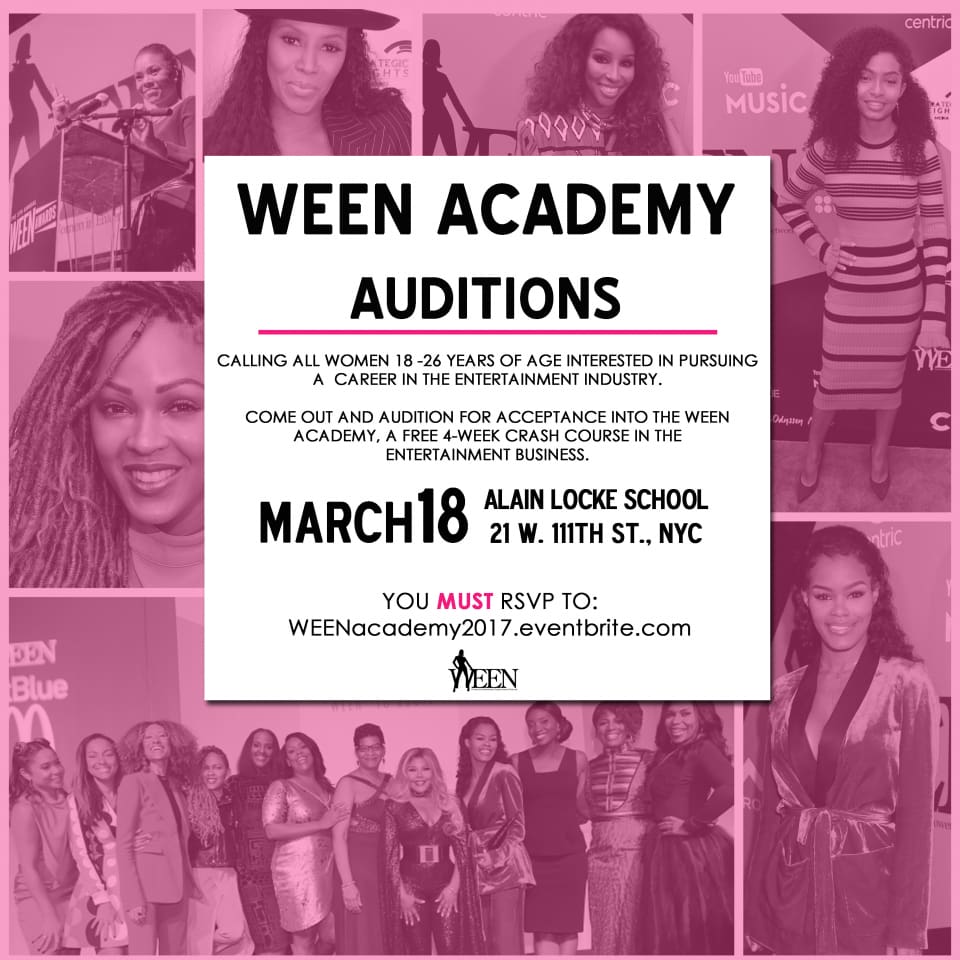 Auditions will be held Saturday, March 18, 2017, 9:00 a.m. at Alain Locke School (21 West 111th Street, New York, NY 10026). 
For more details about WEEN & the WEEN Academy please visit www.weenonline.org. To reach WEEN on social media platforms, use the hashtag #WEENacademy and @weenonline.