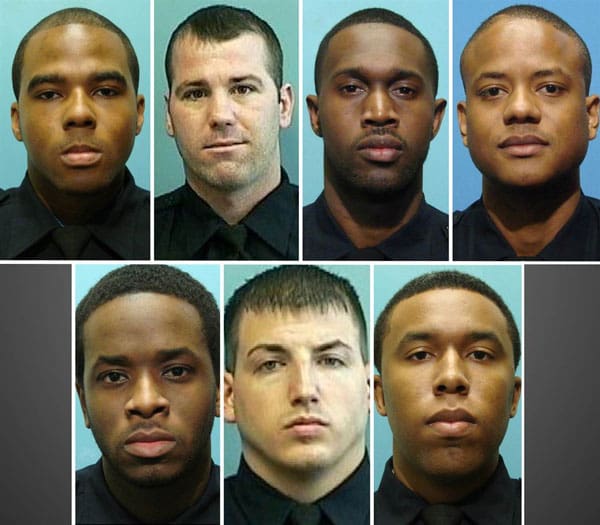 In the past two weeks, there has been news of mass arrests of police officers for criminal activity. The first was a dozen cops that were busted in a multistate drug ring in Virginia and North Carolina. The undercover operation, called "Operation Rockfish," had been ongoing for about a year and a half. Now the city of Baltimore, Maryland takes center stage as seven officers have been arrested and charged with racketeering.
The seven officers were blatant in their criminal activities and innocent citizens, as well as drug dealers, were victims of their crimes. The officers were part of a Baltimore police Gun Task Force and have been described as 1930's style gangsters by federal prosecutors for their behavior, which included violence. The officers arrested have been identified as detectives Momodu Gondo, Evodio Hendrix, Daniel Hersl, Wayne Jenkins, Jemell Rayam, Marcus Taylor and Maurice Ward.
The government found that the group would make bogus stops and falsified search warrants in order to steal drugs and cash. The crooked cops stole amounts of cash ranging from $200 to $250K from their victims, many of whom had never committed any crime. They covered up their activities by filing false police reports and received tips from others in the department that helped in their criminal activities. According to the federal indictment, the detectives seized drugs, including heroin, and then sold the drugs back on the streets. The accused officers also would turn off their body cameras to avoid recording their activities.
The people that the officers arrested often pleaded guilty to crimes or refused to testify out of fear for their lives. According to prosecutors, the officers' credibility was in question on many arrests but they were allowed to testify, often lying on the witness stand. The arrests have shocked the already scandal-plagued department, which was already the subject of a Department of Justice probe brought on by the death of Freddie Gray. Gray was arrested and taken for an unrestrained "rough ride" in the back of a police van and later died from his injuries. No officer involved in Gray's arrest or death was found guilty and attempts to prosecute accused officers resulted in dismissals and a dropping of the case.
Baltimore State's Attorney Marilyn Mosby was not informed about the investigation that led up to the seven officers' arrest, this week. The seven cops represented a major abuse of power that not only caused their direct victims to suffer but also the city of Baltimore, as a whole. While the cops were stealing and dealing, they were also charging the city for undeserved overtime pay. One officer charged five days of overtime while he took a beachside vacation and, as a whole, the group took I more than $500K in overtime pay. Defense attorneys in the city are now reviewing past arrests of the officers to try to reopen past cases and possible false charges against clients that were victimized by the cops.