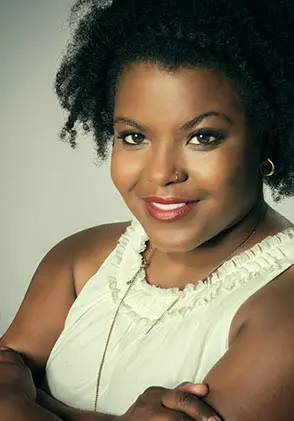 This week, the globe united to celebrate International Women's Day. From events to hashtags, women were recognized for the incredible doors that have been unlocked for others to follow. Smashing glass ceilings, it is no surprise that girl bosses like Nourisha Wells are setting the standard in the tech industry. As the senior director of digital strategy and technology at nonprofit Get Schooled, she finds new and creative ways to inspire kids to strive in school through the hottest tech and gaming strategies.
Get Schooled was founded through Viacom and the Bill & Melinda Gates Foundation to inspire students to succeed in school. Merging what kids want with what they desperately need, Wells aims to open the conversation for helping students chase higher education. Her dedication has even resulted in Get Schooled being named one of Fast Company's 50 Most Innovative Companies of 2017. This award included many of the initiatives that she leads on a daily basis.
Ambition comes naturally to Wells. From strategically connecting with other power women in her industry to delivering an award-winning campaign featuring DJ Khaled, she has proved that she truly has the keys to technology success. Sitting down with rolling out, Wells details her journey and how to stand out in business.
Technology is a huge part of your life, how did you get into it?
I fell in love with technology and gaming at a very young age. Thinking back to my first Atari game system, I was always a gamer but ironically I never felt connected to tech classes. In college, I began to really pursue it more through web design and learned coding enough to become a webmaster.
The tech industry seems to be very male-dominated. Did that intimidate you?
Very much. Few people knew about coding and technology jobs at the time so the information just wasn't out there. I also felt like I wasn't earning fast enough but networked with amazing women in coding and learned that there were so many other aspects of tech like user experience. Through meetups, hackathons and finding the knowledge, I learned that tech was all about problem-solving. And I loved it.
You have played a pivotal role in implementing gaming and tech into the Get Schooled program. Why was this important to use to motivate students to succeed in school?
I represent a lot of the kids that we serve and it has really allowed me to connect with them in a deep way. Many come from low-income areas and just aren't motivated to put effort into their education. They love games, though. Gaming is known for having a point system or rewards when you a master a level, and we took this same approach. It's great because everyone likes recognition in some way. For kids who don't have coaches or effective counselors, these gaming road maps are not only teaching them how to solve problems but preparing them for college.
What do you think is next for tech, especially in education?
Augmented reality is very big right now. When we worked with DJ Khaled for his Khaled Keys program, we used augmented reality posters to pop up his messages as students walked by. You will also see virtual reality be used more often. We are currently developing ways that we can use that with our students as well.
Who were some of your role models you looked to while advancing in the industry?
It's interesting because, in the tech world, many of the leaders don't have "big names." Through all of the meetups and tech groups like Women Who Code, I was able to meet great people who definitely helped and inspired me along the way. And of course, a role model is Oprah [laughs]. She always strives to stay the course and do whatever it takes to succeed and it's an amazing example to follow.
How can rising women in business connect with their role models?
One unique thing I did was sign up to present at presentations and conferences. I would never go to a conference unless I was presenting. You would be surprised at how open people are to hearing your point of view. When I started I wasn't very high up in the industry but led a small team and would teach the little I knew. This helped me not only build a name for myself but put me in the room with people I desired to connect with. You have to remember that you also bring value to the table. Use that to your advantage to connect with others.