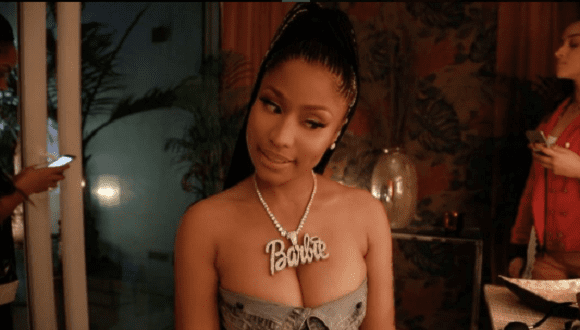 Ariana Grande and Selena Gomez may want to take cover.
Shortly after dropping a mediocre response to Remy Ma's lethal diss track "shETHER," stars are choosing sides and it appears that Nicki Minaj has come out on top. In a series of video clips posted via Instagram, Gomez can be seen jamming out to Minaj's "No Frauds" with her friend Ashley Cook, in tow.
Meanwhile, Grande opted to take the simple route, sharing a cover image for Minaj's latest "No Frauds."
"Nicki," she wrote accompanied by a dozen hearts.
Naturally, it wasn't long before the Barbz took notice, and took to Instagram to share her own fondness for her fellow "pretty girls."
"what's funny about this, is that all 4 of them look so sweet & innocent to me but they're all low key savages I guess ??‍♀️ Lol," the "Anaconda" recording artist captioned a compilation video of Gomez and Grande, as well as singers Jhene Aiko and Tinashe showing their support amid the nasty feud.
"Didn't expect this but love u girls so much for reppin. Pretty Girls Let Your Light Shine BRIGHT," Minaj wrote, signing off with hashtags "#BadBtchsLinkUp #TheyDontWantNoFrauds."
Of course, Minaj has also found allies in her longtime label mates and rappers Drake and Lil Wayne. Both  were featured on "No Frauds," with Weezy lending his rhymes to another new single "Changed It." Both songs were released on Friday, March 10, along with a third track, "Regret In Your Tears."
The singles are Minaj's first releases since Minaj and Ma butt heads late last month. On February 25, the "Lobe and Hip Hop" star went for the jugular when she dropped a seven-minute diss track titled "shETHER" in which she accused rap's resident queen of everything from plastic surgery to infidelity.
Still, despite the claims, Minaj is winning. On Friday, she revealed that thanks to her latest release, she broke a new record. "Look @ God. (This is the ALL GENRES chart) – My fans helped me break a cpl iTunes records today. I've been in a constant state of gratitude for the last two months. Magical moments…. Drizzy & Weezy >>>>>>>>>>>>>>> ♥️ thank u to my fans, once again. If u happy, I'm happy. Love u ????"
What are your thoughts on Minaj's diss track success and celebs choosing sides? Will Remy send for them next? Sound off in the comment section below.