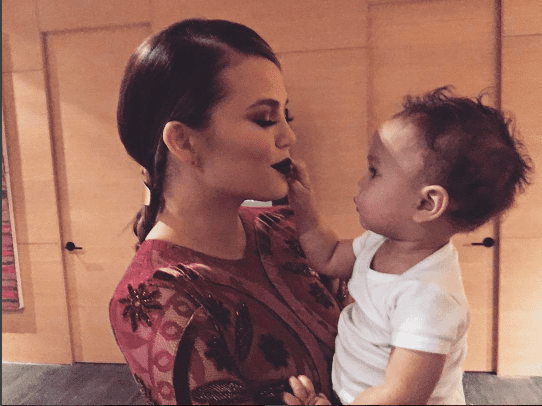 Chrissy Teigen has a few words for her haters.
The wife of John Legend and outspoken supermodel recently took to Twitter, where she shut down her mom-shaming critics, over negative comments directed at her 10-month-old daughter Luna.
"Imagine being this miserable. We are fine, thanks," Teigen, 31, tweeted, along with a screenshot of the comments.
"Some people are just hell bent on being the f–king worst," she added.
Imagine being this miserable. We are fine, thanks. pic.twitter.com/NNmlJWxKE6

— christine teigen (@chrissyteigen) March 10, 2017
Teigen's clap back come just days after the Sports Illustrated Swimsuit model revealed her bouts with postpartum depression. "Getting out of bed to get to set on time was painful. My lower back throbbed; my shoulders — even my wrists — hurt. I didn't have an appetite. I would go two days without a bite of food, and you know how big of a deal food is for me," she wrote in an essay for Glamour magazine's April cover story, in which she got candid on how her life has changed since she and husband John Legend welcomed baby Luna.
"I couldn't figure out why I was so unhappy. I blamed it on being tired and possibly growing out of the role: 'Maybe I'm just not a goofy person anymore. Maybe I'm just supposed to be a mom,' " she continued.
Meanwhile, the "Lip Sync Battle" hostess went on to credit her R&B crooner husband for his unwavering support and guiding her through the tough times. "He's exactly as compassionate, patient, loving and understanding as he seems," she wrote.
"It's a difficult thing to be a new father and for my wife to be a new mother," Legend recently told People.
"[Parenting] advances the level of partnership you share. It's exciting to see how we as a couple grow together and learn how to react to the challenges and the joys."
Love her or hate her, you have to respect Teigen for standing up for her loved ones! Check out some of the fam's cutest moments in the gallery below.