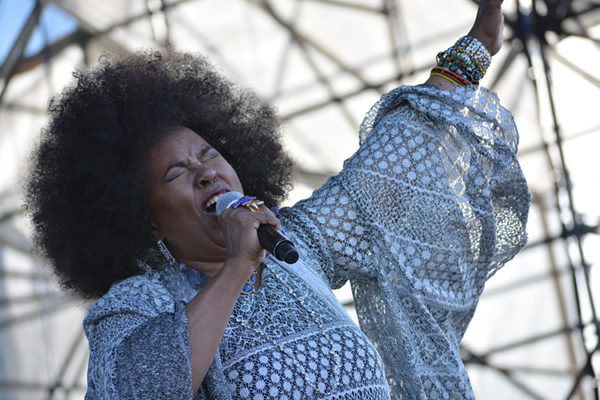 Jill Scott, LL Cool J, Andra Day, Common and more hit the main stage at Hard Rock Stadium
From the moment you enter the Jazz in the Gardens gates at Hard Rock Stadium in the final days of the winter season, clear blue skies, a cool breeze, and the energy of excited festivalgoers ready to enjoy a day filled with good food and live performances greet you under the familiar warmth of the Miami sun. Rickey Smiley of the "Rickey Smiley Morning Show" tag teams with Hot 105 DJ Big Man Kelly in keeping the crowd upbeat and building excitement for each act coming to the stage.
On day one, Jazz in the Gardens stays true to the name and feel of the budding festival with performances by Herbie Hancock, Betty Wright, Robin Thicke and Jill Scott. Day two is packed with a diverse lineup of hip-hop and soul artists, including The Roots, Andra Day, Common and LL Cool J.
Each day of the two-day music festival, Miami Gardens Mayor Oliver Gilbert highlights hometown heroes with a presentation of a key to the city in recognition of outstanding achievement in their fields. On Saturday, music legend and Miami native Betty Wright accepted her key for over 50 years of continuous stellar contributions to the music industry. On Sunday, two of the youngest actors from the Oscar award-winning and Miami-based film Moonlight, Alex Hibbert and Jaden Piner each received their own key to the city for their performances in the highly acclaimed movie.
"They should be congratulating Miami," says Hibbert when asked about the recognition after leaving the main stage. "If it wasn't for Miami, I would not be here."
The young actor's statement seems to ignite the celebration of the city that followed on the main stage as Common celebrated Florida and Miami as a place that feels like another home for him.
"I'm grateful to come to Florida cuz I went to school down at Florida A&M," Common exclaims as he begins his set. "I met a lot of people from Florida and I love y'all and I get to see my family when I come."
Appropriately curated for a jazz festival audience, Common's performance was fused with live instrumentalists and a background vocalist, who croonseds by Mary J. Blige and Erykah Badu, respectively. Continuing the romantic vibes of his set, Common searched the crowd for a lady fan to join him onstage and quickly sets his eyes on a beautiful brown-skinned woman sporting a T-shirt that appropriately read "The Single Diva." As she joined him onstage, Common and the crowd learn that her name is Rachel and coincidentally she also attended Florida A&M. Common seats her on a chair positioned at a table that's topped with two glasses and a bottle of wine before proceeding to pour up glassfuls for the both of them to enjoy as he serenades her with "Red Wine" from his 2016 studio album Black America Again.
Following Common's performance, DJ Big Man Kelly builds excitement with an old-school hip-hop mix that sets the tone for LL Cool J to hit the stage as the final performer of the festival weekend.
LL Cool J dug into the crates to perform some of his favorite songs from his earlier albums while mixing in a few pop favorites including "Headsprung" and "Luv U Better." Midway into his set, LL Cool J also welcomed Sybrina Fulton to the stage, the mother of slain Florida teenager Trayvon Martin, and made an appeal for the crowd to support the release of her new memoir, Rest in Power: The Enduring Life of Trayvon Martin. Before continuing on with his performance, LL Cool J brought out surprise guest Fat Joe, who performed his comeback hit "All the Way Up" sans Remy Ma. Charged with flame-throwers, fog blasts and confetti cannons, LL Cool J brought his set to a head with a high-energy performance of his hip-hop classic "Rock The Bells" as the final act of the 2017 Jazz in the Gardens Music Fest. –ray love jr.