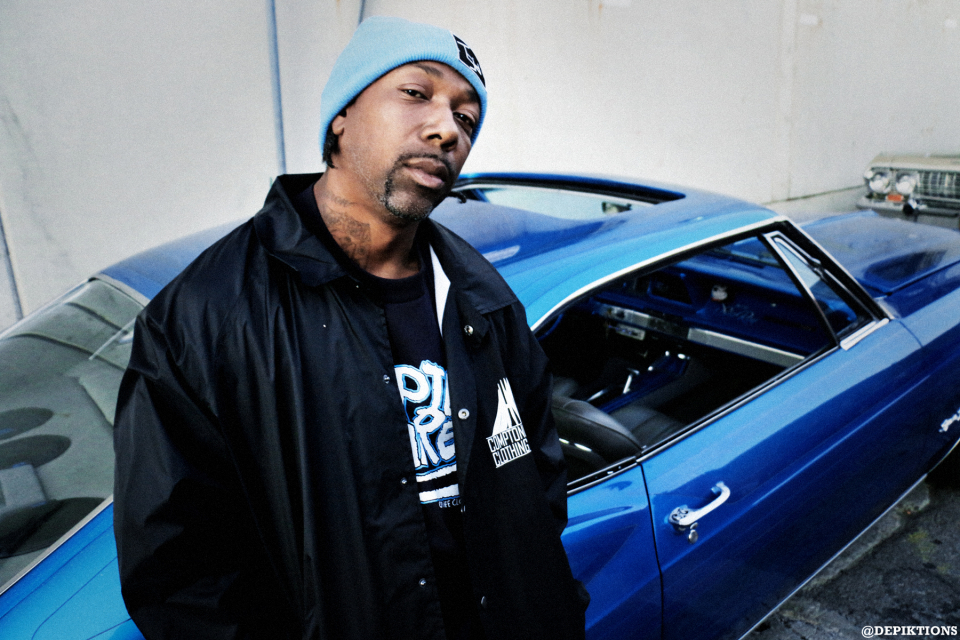 Compton's Most Wanted, which consists of MC Eiht and Tha Chill, is one of the pioneering groups of West Coast hip-hop. They helped to forge a sound that has become a distinct and an original style that has stood the test of time. MC Eiht's storytelling ability painted the picture of his life growing up in Compton and has given him clear legendary status when it comes to the culture of hip-hop and West Coast rap. We spoke to MC Eiht about the influence of West Coast rap on hip-hop, being a father and a coach, and the new project he is releasing with DJ Premier.
Talk about what you have been up to for the past few years.
For the past few years, I've been coaching football. I have a 12-year-old son who has been playing football for the last eight years. I've been a head coach in Snoop's football league. Outside of that, I'm still working. I've been doing a lot of guest appearances and shows. In the process, me and DJ Premier have been working on an album together. We just finished it up. It's been mixed and mastered and we shot the first two videos. The album is titled Which Way Iz West, [and] it should be out by May or June. It's a tight project. Me and Premier are executive producing. He's done about four or five cuts on the record. We have a lot of good guest appearances. It's a nice project. That's basically what I've been doing for the past couple of years.
What would you say that West Coast hip-hop has given hip-hop culture?
We have been defined by our own style of music. We just have our own distinctive way of telling a story as far as our music is concerned. We are big connoisseurs of Parliament, George Clinton funk based type of slow grooves. If you look at the forefathers of west coast rap like Eazy-E, Dr. Dre, Cube and myself we brought forth a distinctive sound that was different than any other area that was doing hip-hop. This is why we have been able to remain relevant. We have always been able to define ourselves with they type of music and the type of flow that we have.
Who would you say is really representing this culture the right way?
You can say Kendrick, ScHoolboy Q. I listen to Drake. Game is representing the West Coast. I listen to dudes who stay consistent in everything that they put out.
How has your relationship with your son allowed you to keep your finger on the pulse of this industry?
You have to stay in tune with what's going on today, but you can't forget about your fans who got you to this point. You have to find a balance. I try to give my fans what they want and I also try to stay in tune with what my son listens to. I'm not saying I'm going to do that type of music. I just listen to the subject matter and how to approach the music and incorporate it into what I do to help me stay relevant today.
How has hip-hop changed your life?
Coming from Compton, [California], and having to deal with poverty and a single-parent home it was just another way for me to get out instead of the typical way of selling drugs. A lot of people took that route. I tried that route but it was something that wasn't in me. I started writing music because of what I was seeing every day walking home from school or just hanging in the neighborhood with the homies. I used that as an avenue to do something else than just be a drug dealer or a gang banger who just ends up in jail. I would just incorporate what I saw every day and it provided an avenue to change my pattern. I've seen jail a couple of times and experience police harassment, but who hasn't as a young Black youth. Hip-hop changed my life because it gave me a different way to get out of the neighborhood and make a better way for me and my family. I try to be a better father and a father figure. Hip-hop has allowed me to travel the world. It helps me support my family. It's not just about the money either. I love hip-hop. Before I even made a dime I put out two or three albums and didn't see any money. I just had a love for it 'cause I knew it was a way for me to express and get out of what I had to deal with growing up as a young Black man.
What advice would you give to the 20-year-old MC Eiht?
Basically, you have to stay true to yourself. These days cats do what they want. Regardless of the opinions of critics, other rap artists or fans, you just stick to you and be you and make that successful. You stick to your format and don't change for anybody. If you feel your music is good and you surround yourself with possible people who believe in you and your music, then that will take you somewhere. There are so many avenues to get exposure these days. It's not like it was when I was coming up when you basically had to get a record deal to get on. Just stay original.
What can we expect from you when you touch down in Chicago?
I'm coming with some of that old-school flavor. Chi-Town has always been good to me so I can't come out [and] be nothing but 100 percent. This is my second time performing with a live band and it's going to be a good experience for those who didn't get to experience artists like myself from our era. See y'all in March 25 in Chi-Town, let's get it. Gyeah!
You can catch MC Eiht, AZ and Freeway at Hip-Hop Lives the Unplugged Experience at the Park West in Chicago on March 25.