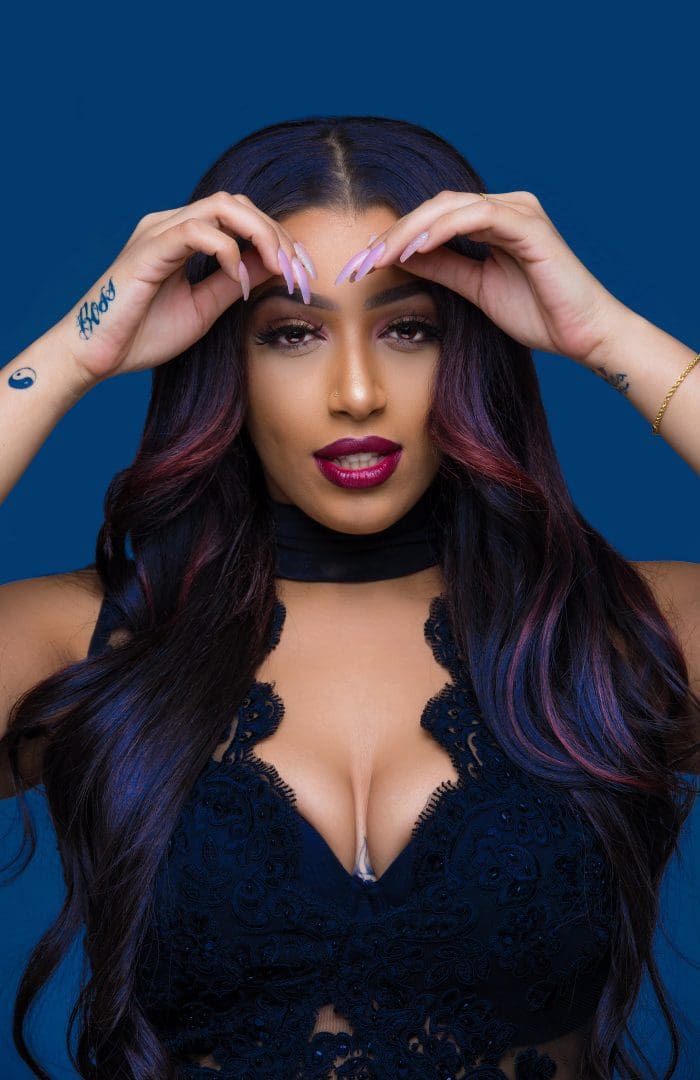 D'Marie, the owner of Nail Gawd Studios in Miami, has built quite a name for herself. This popular nail technician is popular for her unique style of artistry. With dazzling colors and Swarovski crystals, D'Marie's nails have been seen on various celebrities and social media influencers. We sat down with her to discuss her Nail Gawd brand as well as her own acrylic powder.
How did you get your start doing nails and becoming such a respected nail artist?
Well, the way I started doing nails has a funny twist to it, I actually attended school initially just to pay my way through college. I had messed up my chances of going to a university of my choice and I needed to start from the ground up to get in college. I went to school to become an esthetician and started working in salons right away. I guess for me the way I gained my respect as a nail artist is allowing my work to speak for itself before I do.
We hear that you were on television. What was the name of the show, and did it improve your overall brand?
Yes, I was an artist on the season of "Boss Nails" on Oxygen Network. I personally don't believe it did much for my brand due to the fact I was pretending to work at a salon I never worked at and was under the rules of the director. But I was able to be showcased as an artist nonetheless on national television.
Can you name a significant moment in business that touched you as a female entrepreneur?
I can say one of the most significant moments in my career at least that meant the most for me was my grand opening. Having my closest loved ones with me celebrating the project shop I created was really when it hit me, realizing this is it. I made it. I have my salon. And it made me feel ready for anything! I can achieve anything I push my energy toward. And the love and support my loved ones gave me helped me push through the hardest times.
How did the name Nail Gawd come about?
Well, my name on Instagram was originally just " NailsbyDmarie " and I have my followers commenting great things about my work. I had a young lady one day say, "yes, laid to the gawds! You're a nail gawd."
And I just loved how that sounded … and I stuck with it ever since.
You have your own product line. How did you develop your acrylic line?
Yes, I have my own line I started called Nail Gawd Acrylic Systems. It's a very distinctive shade of pink that I custom-made and [I] have a line of shades along with that infamous color. I developed the line because I was having the worst luck with the perfect [consistency] in the beginning of my career. So one day I went to a warehouse and started talking to the Vietnamese owners and asked questions. And I haven't stopped making it since. All my clients love it and also my employees only use my line as well in the salon.
As a successful female entrepreneur, is there any advice you can give to other nail technicians looking to break into the industry?
The only real advice I can give the other young future female entrepreneur is staying consistent; start getting into a routine. Every day has to be better than the day before, whether you are doing one more client than usual or getting hip to the latest trends, or even creating new marketing strategies. Add a subject to each day. Don't fall short of yourself, you're not tired — you are lazy. Once you learning how to balance more than one task, train your body to keep up with your mind. Things will flow and you will see the fruits of labor come tenfold.
You can follow her on Instagram at @iheartdmarie and Nail Gawd Studios at @nailgawdstudios as well as all product and service updates at www.nailgawdbydmarie.com.