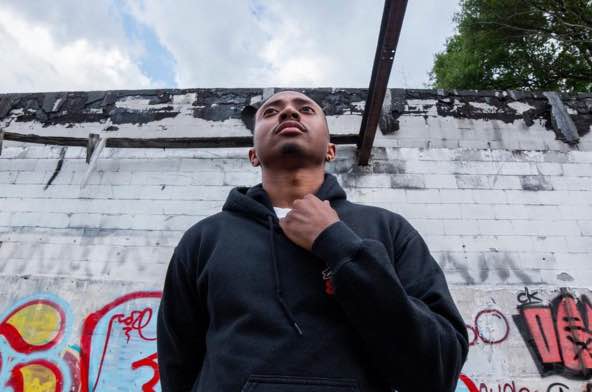 Atlanta has released yet another up-and-coming rapper from its hip-hop dungeon. Let us introduce you to Deante Hitchcock, a new school rapper with a mature flow causing even some mainstream heavyweights to sit back and take notes on his lyrical gifts.
The 23-year-old rapper quickly began garnering online attention after releasing several coveted freestyles on social media. Little did we know, he was giving us "Just a Sample" of what's in store for the future.
Rolling out spoke with Hitchcock to get the backstory of his modest Southern upbringing, his thoughts on the new age of rap culture and the new challenges of living in the spotlight.
What kind of pressure has dropping out of college to pursue your music career put on you as an artist?
We base our decisions a lot in life on how we think someone we love is going to view us. Are they going to love us any more or feel some type of way? You have to live your life and live it in a way that is true to you so it can give that person a chance to love you for who you actually are. I went to college because of my mom. She's a nurse and she wanted me to be a doctor. I went to school for Pre-Med until my sophomore year. I did great! I had like a 3.7 GPA. I changed my major to graphic design because I was bored. I was trash at it, but I loved it. I let my mom talk me out of it and changed to business and marketing. I was mentally checked out. I didn't want to be there in the first place so I dropped out. I never wanted to look back and be 50 wishing I tried to pursue my dream.
How have influences outside of Atlanta found their way into your music?
There are a couple of producers that have been prevalent in my career not only musically but also in my personal life. They've been able to help point me in the right direction as far as different musical genres. I didn't start on my own rapping. My uncle got me into it and I didn't listen to anything else. I eventually branched out and met people from different walks of life that introduced me to electronic and jazz music. I am actually trying to learn how to play the piano right now. I'm learning how to mess around with different melodies and bridges.
A commonality between most artists I've interviewed is them saying they only listen to their music. Who do you listen to?
I listen to everybody. I can understand why they say that. At times, you can subconsciously listen to the music and end up emulating the artist. Sometimes you have to take a step back and find your own creative zone and your own creative space. There's a saying that I don't necessarily agree with "Good artists borrow, great artists steal." When you think about it there are no original ideas. Anything that you've ever had is based on something that you've already seen and then you transform it into what you want it to be.
Hip-hop fans are already embracing you as a true lyricist. How critical is that for you?
It's crazy because when I rap a lot of people hit me with "Oh he's bringing real hip-hop back to Atlanta!" I'm not even going to lie studying the history of hip-hop has never really been my thing. I definitely respect what it is. I'm not here to make 'mumble' records; I'm just here to tell whatever God puts in me to share with the world and help somebody else get through a situation that may be similar to what I've been through.
The ongoing theme throughout your new EP Just a Sample seems to be love. You are very vocal about your current relationship, which is beautiful. As you evolve in your career, do you fear the temptations within the music industry wild destroy that solid foundation?
Love is a fleeting thing, but it's beautiful at the same time. I have plenty of fear. We've had these conversations and talked about it a couple times. Going into anything that's unfamiliar, especially something like the music industry where a lot of things that aren't prevalent in everyday life are the norm. You go on tours and it's women waiting in the lobby and there are drugs everywhere. It's a lot of things that can change your mindset. Whatever is supposed to happen is going to happen. I got enough faith to know that if it's meant to be it comes back and it's always yours.
What was the direction for "Just a Sample"?
Just a Sample wasn't even a thing until like the week before Valentine's Day. We put 5 songs together and just made it happen. It came quick as hell. We didn't even plan it. Crazy enough, the night before we put it out my producer's baby had just arrived so I had to take him to the hospital. We were still mixing the record so we could put it out in two hours so everything was last minute.
What are your thoughts on the friction between new and old generations of rappers?
I'm tired of seeing the judgment! You have the gatekeepers and the new generation. I say both can co-exist. If you listen to a lot of the old heads they will try to downplay mumble rap. Mumble rap has a vibe and a feeling to it that a lot of the old school "boom bap" records don't have. If you listen to "March Madness" by Future, you can't tell me it doesn't make you feel better than "One Mic" by Nas. Music isn't just always about the lyrics; it's also about a feeling. We do have bars though.
In 2007, Drake was asked in an interview why he wasn't signed to a major label yet and he said, "My music may cause kids to actually think!" In a hip-hop era fueling off of mumble rap, is there still a space for conscious lyricism?
There is and that's why you have Kendrick Lamar and J. Cole while someone like Lil Uzi Vert is also trending on the charts. I think Kendrick, as well as Drake, do a great job at treading between both worlds. I'm not always trying to be introspective as a lyricist, sometimes I just want to smoke or drink and do stupid sh*t. With music fans, once they get a taste of your first project they want you to stay in that box. They have to understand that artist is a person too and they are going to grow and go through changes in their lives.
If you had to pick one established artist to mirror your career after, who would it be?
I would think anybody that you ask this question to would have the same answer and hopefully say Jay Z. He has had the most success business wise and is considered one of the top five rappers too. I don't think we've seen any other rapper do what he's done. He just signed Lil Wayne. I just saw that this morning. I was like it's a wrap. [laughs]
What is the most pressing or important problem in society right now? Do you feel like hip-hop has aided or complicated these issues even further?
The most tragic thing facing society is Donald Trump. At the same, if you look at a political turning point back in time before the revolution there were always trying times. You need those dark days for something beautiful to come after it. I think that a lot of people do credit hip-hop with Black-on-Black crime, but if you look at places like Chicago it seems like their artists mental are on a whole different level. They are able to talk about things at 15 that someone who lives in Idaho or Wisconsin may not be able to relate to at that point in time because they haven't been through it. It's about finding a balance, but there's a silver lining in all the bullsh*t.
Hip-hop's influence isn't always antagonistic. There are dozens of untold stories that have shifted American culture in a positive light. With biopics picking up so many of these rap narratives, which one would you like to see a remake of next?
I would like to see a UGK biopic. I was reading a story about Pimp C yesterday. I know you've heard of the song "Big Pimpin" before. Jay Z sent Pimp C the beat and he didn't want to be on the song at first. Bun B flew to New York to do his verse and came back to Texas trying to convince him, but Pimp C was still not interested. Bun B and Jay Z flew out to Trinidad to shoot the video and that's when Pimp C wanted to be on the record. He said he would only give them eight bars and he wasn't going to Trinidad to shoot the video. Pimp C showed up with a pink, mink coat and a chick in the car with no shirt on and shot his scene where he was at. I went back and looked at the video yesterday and never peeped that they shot the scenes in different places. He didn't buckle for nobody.