Techpreneur Ian Jakovan Dunlap makes a pointed case regarding the United Airlines passenger removal debacle.
Dunlap, the founder of hyperacceleration, chimes in on the United Airlines debacle where a Kentucky physician, David Dao, 69, suffered a concussion, broken nose and damaged sinuses and lost two front teeth when he was dragged off a flight Sunday, April 9, 201,7 in an attempt to make room for United Airlines personnel.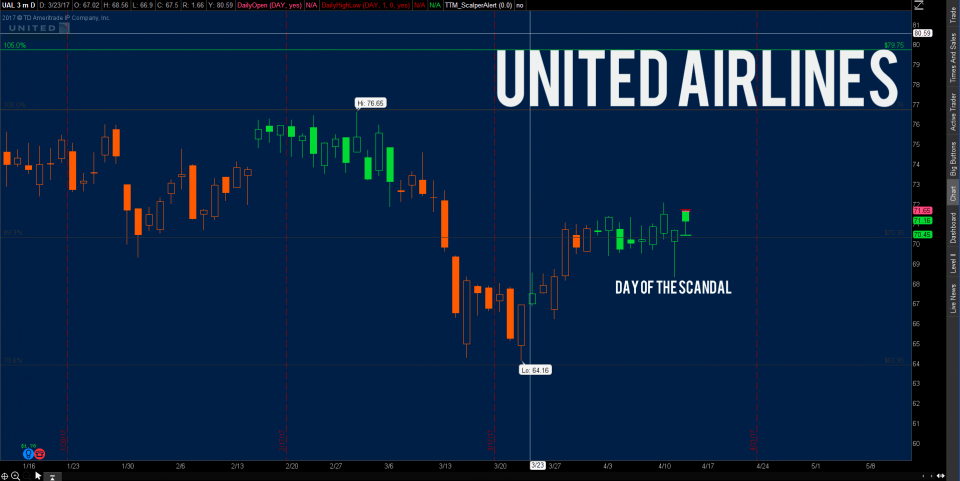 1. Get the direction right.
Although they have had a few dips, April – May of last year, the overall trend of United has been up. In 2012 the stock was at 17.45 and today after the "United Airlines Dragging Incident" the stock is currently at $70.62
While I do not agree with the actions taken on the flight when the stock dipped, purchasing in the $67 range would have been perfect and matched up perfectly with our "Rising Phoenix" strategy. The value of the company dropped $1.4 billion and recovered in a few hours.
I can pull up any stock, etf, or future and in 30 seconds tell you the predominant trend of it. If you get the direction wrong it is going to make it incredibly difficult for you to be profitable. If the market is going north and you are riding south then the outcome is going to be the same as if you are driving south on the highway when are the cars are headed north, utter devastation.
Do not tell yourself, "it is going to come back in my favor" that is a danger sign that you are hoping where the stock is going to go in your favor.
2.Do not let your emotions get the best of you, follow the direction of the stock.
As horrific of an incident as it was I saw a lot of people saying I am going to short the stock in hopes of it going down $46 or the low of $37.41 from last June but once incident that was recorded, despite it being unfair to the passenger, will not make the stock collapse. Follow the predominate trend. And if you are unsure, you can always ask me.
3. Do not lose more than 1.6 percent on more than any trade or investment.
It does not matter how much you love, or in this case hate the company, I do not want to see you give up more than 1.6 percent on any one trade.This is a game of retention and one of the biggest mistakes I see people losing huge because they are emotionally biased toward a stock.
4. You don't need a hot "tip" or popular news story to get hyper-accelerated growth in your account.
Buy an index fund first, laser focus on three power stocks for your long-term portfolio, and contribute monthly to it. An individual stock may go out of business but an index will not. The S&P, Dow, Nasdaq, and Russell are not going to go out of existence so one of the best things you can do for your future is to invest long-term into an index fund and let time do the magic for you.
5. Stick to a very strict plan.
If you are looking for an advantage on the news, chances are you are not going to do well. United dropped and by the end of the day it was back in the $70 range.